Reading time: 6 minutes
Today, everything revolves around creativity. And who could do better than Tobias Theel? As the head of Innoversität, he supports companies every day to improve employees' creativity and to make the decision-making processes more agile.
Digital processes and systems play a critical role here. Of course, an event app fits in perfectly. Tobias will now tell us why he chose LineUpr and how the participants responded.

LineUpr: Hello Tobias. Thank you for taking the time to do this interview. Please introduce yourself and Innoversität. What are your goals and what role do events play?
Tobias: Innoversität helps people and organizations to become more creative, creative and agile. Consequently, they are able to better develop new ideas and put them into practice quickly and successfully.
On the one hand, we like to support our customers online, for example with courses and coaching on innovation methods like Design Thinking or Lean Startup. This allows us to respond flexibly to the needs of individual employees. However, our customers also know that the best results can only be achieved with tangible experiences. And for these experiences, we design and develop events together with our customers: innovation kick-offs, innovation marathons with up to 12 months duration or design sprints ranging from a few hours to a few days – also with large groups of up to 300 people.
Of course, for such big events, we need proper planning and a direct line to the participants so that they always know exactly what to expect at a specific time during and shortly before the event.
… who wants to be innovative, also has to live with side effects.
LineUpr: How much time and work do you spend on planning such events on average?
Tobias: It all depends on the size of the event or the expectations of our customers. Some customers know pretty well what they want. Then setting up an agenda and defining and distributing the tasks for the preparation and carrying out of the event happen in no time. Some customers, on the other hand, aren't familiar with the subject of innovation yet, so we need to help them a little bit more with preparation and implementation.
That's fine because who wants to be innovative, also has to live with the side effects. These effects can only be seen after you've taken the first steps. Then sometimes our customers are a bit confused and insecure. But we know exactly how to handle this. We support our customers with the right measures and tips when they need us.
An example: within four weeks we organized an event for 120 participants together with a transport company and got it on its feet. In between, we still had to convince their board of directors and the top management team. The event organization team consisted of 5 people from both our company and from the customer's side – and one day before the event, we even took over the role of the internal presenter, because she got sick. We can organize one-day workshops almost one day after commissioning if a room and work materials are available in the company.
LineUpr: Who is the typical target audience of your events and how do you reach them? What channels and tools do you use for marketing and presentation?
Tobias: Our events are often specifically commissioned by companies for their employees. They choose large events for all employees, who should then contribute their ideas to the company and also implement them. Smaller events are more like workshops or seminars for project groups or executives and board members. Managers also want to understand how innovation, creativity and agility work, and what framework conditions they need to set for their organization to successfully create new ideas. Many companies find us on LinkedIn or through a Google search that takes them to our homepage.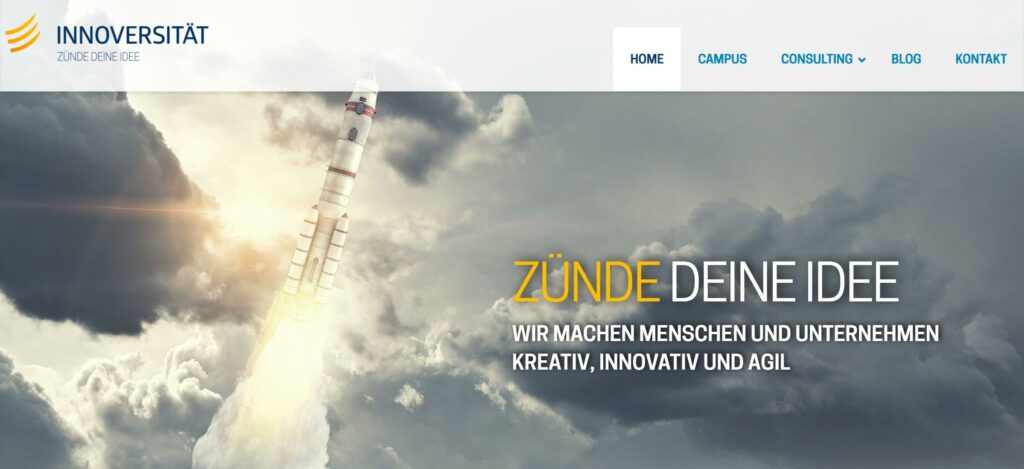 LineUpr: Do you also use printed products at the events? If so, which and why?
Tobias: Creativity unfolds best through interaction with other people, i. e., in groups. People have to exchange ideas and let their ideas grow. Also being able to move around is essential.
That's why we build experiences through our events directly on-site, as well as through the marketing of our offers. With the Innovation Box, we have developed a kit that allows each person to create and work out their idea alone or even better as a team. Our box contains all the necessary materials and methods that make creativity and innovation child's play – whether for your business idea or a new idea in the company of your employer.
We wanted to mostly refrain from e-mails and event folders because after all, each participant has a smartphone.
LineUpr: You have now used LineUpr for the culture4growth event. How did you become aware of LineUpr and what was the decisive argument for you to use an event app?
Tobias: Our customers wanted to have the corporate culture actively and specifically designed and further developed by the employees. For this purpose, together with the Human Resources Department, we designed and conducted an event for 120 participants. It was important for us that the participants had a contemporary digital experience for the event – both before and during the performance. We wanted to mostly refrain from e-mails and event folders because after all, every participant has a smartphone.
After comparing several providers for event apps, LineUpr seemed to convince us the most – and we were delighted with it. The participants had all the information at hand at all times before the event, and they were also able to use the app to orientate themselves during the event according to the programme and also on-site. In addition, the event app kept us flexible: our changes were quickly incorporated shortly before the event and we were able to inform the participants directly via push messages. The flexibility and the direct line to the users of the app were unbeatable plus points.
LineUpr: Great that you are satisfied. Have you ever used event apps in the past? If so, what are your experiences?
Tobias: Previously, we did not use event apps during the entire event. However, for individual purposes, for example, surveys, we already had apps in use. Some solutions did not seem appropriate for our purposes because some features were simply missing or too complicated – until we found LineUpr. Everything was just right for us. The adaptation of the design to the corporate identity of our customer is an especially great feature. We have been able to create a harmonious experience for the participants from start to finish.
We sent the work instructions directly as push messages via the app to the participants.
LineUpr: How did you use the app before, during and after the event?
Tobias: The participants of our event received an e-mail with the link to the app a few days before the event. So they could inform themselves about the agenda and the speakers in advance. During the event, we also published the location plans on site. During the event, we divided the participants into groups and sent them to individual rooms. So that we could continue to communicate with them, we were connected to them through microphone and speakers because they could no longer see our moderators all the time. We sent the work instructions directly to the participants as push messages via the app. That worked great. So they could stay with their group in their rooms and we did not always have to send them back and forth.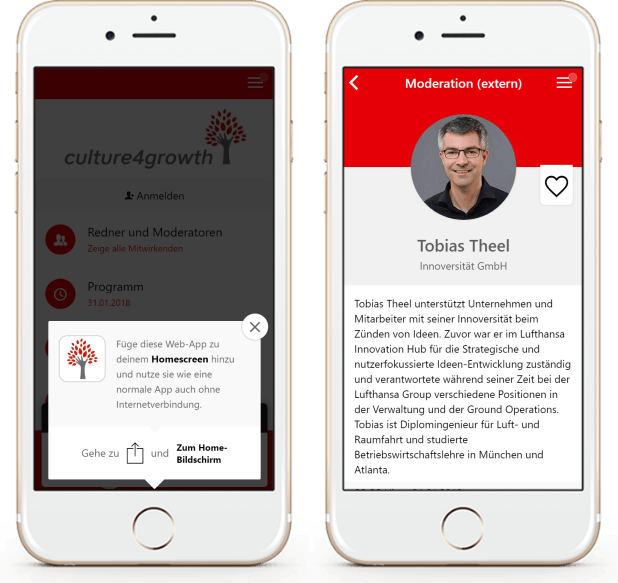 LineUpr: How did your participants react to the app?
Tobias: The app inspired the participants of our event. Their employer had invited them to the event because the company wanted to become more innovative. An app was the right sign that the board was serious about their announcement. I had the impression that the motivation of the participants was a bit higher because of this.
The participants also liked the fact that we had published the names of all the participants who attended the event in the app. So they could network better. Ultimately, the app has once again imparted a more professional look and feel to our event – and that brought many praises and very positive feedback for our event.
The app inspired the participants of our event.
LineUpr: Thank you, Tobias, for the fascinating interview. I think we all got terrific insights into your work and the promotion of creativity. Of course, you can find out more about Tobias and Innoversität on their website, on LinkedIn, Twitter or Facebook.
We look forward to your next events where we can support you with LineUpr.