Reading time: 5 minutes
Much of our communication has shifted to digital platforms and tools. This doesn't just apply to our private lives and companies, but also to publicinstitutions. The city of Munich has its own Digital Communication and Social Media team. With this, they want to reach the citizens in their normal everyday life.
Lisa Zech, our interview partner today, is part of the Digital Communication and Social Media team. Her tasks include accelerating digitalization in all areas of communication in Munich. Events are, of course, an ideal way to inform many people at the same time and to motivate them to work towards a common goal. Our event app was also used for some of these events. In this interview, she will tell us more about her everyday life, the added value of an event app, and what types of events can particularly benefit from it. Have fun with this great customer story. 😊

LineUpr: Hello Lisa. Thank you for taking the time to do this interview. Please introduce yourself and your employer.
Lisa: Hi, my name is Lisa Zech and I am part of the Digital Communication and Social Media team in the Department of Technology and Digitalizationof the City of Munich. We want to accelerate digitalization and cultural change in Munich and its city administration – together with the citizens and our colleagues. In addition to muenchen.digital, we also run the IT blog, we communicate via social media channels under the hashtag #MuenchenDigitalErleben and we organize events related to digitalization.
LineUpr: What role do events play for you?
Lisa: Events are an enormously important part of our work. We offer various, mostly very open, event formats for citizens and also for our employees. These include BarCamps, hackathons, and the Open Government Day. On the one hand, interested parties can have the chance to learn more about the digital city of Munich and its development. On the other hand, they can contribute their own ideas and wishes and help to shape the digitalization of the city.
LineUpr: How much time and work do you invest in the planning of your events?
Lisa: We always plan several events simultaneously. Basically, 2 of our team members deal directly with the organization of the event. However, they do not do this full-time and usually have other tasks. Depending on the size of the event, we start about 3 to 5 months in advance with the first preparations: catering, motto, speakers, partners, and marketing. Of course, the location has to be determined much earlier in advance because that is difficult and, above all, expensive in Munich.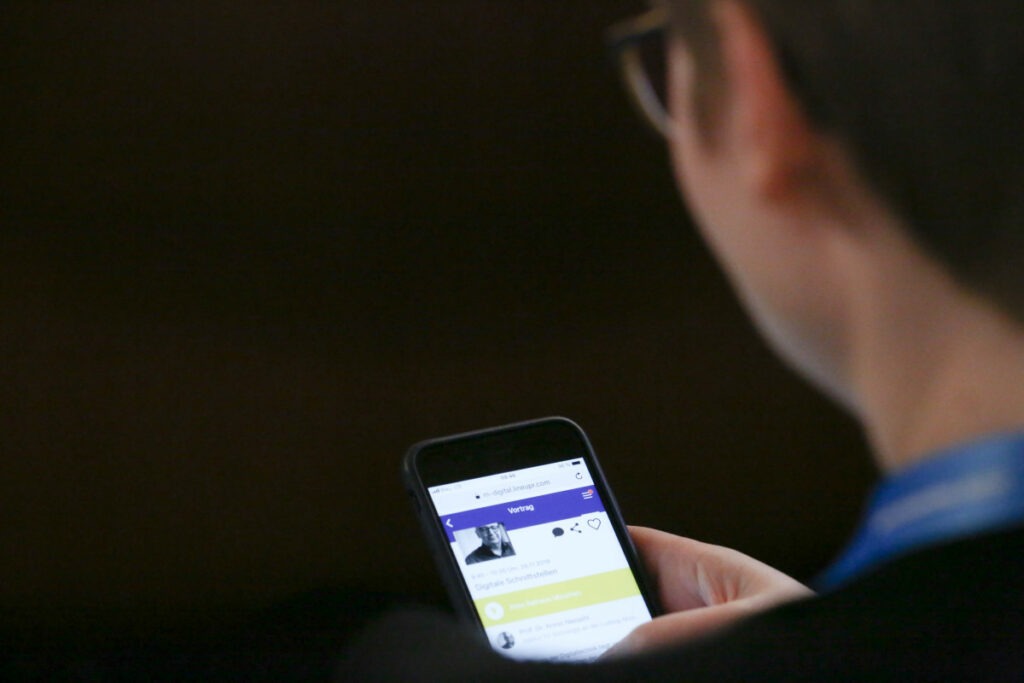 LineUpr: You have already used LineUpr for several events. When you compare a printed program to an event app, what are the advantages and disadvantages of both variants in your opinion?
Lisa: Basically, the idea of ​​a printed program booklet naturally contradicts our topic of "digitalization". That is why we keep trying to find new digital possibilities. An event app is great when you offer a lot of different things at the same time and the participants are spread across the event location. You can reach everyone through push notifications, the event visitors have the chance to put together their own daily schedule using favorites and, additionally, they can also find more information about the program items and the speakers. Ultimately, the app also helps the environment. But every now and again, you notice that many participants like to have something printed in their hand. But that is exactly our mission: to anchor digitalization more firmly in everyday life and work.
I think the possibility of putting together your own program as a participant is great.
LineUpr: As an old event app professional, how much time do you invest in creating the app today? And how long before the event do you start doing this?
Lisa: "Event app professional"? Haha. So in my opinion, creating the app is very easy and intuitive. Sure, if you already have some experience, it is even more comfortable and you are more likely to use the wealth of functions offered. On the whole, I need about 2 hours for the event app if I already know the program well. (But I'm somewhat more of a perfectionist ;))
When exactly we start with the creation of the event app is usually very different. Most of the time, however, the goal is to be ready before we send out the official invitation to be able to give invitees the first glimpse of the app.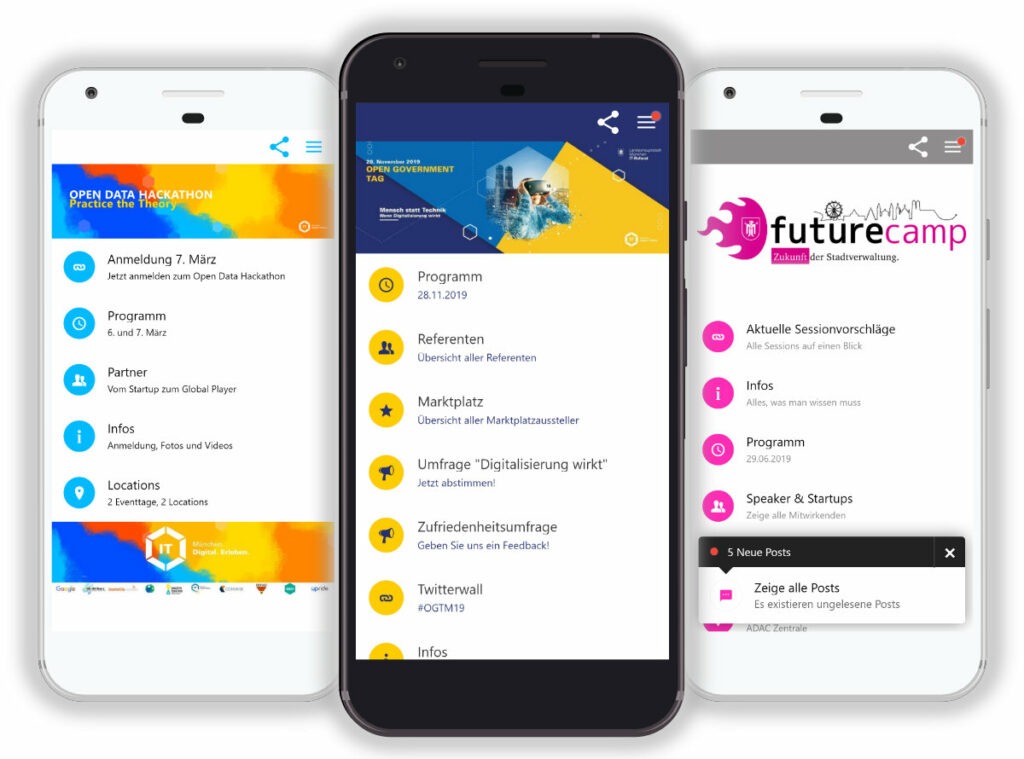 LineUpr: How would you rate the creation of the event app with LineUpr? What do you like and what can we improve?
Lisa: As already mentioned, I think the possibility of putting together your own program as a participant is great. In today's "smartphone era," I can have all the information and connections at a glance. Linking the different areas is clearly an advantage here!
Of course, there are always a few things that you want. 😉 For the design of the entries, for example, I would also like to be able to embed pictures and videos or integrate a Twitter wall. The interaction options between the participants could also be expanded with challenges, chat functions, or optimized live surveys.
I would definitely recommend an event app to anyone who has different participants, partners, locations, workshops or lectures.
LineUpr: When and how do you inform your participants about the event app?
Lisa: We have two times when we explicitly promote the WebApp (as we call it). The first time is with the official invitations. We regularly distribute these via our website muenchen.digital, via newsletters or our Twitter account. But there is also the option of announcing events on our intranet.
The second time is, of course, during the event. At the reception, at the greeting and also during the event itself, we always point out the WebApp. We also often display it on large smartboards for everyone to see and we look forward to feedback as part of the satisfaction survey.

LineUpr: What hurdles and difficulties did you experience when introducing an event app to your event?
Lisa: There were no real hurdles. I have already mentioned briefly that many participants still like to hold something printed in their hands. It was actually a change for many. The topic of data protection was also raised every now and then. The feedback was always very positive overall.
LineUpr: If someone is thinking about using an event app for their event, what would you advise them to do? When does an app make sense and what disadvantages are there when using an app?
Lisa: I would definitely recommend an event app to anyone who has different participants, partners, locations, workshops or lectures. Sure, it's additional effort and another medium but there is a comprehensive overview of the event. It helps with orientation and it makes it possible to reach everyone via push notifications and to receive feedback through satisfaction surveys. For events with only one or two program items, it would be too much for me personally.
LineUpr: Thank you, Lisa, for the fascinating interview. I think it is very important that we all adapt our methods of communication and approach one another. Public institutions, in particular, are often accused of adhering too often to the old practices. You are a refreshing example that this prejudice is wrong.
Of course, there is a lot more information online about Muenchen.digital. A visit to Twitter and YouTube will also give you many interesting insights.
We are already looking forward to your next events.