Reading time: 10 minutes
How do you approach your first own event app and is that all a reason to be afraid or do you also achieve a similar increase in value with the use of modern digital tools? We would like to discuss this with Birgit Brenner from ESC Energy Systems Consulting GmbH.
It's time again: We have an exciting interview partner – this time from a completely different industry than usual – who will gladly tell you more about herself, her company and the events she deals with in her daily work. In the following interview, you will find out exactly what she does, why she uses event apps and how LineUpr has helped her to do this.


LineUpr: Hello, Birgit. Thank you for taking your time for this interview. Please introduce yourself and your company, ESC Energy Systems Consulting GmbH again in person. What are your goals and tasks and what events do you organize in this environment?
Birgit: Thank you very much for the possibility of this interview. I am happy to share my experience with LineUpr. My name is Birgit Brenner, I am 46 years old and have been working in the energy sector since 2002. For almost 5 years I have been working for ESC Energy Systems Consulting GmbH as a Senior Consultant but also in other functions.
ESC Energy Systems Consulting GmbH is a service provider and consulting company for various operators in the energy market. For more than 10 years, we have been successfully supporting energy supply companies in the handling and optimization of their business processes.
Our goal is to continue to be a successful and reliable partner who advises and supports our customers (energy supply companies) in implementing and complying complex requirements of the energy market.
For some time now, we have been successfully implementing a large number of marketing measures in order to further increase the level of awareness of ESC Energy Systems Consulting GmbH and to win new customers.
As part of his additional position as deputy head of the working group "IT Solutions: Meter to Cash", our managing director Mr. Torsten Wallek presented the results of the working group to a professional audience in a forum organized by the BEMD e. V. The forum was supplemented by a pitch with a large number of solution providers. The presentations and pitch contributions were evaluated by the event app LineUpr directly after the respective presentation by the expert audience.
LineUpr: As a service company, it is important for you to build a good relationship with your potential customers. With the right implementation of our event app, you could interact directly with your audience during the presentation. You have just mentioned an event where you used our app: How much time and effort do you invest on average in planning the events?
Birgit: The planning of events is still in its infancy with us. The event, for which we used LineUpr, was planned and organized by BEMD e. V. as the lead partner. We contributed the event app.
In February 2018, for the first time, we were also represented at the E-world energy & water in Essen with a booth as a co-exhibitor. The planning of the event has shown that there are a lot of things to consider that you don't think about at first. All in all, however, it was a very successful event which showed that we are on the right track.
This year we are celebrating our 10th company anniversary, but preparations are in full swing. Further customer events are not planned in the near future – but experience has shown that this can change quickly.
LineUpr: So you are still relatively fresh when it comes to events. Obviously, you're going down a good path, if so many positive things happen at the first self-organized event.
It's nice to hear that you're instantly using digital marketing channels.
Here we are with the next keyword – marketing: What is the typical audience of your events and how do you reach them? Do you use special processes or which channels and tools do you use for marketing and presentation?
Birgit: The target group of ESC Energy Systems Consulting GmbH are companies from the energy sector, such as municipal utilities, grid operators, and distributors.
In order to reach our existing customers as well as potential new customers, we send out an ESC Newsletter 4 times a year with information on current topics and news about our company.
In addition, we regularly publish specialist articles on current and new topics on our website http://www.energy-sc.de and on XING, which are spread to existing contacts via XING.
Regular attendance at congresses and trade fairs in the industry to maintain personal contacts is also indispensable for us.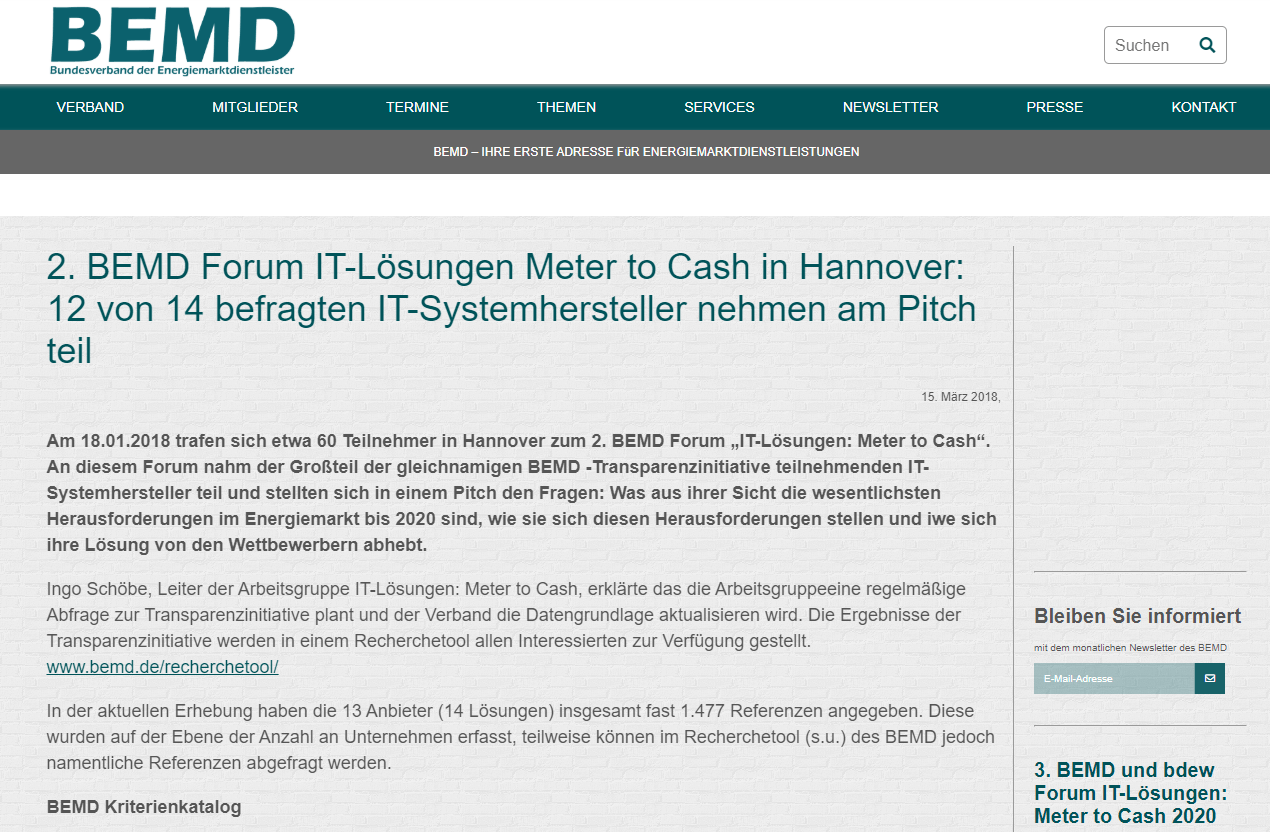 LineUpr: It all sounds quite digital and paperless! Nevertheless, the question: Do you also use print products? If so, which ones and why?
Birgit: Not anymore. Since new topics are being dealt with more and more quickly in the energy sector, there is simply a risk that print products will quickly become obsolete and have been overtaken by the next legislative decree or IT-technical innovation. We rely on online publication to present the solutions of ESC Energy Systems Consulting GmbH.
LineUpr: From our point of view, this is exactly the right way forward. The updating of content, in particular, is much easier and cheaper digitally than on paper. You must have noticed this when using LineUpr. Now I would like you to give us some little more specific details about your event where you used our platform.
You used LineUpr to support a forum you recently organized. How did LineUpr help you to present your events digitally? Were there any points that could not have been achieved without LineUpr in the way you chose? Are there any steps you no longer have to take? Were you even satisfied with our platform?
Birgit: The use of LineUpr was the perfect choice for the event. As already described, we had a series of presentations with different speakers. An important aspect of the program was that the providers of IT solutions should answer the following question in a 3-minute pitch:
"From your point of view, what are the most important challenges (TOP 3) in the energy market up to 2020 and how do you face them? Describe briefly how your solution stands out from the competition."
With LineUpr, the presentations and content could be evaluated directly after each pitch by the expert audience. After the event, the presenters were provided with their own evaluation and a comparison to the average value of the pitches.
With the direct evaluation after each lecture, the audience was very committed throughout the day. Due to the appealing moderation between the presentations, the flood of evaluations was channeled very well and the participants liked to "vote".
LineUpr: Exactly by means of such functions we wanted to promote user interaction with the operator in order to facilitate a more personal relationship. We are always happy when our customers have been able to implement exactly what they have planned. If we can also make a contribution to this, it is all the better.
Every organizer finds different ways to the solutions he uses. How did you first become aware of LineUpr and what was the reason for you to use an event app?
Birgit: By our colleague Anne Heitmann from our sister company ISI Management Consulting GmbH. She was also a participant of the forum and had already dealt with event apps and recommended LineUpr for future events of the ISI.
LineUpr: We are always particularly pleased with such a personal recommendation, as you generally recommend things only if you were satisfied.
The app we're talking about is your first one created with LineUpr. Did you create your first event app with LineUpr in general? If so, did you have reservations in advance? Have they been confirmed or proved to be unfounded?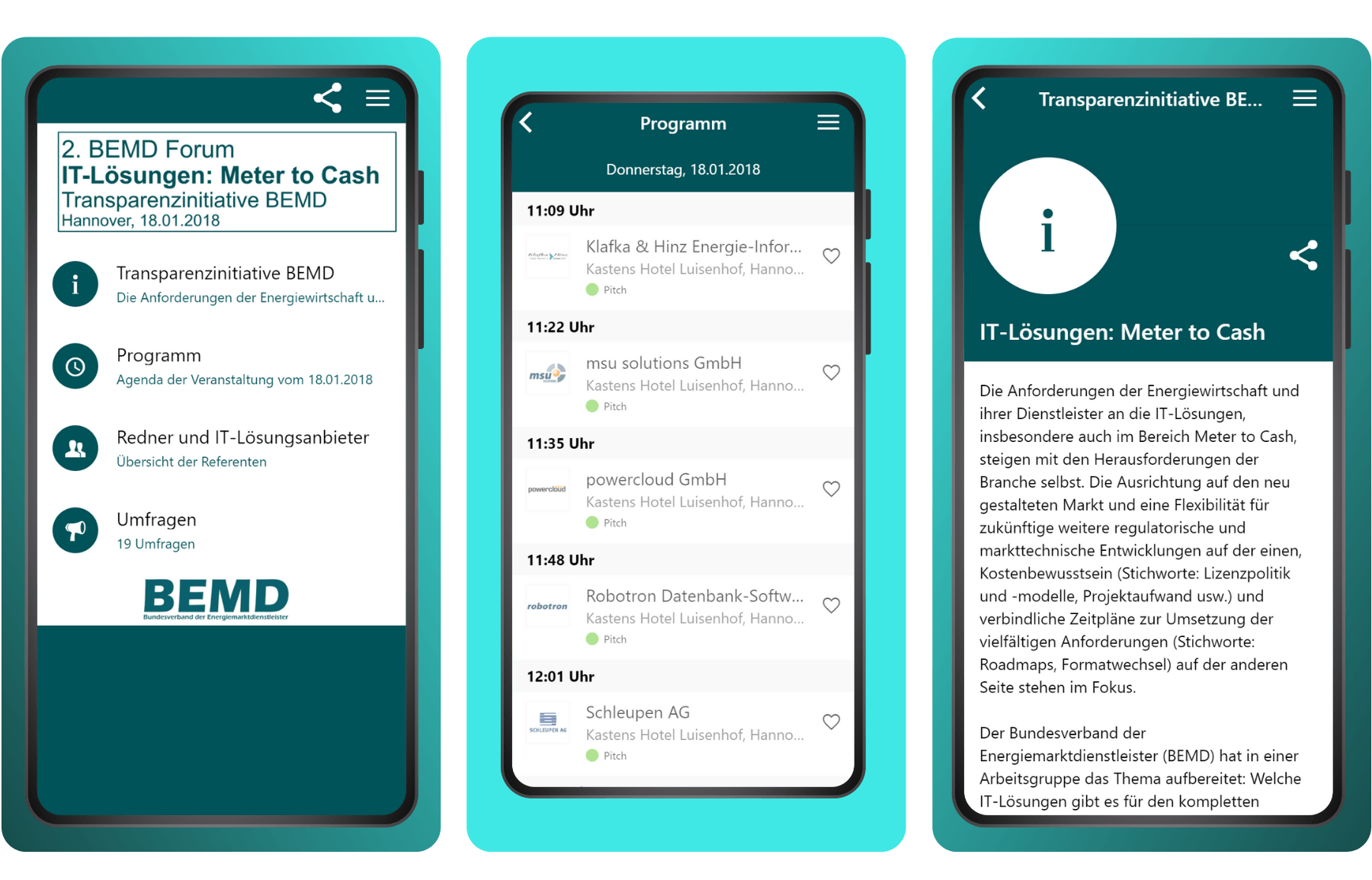 Birgit: Yes, this was the first attempt with an event app – but certainly not the last. We will definitely reinstate LineUpr. There was no fear of contact on our side. We were able to operate the app very quickly and intuitively and we were able to maintain and prepare the event completely within a very short period of time (no more than 1 working day in total).
Unfortunately, we didn't have the opportunity to provide the participants with the app link to the event in advance, as we had decided very spontaneously to use LineUpr. But this was no problem. There was a printed document for each participant with the QR code and a quick reference guide for operation. In addition, we held a short rehearsal vote before the start of the presentations.
Of course, it would have been nice if the participants had received a link in advance by e-mail since general information about the event can also be maintained via LineUpr. For future events, we will schedule a larger time frame (in advance).
LineUpr: It's great to hear that the creation has worked so smoothly. That is exactly what we want: Once the framework of the event is in place, the creation of the app must no longer be an issue.
Speaking of creation: In your app, you have created quite a lot of polls and achieved a lot of participation. How did you get your guests to do that? Were the questions interactive elements of the event or did you also get feedback from them?
Birgit: As already described above, the active participation is due to the good and appealing moderation. We asked the participants to vote actively after each presentation and the number of votes was "checked" by myself online, so that I could give the moderator a signal when all votes were taken.
The questions were both an interactive element and feedback on the quality of the presentations, which were made available to the moderators after the event.
In addition, it was possible to prepare current results from a relatively extensive survey on the export of data to Excel within a very short period of time. This was very well received by all participants and enriched the event.

LineUpr: It is a very good idea to involve the moderator in the polling process. We also recommend this to our customers when they ask us how to promote acceptance of the app. In addition, this has the advantage that the guests are able to use the app as a tool and for checking for questions and uncertainties.
Now we come to the penultimate question: An event has different phases, which can be accompanied with LineUpr. We have already talked about the Whilst. How did you use the app before and after the event?
Birgit: Due to the time, we did not use the app in advance. We will change this for upcoming events, with more time ahead.
After the event, all speakers were given their ratings and a comparison to the average value as a presentation.
Also, after the event, I was asked several times about the app and maybe one or two participants will decide to use this event app in the future.
LineUpr: Wow! Thank you for recommending us. That is definitely the best thanks.
In the end, it always gets a little more personal in our interviews, so here's the final question for you:
At the very beginning, you told me briefly what you do for a living. What inspires you in your work and what could you forego?
Birgit: I am enthusiastic about the variety of my tasks and the challenge to familiarize myself with completely new topics that do not correspond to my original focus on consulting. Because of my children, I am currently working part-time. For ESC Energy Systems Consulting GmbH however, I am able to use my strengths in a targeted manner and have managed to achieve the balancing act between consulting activities and sales tasks.
I wouldn't give up anything at all because I have actually found the perfect balance between work and family for myself and this is supported by ESC Energy Systems Consulting GmbH.
LineUpr: Glad to hear your work is so fulfilling for you. The fact that ESC Energy Systems Consulting GmbH ensures a good balance between family and career also sounds very good.
Thank you for the great interview. We are already looking forward to your next events and how we can support them with LineUpr.