Reading time: 5 minutes
If you think of good examples of digitalization, universities will spontaneously come to mind for only very few people. Unfortunately, education in Germany is often associated with outdated instruments and strategies. Private universities are usually ahead of the state models in terms of forward-looking strategies as well as digitalization. A perfect example for this is ESMT Berlin.
ESMT not only uses the latest knowledge and tools in teaching, but they also communicate their events digitally. That is why they have been using apps from LineUpr since 2018. Christiane Wieland is one of the people responsible. As a senior events manager, she is responsible for the conception, organization, and execution of events. In this interview, she will explain the advantages of event apps in comparison to the classic printed program, and show how they can make organizing an event much more comfortable. A great customer story with great insights ?


LineUpr: Hello, Christiane. Thank you for taking the time to do this interview. Please introduce yourself and ESMT Berlin.
Christiane: ESMT Berlin was founded by 25 leading global companies and institutions. The international business school offers a full-time MBA, an executive MBA, a master's in management, as well as open enrollment and customized executive education programs. Additionally, the business school provides an interdisciplinary platform for discourse between politics, business, and academia. The business school is based in Berlin, Germany, with a branch office in Shanghai, China. ESMT is a private business school with the right to grant PhDs and is accredited by the German state, AACSB, AMBA, EQUIS, and FIBAA.
I am a senior events manager, responsible for conception, organization, and execution of academic events and our premier conference, the ESMT Annual Forum.
LineUpr: You are already planning five events with LineUpr in 2019. What role do events play for you? Which goals do you want to achieve with them?
Christiane: As an international, research-oriented business school, ESMT focuses on three main topics: leadership, innovation, and analytics. Within this realm, ESMT is interested in extending experts and research results internationally. For this reason, we also host events that offer institutions, managers, and experts from business, politics, and academia an opportunity to network and exchange views.
LineUpr: Which tactics and tools do you use to promote these events? Which target group do you want to address?
Christiane: We publish our events on our homepage, in our newsletter, and on our social media channels. Our target group are people from business, politics, and academia who want to network, debate, and share ideas on current global business challenges.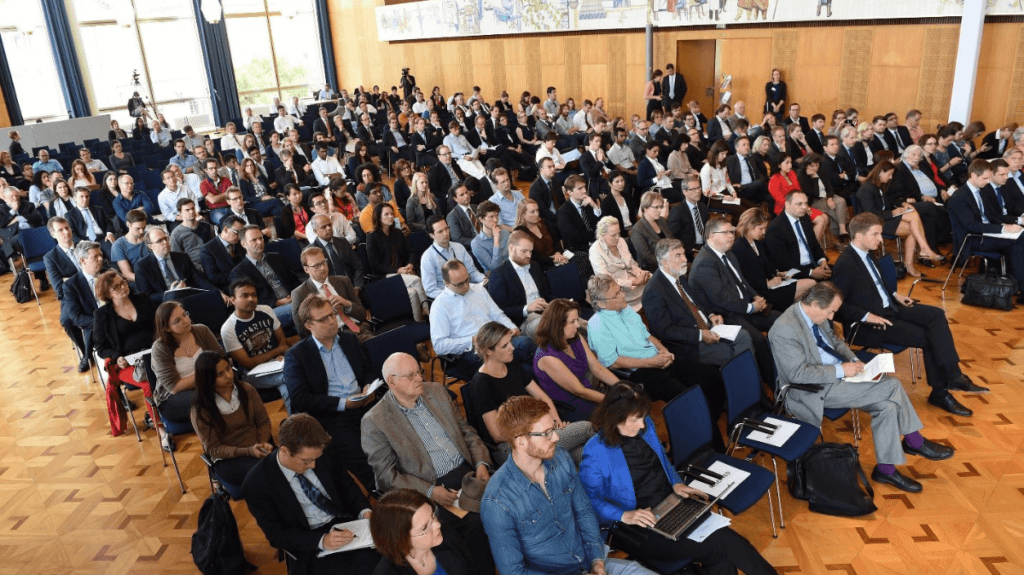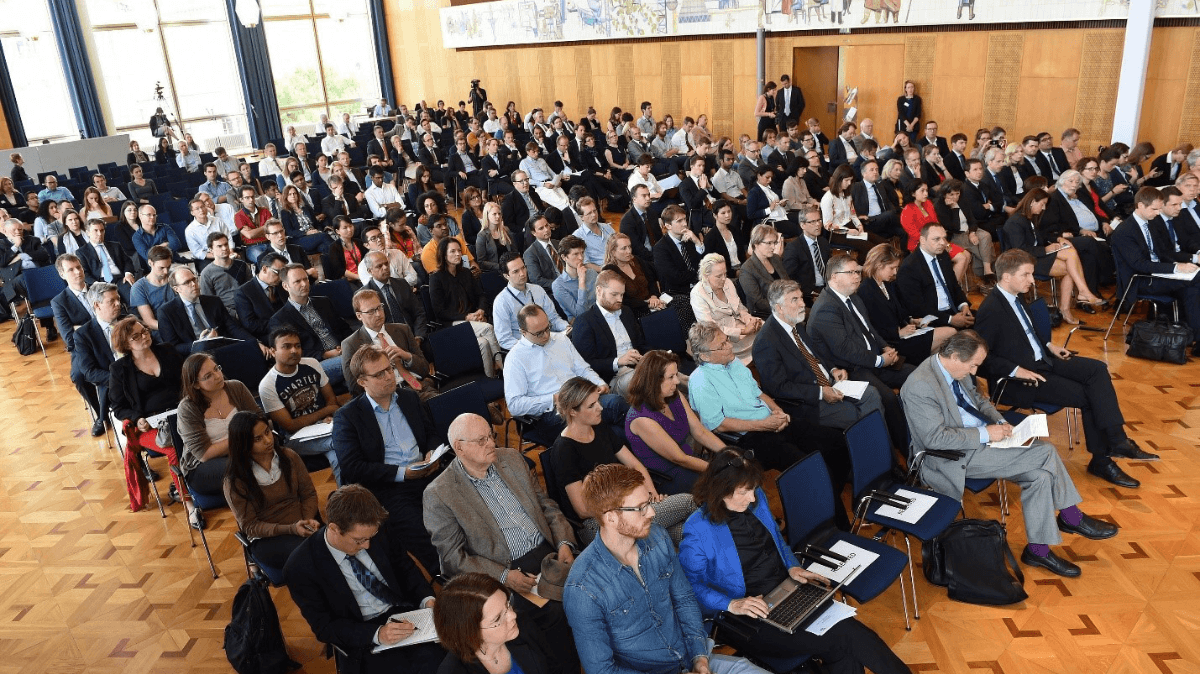 LineUpr: If you compare a printed program with an event app, what are the advantages and disadvantages of both variants?
Christiane: First, the event app is handy. Almost all participants possess a mobile phone, and thus have quick and easy access to all event information with just a few clicks. What is more, we save paper and ink by not printing programs, so it's eco-friendly.
Participants were informed in advance that we are using the app instead of a program booklet.
LineUpr: How much do you customize the event apps?
Christiane: We do individualize the app to a certain extent – we use our own cover images, our logo, and our corporate colors. For all other parts, we adopt the default menu as well as the suggested order of appearance since the default settings are intuitive and cover all relevant information fields.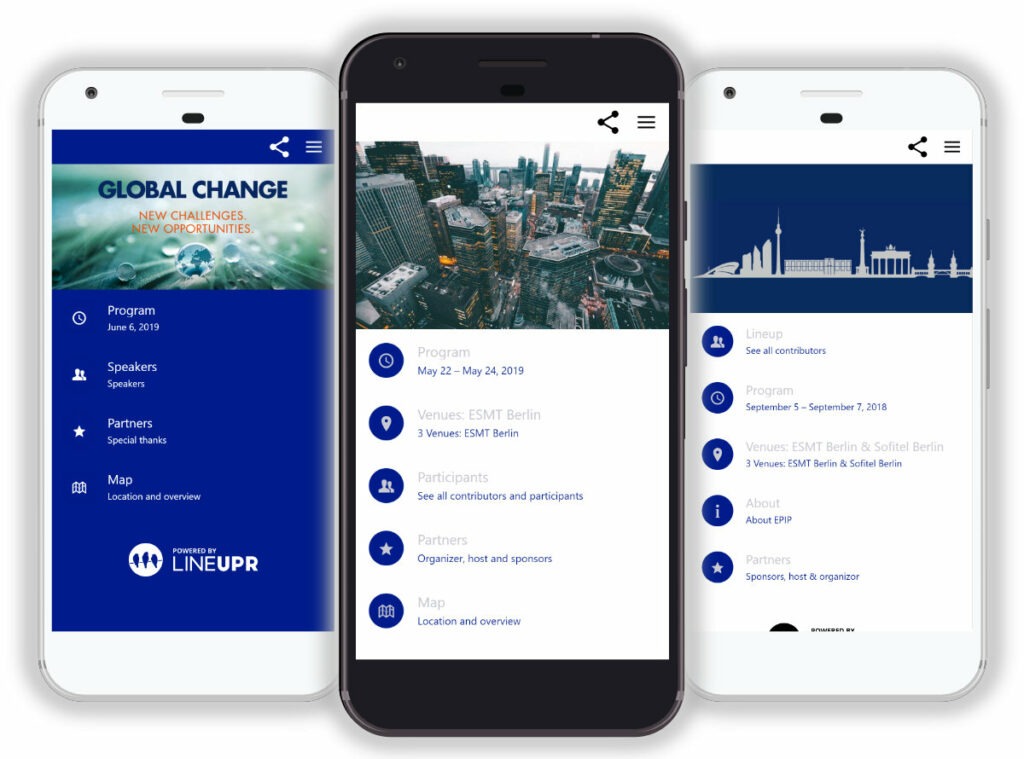 LineUpr: When and how do you inform your participants about the event app?
Christiane: We publish the link to the LineUpr app on our event pages and include it in our email invitations. For invitation only events such as scientific conferences, we inform participants via email about the app. On the day of the event, we also have the QR code ready for scanning.
LineUpr facilitates event organization immensely, because we can easily enter information and publish it with just one click.
LineUpr: Do you point out the event app during the events?
Christiane: We refer to the app during events by simply providing the QR code at the registration desk. This proves to be sufficient as participants are informed in advance that we are using the app instead of a program booklet.

LineUpr: How have your events or event organization changed by using an event app?
Christiane: LineUpr facilitates event organization immensely. We can easily enter information about the program, speakers, or various venues including Google links in the app and publish it with just one click. This way, we avoid the hassle of preparing multiple documents, printing them, and so forth. This also saves time.
LineUpr: What hurdles and difficulties did you experience in launching an event app for your event?
Christiane: In fact, there were no significant hurdles or difficulties. The app is generally very well received, many participants especially like the easy to use and environmental-friendly aspects of the app.
LineUpr: If someone were thinking about using an event app for their event, what would you advise them? When is an app useful, and what are the disadvantages of an app?
Christiane: I can only recommend an event app. It not only saves a lot of time, and thus makes organization easier; it is also environment-friendly and convenient for our visitors as all relevant information is available with just a few clicks.
LineUpr: Thank you for the great interview, Christiane. It's always great when organizers are enthusiastic about using an event app. With the organization and the implementation of events, you are significantly more forward-thinking than the average university in Germany.
If you or one of your relatives is still looking for a good university, then look at the ESMT website. Or if you want to have direct insights into study programs, then we recommend the series "MIM Student Insights" on YouTube. Here students talk about their everyday life at ESMT. As a university of rank and name, the ESMT is of course represented on all major platforms, so visit them on Facebook, Twitter, Instagram, or LinkedIn.
We are already looking forward to the remaining events in 2019 with you.