Image: City Graz/Schiffer
Reading time: 5 minutes
Large regions and cities today face various increasingly complex tasks. This inevitably requires supra-regional thinking and action to find efficient solutions. For this reason, the City of Graz has established in its structure a special unit that deals primarily with various strategic projects within the framework of European, national, bilateral, and transnational funding initiatives. In this context, events also play a role in bringing decision-makers and stakeholders together to start an expert dialogue on interdisciplinary urban development topics.
As the head of the EU-unit of the City Graz, Christian Nussmueller is also responsible for planning these events. He has already used LineUpr for two events in 2019. In this interview, he will tell you what advantages and disadvantages a program booklet has in comparison to such an app, what the participants found particularly useful in this digital solution and when an event app is a useful tool to use. Have fun with this great customer story. 😊


LineUpr: Hello Christian. Thank you for taking the time to do this interview. Please introduce yourself.
Christian: I am the head of the EU-unit in the city of Graz and our main task is the strategic project development of the framework of European, national, bilateral and transnational funding initiatives in the areas of interdisciplinary urban development, urban regional development, sustainable mobility, urban freight logistics, climate protection, and world cultural heritage.
LineUpr: What role do events play for you?
Christian: We are required to organize smaller but also larger events in the mentioned subject areas with very limited public resources. The CIVITAS Forum 2019, as THE European Union's annual event promoting innovative, sustainable mobility approaches in Europe's cities, was the largest so far with more than 650 participants from 45 countries, 30 parallel sessions, 150 presentations, and 12 site visits.
LineUpr: What makes your events unique? Which target group do you want to address and what added value do you offer the participants?
Christian: The events organized by us are primarily intended to serve the purpose of building knowledge and exchanging knowledge in the field of interdisciplinary urban development to prepare the public administration for future trends and challenges.

LineUpr: If you compare a printed program with an event app, what are the advantages and disadvantages of both variants?
Christian: I think when you compare the two media, you quickly get to the point that humans are "creatures of habit". Printed programs have been the standard so far and are therefore still in demand by certain groups of visitors, especially the older semesters.
Sponsors also still like to see their logos on a printed product. Nevertheless, for me, the advantages of the app outweigh those of the printed products. The main points are the possibilities of short-term program changes or offering information through the app and the better price when compared to glossy brochures.
From our point of view, the usability of LineUpr is outstanding.
LineUpr: Do you use the app to present your speakers with individual profiles?
Christian: We use this function individually, depending on the event and the available time budget.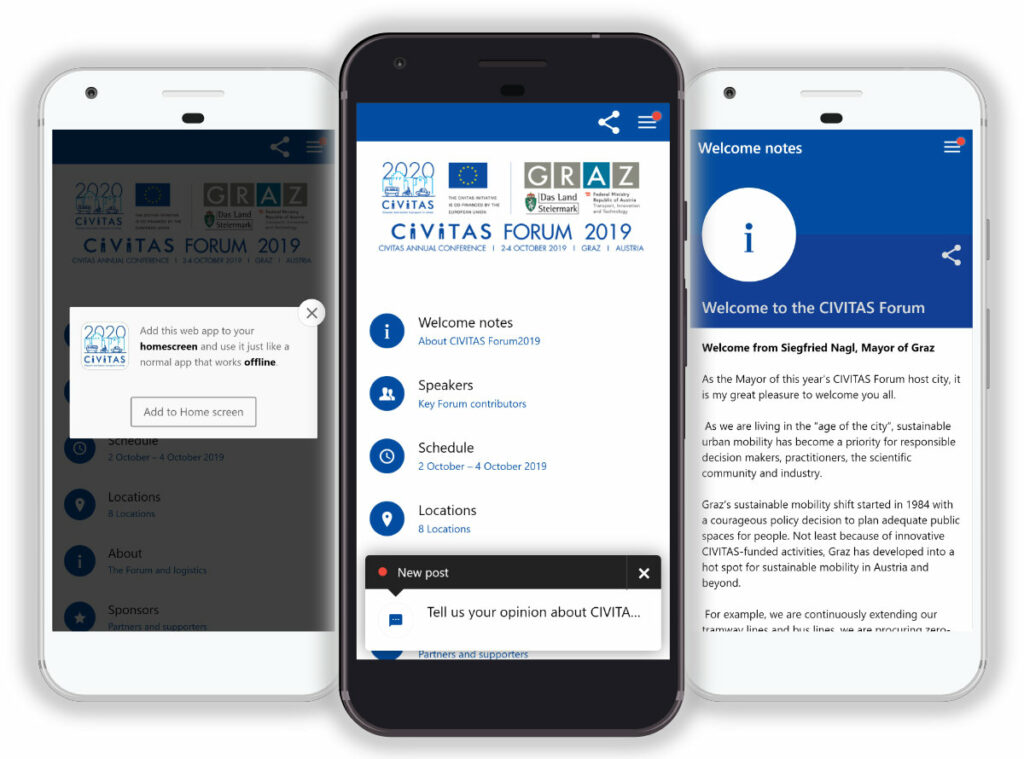 LineUpr: How would you rate the creation of the event app with LineUpr? What do you like and what can we improve?
Christian: From our point of view, the usability of LineUpr is outstanding, as it is easy and intuitive to use and to fill with content.
Here are our suggestions for improving your product:
more home screen options (e. g. more flexible menu creation in the sense of a hierarchical system)
more icon templates
directly integrated user statistics
Upload of PDF documents (e. g. room plans)
Schedule module: flexible color background design of program blocks (content, time, etc.)
integrated Q&A and polling platform (ranking questions, etc.)
I would consider using an app solution from about 100 participants onwards.
LineUpr: You have given us a lot of homework. But you are right in many areas and we are working to make much of it available soon.
When and how do you inform your participants about the event app?
Christian: We informed the participants about the prepared event app on average one to two weeks before the event by e-mail. We sent this info after we have fixed the agenda of the event and all session details.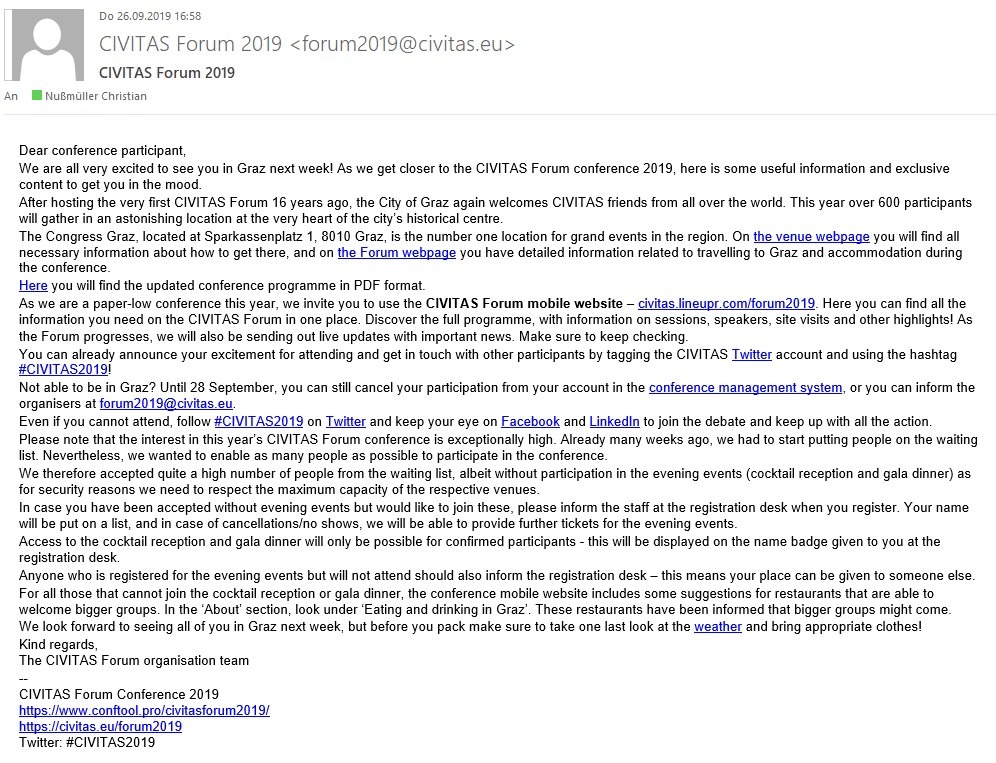 LineUpr: How did your visitors react to the app?
Christian: The visitors reacted very positively to this digital information option.
There was a lot of positive feedback, especially on the aspect of saving resources and acting sustainable by largely avoiding hard copies.
LineUpr: If someone is thinking about using an event app for their event, how would you advise them? When is an app useful, and what are the disadvantages of an app?
Christian: From my point of view, you should first be clear about the number of participants in the planned event. I would consider using an app solution from about 100 participants onwards. The price-performance ratio of LineUpr is, in our opinion, just right.
LineUpr: Thank you, Christian, for the great interview. I think that your events are especially important for various stakeholder groups which are currently shaping our cities for future – politicians, industry, scientists, administration and last but not least the citizens. The CIVITAS Forum is a unique event in this context and I am very proud that LineUpr was able to contribute to a small part of it.
Of course, the EU-Unit of the City of Graz also has its digital contact point, so be sure to drop by on their website. But I can also recommend talking directly to Christian. Just write him on LinkedIn.
We are already looking forward to the next events with you.