Reading time: 4 minutes
Today, we once again find ourselves in the public sector. We have Nicole Osman from the State Gazette of Baden-Württemberg as a guest. She is responsible for conducting the annual symposium on digitalization in public administration.
She tells you more about the first steps with an event app and what difficulties you can expect. Have fun while reading. ?


LineUpr: Hello Nicole. Thank you for taking the time to do this interview. Please introduce yourself and the State Gazette of Baden-Württemberg. What are your goals and what role do events play in achieving them?
Nicole: Hello, I'm Nicole. In our congresses department, I am responsible for the organization, the participant management and the on-site implementation of our training and congress offers. The State Gazette is very diverse and sees itself primarily as an all-round service provider for public administration. Since 2009 we have our congress area, which does both the symposium, as well as staff fairs in Ludwigsburg, Kehl and Speyer and offers specially tailored training for local councils in the state of Baden-Württemberg.
LineUpr: Let's get to your event "#Amt @SocialMedia". What is this about? Which target group did you want to reach with it?
Nicole: Our event "#Amt @SocialMedia" was aimed primarily at all press spokespersons in public administration. The highlight of this year was certainly the presence of Mayor Boris Palmer, who used the example of his own person to explain how to deal with a "shit storm" in social media. The topic of social media is fast-paced, explosive and highly interesting, especially for press relations. Our symposium is an annual event. It always offers current topics and their handling in practice. It is a very popular event with nice returning participants.
LineUpr: Which channels and tools do you use for marketing and presentation?
Nicole: We advertise all our events through as many channels as possible. From classic letter mailing to Facebook, Twitter, and Xing. Of course not to forget our homepage and newspaper. This is how we reach the target group to whom we offer our program.

LineUpr: How did you learn about LineUpr and what was the decisive argument for you to use an event app?
Nicole: The special social media topic at this year's symposium literally screamed for a digital accompaniment. To which topic can you otherwise "try out", whether your audience is ready for the digital world and can save time by not having to pack folders because everything is digitally available? So in the vast expanses of the internet, we went in search of something suitable and met you. Trying out the creation of pages was a joy because it is self-explanatory and simply structured. If you are looking for a quick digital accompaniment to your event, then this is the place for you!
LineUpr: Have you already used event apps? If so, what are your experiences and why did you choose LineUpr for this event? If not, what has been against it so far?
Nicole: No, so far we did not use an event app because it did not fit.
So if you are looking for a digital accompaniment to your event, this is the place for you!
LineUpr: How did you use the app before, during and after the event?
Nicole: We inserted the entire event, as seen on our website, into the app. Location including directions, speaker presentation with short CV and contact information, daily routine, etc. There are no limits to your own design options here. I really liked the pop-up news feature. This was also filled in advance by us.
We changed the visibility of each message during the day as needed. This feature was especially great as a reminder of the lectures parallel to the press kit check which we were offering at the symposium or to wish the participants a good meal shortly before the meal.
Of course, we have also linked the lectures of our speakers and referred to them.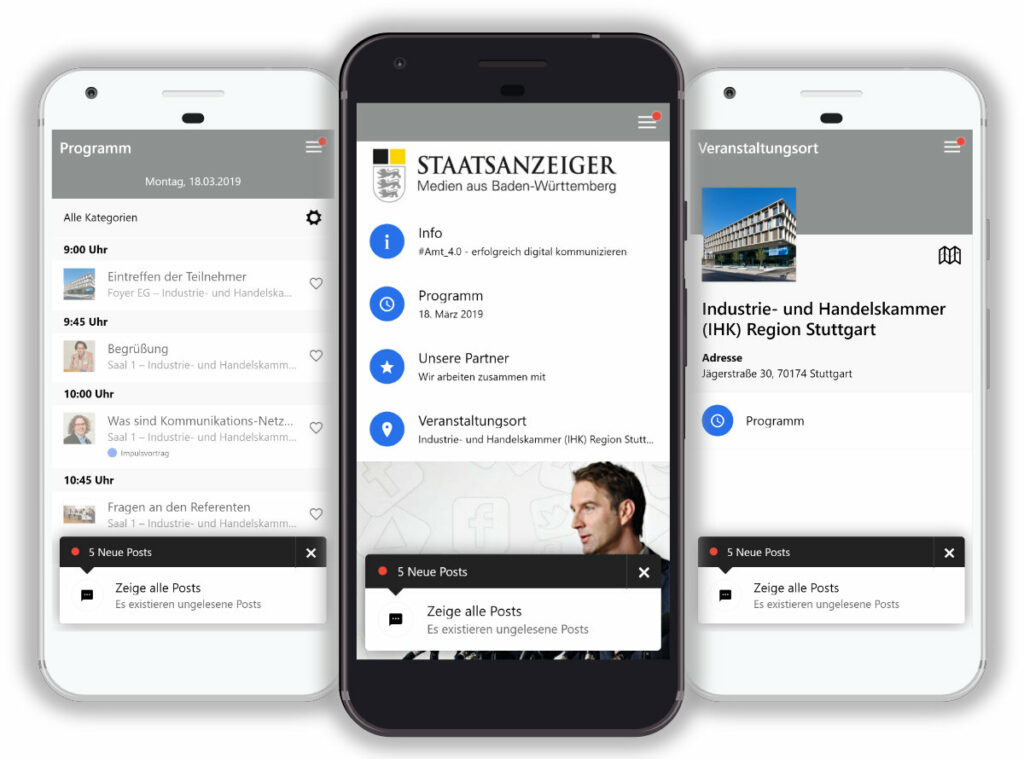 LineUpr: How did your visitors react to the app?
Nicole: In an information e-mail shortly before the event, we made our participants aware of the app and explained the usage to them a bit. By having selectable forums, everyone could save their chosen favorites and view them in the app. Anyone who registered was also asked if he needed paper documents. In advance, there were just a few. Unfortunately, you cannot write notes on a program point within the app, which is why some persons wanted to have the document folders again. Maybe a small suggestion for you? The response to the app was still low, but it's usually so in most first attempts. Sometimes it takes a while to get established. But the participants who used the app found it to be excellent.
The response to the app was still low, but it's usually so in most first attempts.
LineUpr: We will take this suggestion with us. Promised. ? You also used surveys about the app during the event. What did you want to achieve and how did you convince your guests to participate in these surveys?
Nicole: First of all, we wanted to find out how many people are using the app at all. Since we want to work more sustainably, we also consider how we can save paper. We hope that our participants will use the app even more actively in the future so that we can get rid of paper and still be able to communicate all the information about the events.
With a nice pop-up notification, we asked our participants to rate their impressions with the simple star system fresh after the program points!
LineUpr: Thank you for the lovely interview, Nicole. We always find it very interesting to be at the forefront of digitalizing events. We see that there is still much to learn about the digital hurdles in the transition from analog to digital.
We are looking forward to helping you again. ?