Reading time: 4 minutes
Our interviewee today is an expert in affiliate marketing. With more than 20,000 advertisers and 200,000 active publishers, Awin is the largest affiliate network in the world. Events play a significant role at Awin in bringing their customers together regularly to provide them with current trends and information.
Alexandra Bietz tells you how exactly an event app at AWIN AG helps to connect their customers better and to optimize their events. She is the senior marketing manager for the DACH region and a real event app expert. Have fun. ?

LineUpr: Hello Alexandra. Thank you for taking the time to do this interview. Please introduce yourself and AWIN AG.
Alexandra: Hello everybody. I have been working at AWIN for almost four years. I started as an account manager in the advertising team and have been working in Marketing for two years as the marketing manager for the DACH region. I organize our networking events and look after our website. AWIN is the world's largest affiliate network with 13,000 advertisers and 100,000 active publishers. More than 1,000 colleagues work at 15 locations in Europe, America, and South America.
LineUpr: What role do events play in achieving your business goals?
Alexandra: Events play a significant role for us. We are present at major industry events to try to reach new customers, but we also organize our events to bring existing customers together. I coordinate our so-called AWIN Days, where we take our business model "network" very literally. We want to create a platform and opportunity for our advertisers and publishers to get to know each other personally and to discuss co-operation. As affiliate marketing becomes more and more international, it is more and more difficult to meet in person. Here we want to start and create an appealing supporting program based around a valuable day.
LineUpr: Who is the typical target audience of your event and how do you reach them? What channels and tools do you use for marketing and presentation?
Alexandra: Since our events are geared towards existing customers, we only want to reach them. Advertisers appear as sponsors with an exhibitor stand – here we mainly go for personal communication with our customers. The publishers can participate as participants for free. We use all channels that we can think of: newsletters, social media and banner placements on our own platform. Besides, we book occasional banner or newsletter placements with our advertising partners.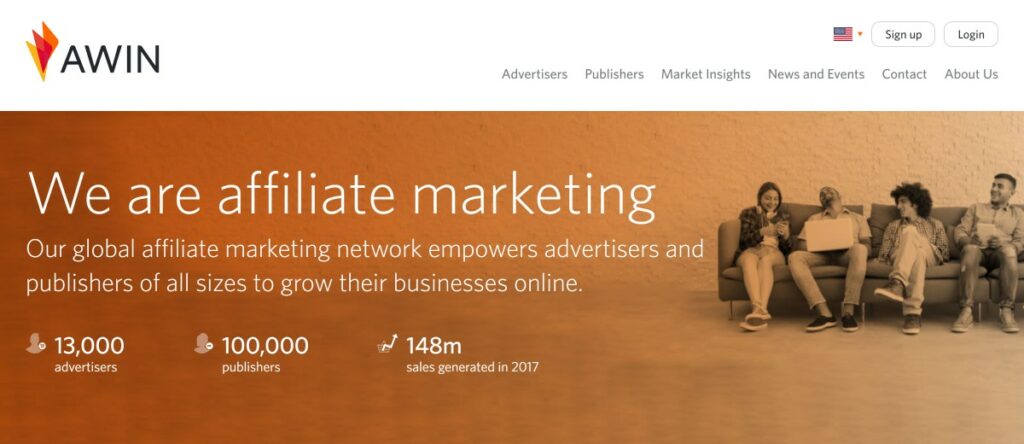 LineUpr: You've already used LineUpr for two events. What added value do you expect from an event app?
Alexandra: Our customers and thus our target group are clearly online-affine. We noticed that it is difficult to bring our printed materials directly to the people. What's more, our customers are particularly interested in one thing: who can I meet? That's why we were looking for a way to publish a list of participants. LineUpr also offers the option of displaying all the information we otherwise publish in the booklet in the same way in the app. In our booklet, our sponsors are introduced, and we print the agenda and publish statistics. That's exactly what's possible with LineUpr.
At the first event, it was still a test run to possibly, in the long run, completely get rid of printed materials. This was further confirmed at the second event – more than half of all booklets remained untouched. I have not finally decided on the future, but in the long run, I could well imagine that we will refrain entirely from using printed materials.
At the first event, it was still a test run to possibly, in the long run, completely get rid of printed materials.
LineUpr: Have you used event apps in the past? If so, what are your experiences?
Alexandra: We have not used any event app yet. LineUpr was our first attempt.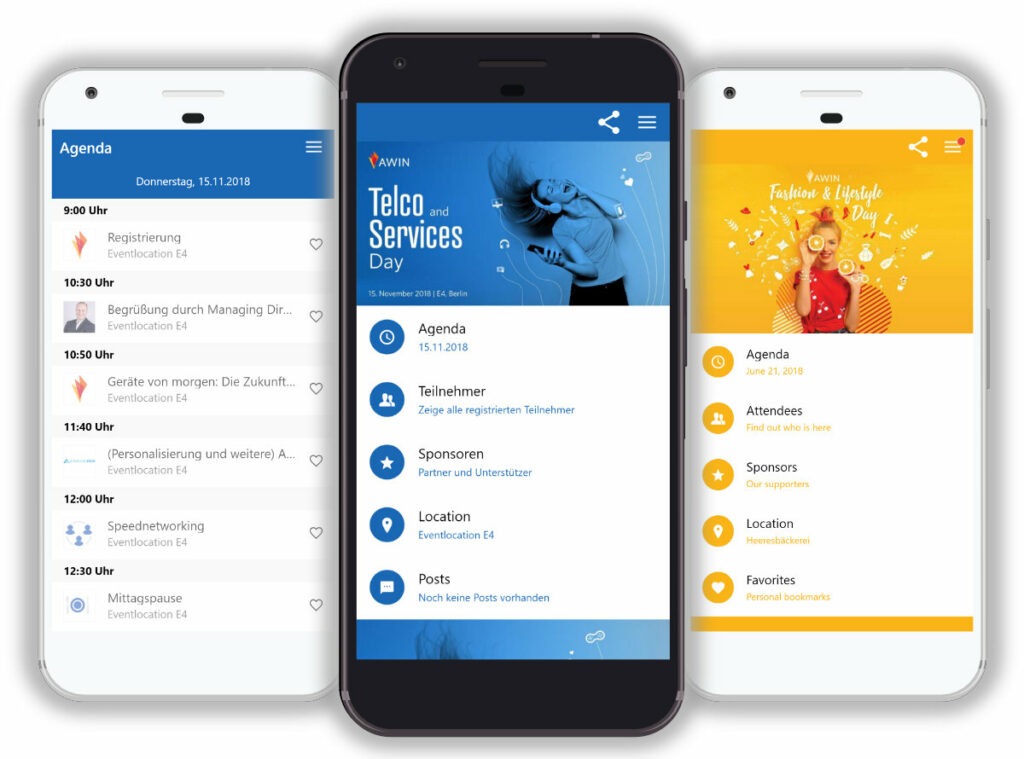 LineUpr: How did you use the app before, during and after the Awin Telco & Services Day?
Alexandra: We communicated the app via our confirmation email and reminder mail to the participants and linked it directly. On the day of the event, our moderators once again presented the app and promoted it at small stands on site. We used almost all of the functions: agenda, participant list, sponsor presentation, location including room plan and posts. Unfortunately, the survey tool did not function at our first event, since the participants probably did not look at the app after the event. That's why we created the survey for the second event externally via another tool and sent it by e-mail.
We used Google Analytics to evaluate the app afterward. The values for the first event were more than good: On the actual day, each guest checked the list of participants at least three times on average. Also in the previous week, to inform themselves. The agenda was the second most popular page. We saw similar results at the second event. This time, however, the guests were more informed in advance and used the app less on the day itself.
LineUpr: How did your visitors react to the app?
Alexandra: We received positive feedback in direct talks and the numbers from Google Analytics speak for themselves. We clearly see the trend at our events that guests forget the booklet and get all the info from the app.
… the numbers from Google Analytics speak for themselves.
LineUpr: Which top three tips would you like to give other organizers for the use of LineUpr?
Alexandra: I definitely recommend that you first communicate the app via email so that guests only have to follow the link. Communicating about the app on-site via a QR code did not work for us – QR codes are now really dead. Besides, I would use Google Analytics again and again to identify the most popular page. As a last point (and I will write this down for myself as well) I would use the posts more. There is real potential here, which I took for granted.
LineUpr: Thank you, Alexandra, for the great interview. It is always fascinating for us to find out why and how our organizers use an event app.
If you are interested in advertising and affiliate marketing, then have a look at the homepage of Awin.
We are already looking forward to your next events and to many post notifications with LineUpr.