Reading time: 3 minutes
How does digital transformation work? That's what Daniel Walzer deals with every second of his day. He supports medium-sized companies and traditional corporations in the introduction and implementation of new and efficient working methods.
At an event this means, for example, the reduction of paper and the use of new interactive communication tools such as an event app. We asked Daniel what experience he has had with the use of event apps and how to convince event organizers to take advantage of digital transformation for their own benefit. Have fun while reading. ?


LineUpr: Hello Daniel. Thank you for taking the time to do this interview. Please introduce yourself and your management consultancy.
Daniel: Hi LineUpr team. First of all, thank you for the invitation. I lead a management consultancy with which I support companies in implementing projects quickly and purposefully. In particular, it is about getting feedback quickly and analyzing whether the market will accept the project/product or not. In doing so, I support medium-sized companies as well as large corporations that are in the traditional field with innovative strategies from the start-up area.
The focus of my work is, among others, various digitalization and automation projects, all aimed at providing a better customer experience, as well as creating a better work environment and culture for employees through the way they work. Employees are more motivated and can directly recognize the purpose of their work. This is intended to break traditional silo thinking and promote interdisciplinary thinking in conventional companies.
LineUpr: How did you learn about LineUpr and what added value do you expect from an event app?
Daniel: LineUpr took part in the 2016 Captain Mice Future Award and I happened to be part of this event as well. So I was able to make the first contact. And as fate sometimes do, I had a client shortly afterward who had used only printed products for his event, but an app was just perfect for his event. I then alerted him and together we launched a first attempt that was so successful that the app was directly desired at the next event.
LineUpr: You are often underway at different events. How would you rate the organizers' willingness to use digital solutions?
Daniel: The most important thing is that the added value for the organizer must be clear very quickly. It is less about the advantage of the event participant, but always about the organizer. And here it simply depends heavily on the organizer himself and what he wants to achieve. In my case, I worked with a federation and they wanted, among others, to make an innovative impression on their members and that was, of course, an optimal argument for the app for me. Anyone who wants to be innovative must also integrate digital media at their events.
At the same time, I often found that the readiness for digital solutions is diminishing because organizers are afraid that something will not work correctly at the event. This fear can best be reduced from the organizers by first building a prototype and showing what is possible and how it ultimately works. If this base is set, then the app can be completely fed with all the data.
And then it's about getting started step by step with a new solution. We did not use the full potential of LineUpr at either the first or the second event, but it was more about getting started slowly on a new solution.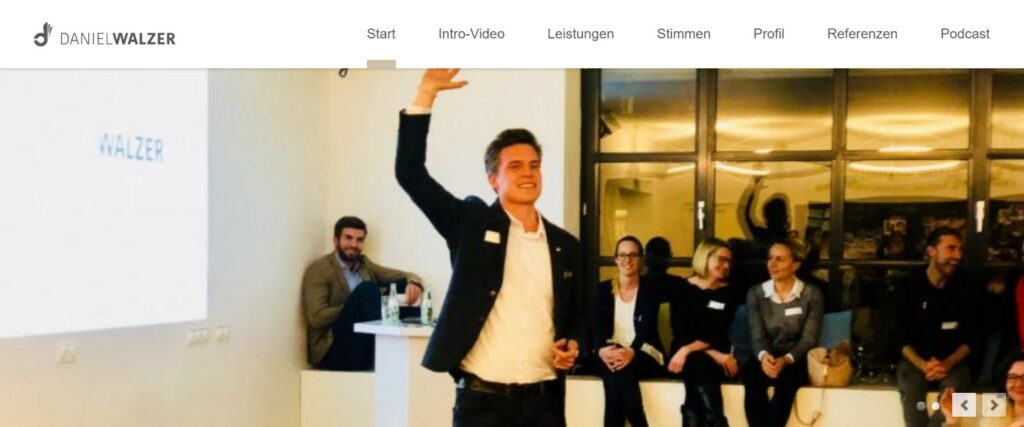 LineUpr: As an innovation expert you are indeed a great friend of digitalization. How would you communicate the benefits of an event app to promoters?
Daniel: So the first benefit for organizers is sure to get them to customers' or participants' data. Second, it can offer its participants a unique experience by interactively informing them of what is going on at the event. And the third benefit is that the organizer has, through LineUpr, a mobile and digital platform for communication with the participants, which is not possible with printed products.
LineUpr: You have already used LineUpr several times. Most recently for the ERA Convention. What is this event and what role do you play in this event?
Daniel: I am an ERA consultant for various topics of the future and in that role, I implemented the app. The convention is the ERA annual meeting where all the members come together to show what the ERA is doing and what they can do. Of course, the presentation also plays an essential role in this environment and then the app was used.
Participants can be offered a unique experience by interactively informing them about what's going on at the event.
LineUpr: How did you use the app before, during and after this event?
Daniel: We had a traditional program as PDF and print and there was a link and a guide on how to use the app. Everyone also received an invitation link via e-mail. We sent the link on Twitter and Facebook that allowed access to the app. During the event, we always displayed the QR code for the app on the displays so that the participants could open the app quickly and easily. Since we recorded many channels and also used a lot of queries in the app, we ended up with a coverage of about 90% of the participants who used the app, since of course, everyone wanted to participate in the queries.
LineUpr: How did your visitors react to the app?
Daniel: We actively asked for the feedback from the participants and that was very good. The app was well received and therefore we will probably continue to use it.
The app was well received and therefore we will probably continue to use it.
LineUpr: We want to grow daily and offer our customers a better experience, what features do you want for the app and why?
Daniel: I think it would be cool in some cases to show videos. I found the creation of the room plans not to be 100% intuitive. Interactive room plans, directly linked to exhibitors, would, of course, be super exciting. Otherwise, I find your app very good.
LineUpr: Thank you, Daniel, for the exclusive interview. Agencies and consultants are always a great indicator of what we still need to improve and what many customers want. You have a great view there.
Maybe you also want to get to Daniel and get advice. You can find information on how to do this on his homepage or Facebook. If you also want to test innovative methods quickly, check out Daniel's page on Design Sprints: www.design-sprint-agentur.de.
We are already looking forward to the next events with Daniel.