Reading time: 5 minutes
Once a year, the TU Dresden offers its students the opportunity to look beyond the borders of their studies and to engage in interdisciplinary tasks. There are no regular courses that day: It is called dies academicus.
The team of Integrale – Institut für studium generale coordinates this day. Part of this team is Ines Herrmann, who used the LineUpr app in this context for the first time in 2019. In this interview, Ines tells us more about this special day, how she filled the app with content, and what possibilities and difficulties came with the app. Enjoy reading this customer story. 😊


LineUpr: Hello, Ines. Thank you for taking the time to give us an interview. Please introduce yourself and the Integrale-Team.
Ines: Hi there! You're most welcome. My name is Ines Herrmann. I am a musician who coordinates events such as the Garage Concerts (since 2019) and the dies academicus (since 2017) besides. At the dies academicus, I am part of a dedicated team of students and graduates (like myself) working for Integrale – Institut für studium generale at the TU Dresden. Integrale has various teams. For example, we organize the lecture series and issue a prospectus for all general studies/AQUA courses at the university every semester.
LineUpr: You have used the LineUpr app for the dies academicus at the TU Dresden. Please tell us more about this event.
Ines: Sure! The dies academicus is an annual interdisciplinary festival at the TU Dresden. It is firmly anchored in the academic year, and there are no lectures that day. Instead, student councils and university groups introduce themselves. There is also a detective game coordinated by our team and a wide variety of workshops, culture program, and lectures.
LineUpr: Do you also use printed products for marketing the event or distributing information on-site? If so, which and why?
Ines: Yes, we also provide the main program points of the event via posters, and it is printed in the prospectus. We do this to make everything as accessible as possible and to allow easy access to our offers on-site. We do not want to assume that everyone owns a mobile device with internet connection. Besides, we advertise with flyers, posters, and a banner in advance where a QR code and website addresses to the program are referenced.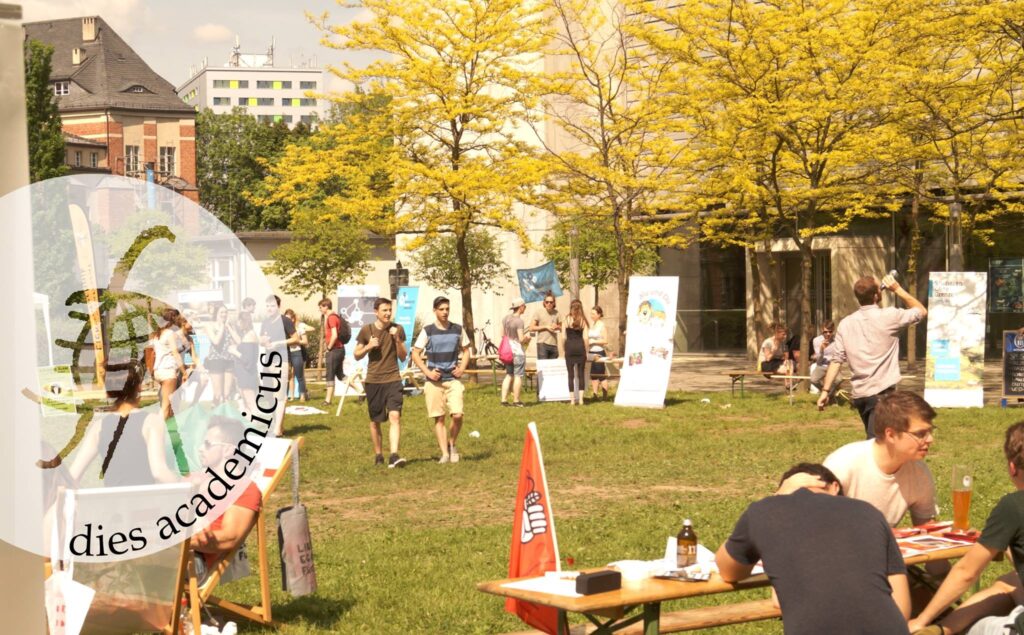 LineUpr: How long ahead of the event did you start creating the event app?
Ines: I immediately started to incorporate the first fixed points of the day's program into the app. The handling is very intuitive, so the invested time is "light-footed". It was helpful to start early so that all content could be requested and created before the event.
I find the available customization options ideal, which nevertheless provide a consistent layout between different LineUpr pages.
LineUpr: How much did you individualize the LineUpr app?
Ines: So I think I made full use of it :-D. I adapted the app to our corporate design colors and reset all logos, covers, etc. I even renamed the menu items.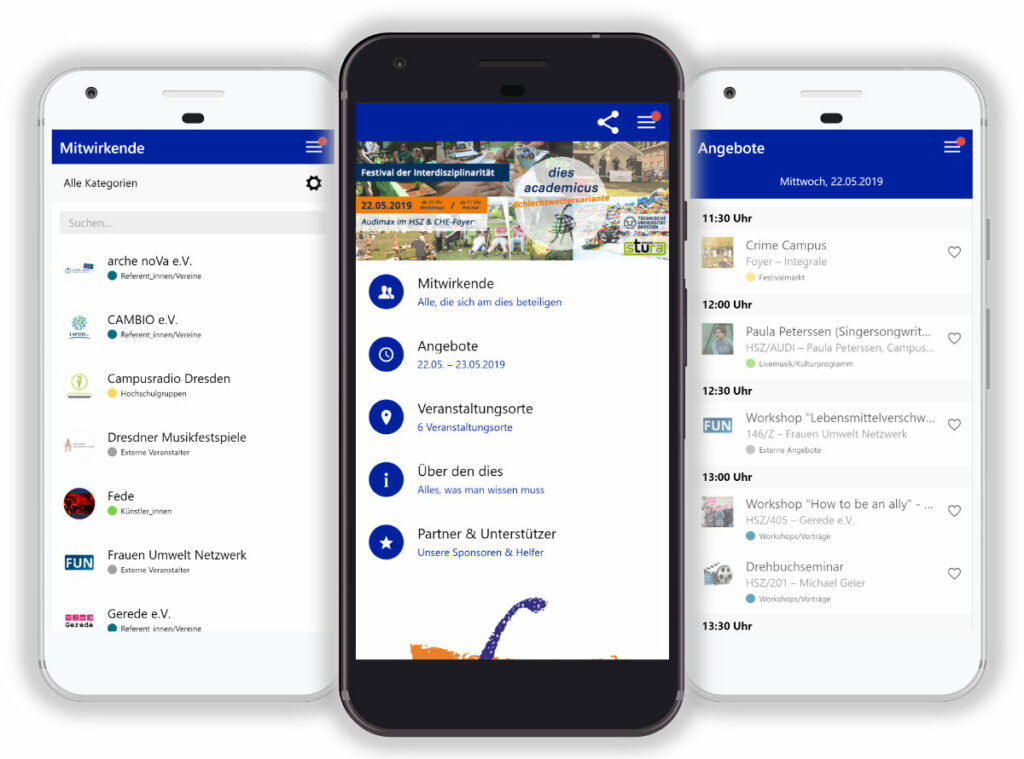 LineUpr: Did you also display your partners with profiles?
Ines: Yes, I made sure that our partners, organizers, and sponsors for the dies academicus were featured within the app prominently. Though, I was only able to display content that was made available to us by them. For this reason, there was a different level of information availability (texts/links, etc.).
We think that the use of the app is only worthwhile if it is used repeatedly as a part of the event presentation.
Quote: We think that the use of the app is only worthwhile if it is used repeatedly as a part of the event presentation.
LineUpr: How do you rate the creation of the event app with LineUpr? What do you like and what can we improve?
Ines: The creation of the event app is straightforward, but I do not know to what extent my rather expanded affinity and knowledge for technology comes into play here. The presentation of the event content is clear, and the low-threshold for the user is worth highlighting. I find the available customization options ideal, which nevertheless provide a consistent layout between different LineUpr pages.
It happened multiple times that in conversation with others the term "app" is perceived as confusing, since it is more of a website link on a smartphone than an app (in the sense of: available via the App / Play Store and loads independently from the browser).
Personally, I miss a way to get usage statistics without external tools. Doing this via Google Analytics (as currently possible) is problematic and gives an extra overhead (Analytics is not as intuitive as LineUpr and does not conform well to local privacy policies, and I need to register elsewhere and then log in at multiple platforms every time).

LineUpr: How was your event or event organization changed by using our event app?
Ines: Our event organization has not changed. Through the app, we have just found a new way to present our program clearly and to make it easily accessible to our target audience.
LineUpr: The event is over now. Would you use the app the same way at the next event to communicate with your participants, or is there something you would change?
Ines: The promotion of the event is not facilitated by the mere creation and communication of the app. On the contrary, promoting a new platform to participants takes time. We think that the use of the app is only worthwhile if it is used repeatedly as a part of the event presentation. Currently, my team is still unsure which value the app has for us in comparison to a traditional website.
LineUpr: What top tips would you like to give to other event hosts who want to use LineUpr?
Ines: Tip 1: It is advisable for organizers to set up a short domain, which forwards the user to the app because the link given by the app is quite long and not so easy to remember (and in conclusion not handy/user-friendly).
Tip 2: I sometimes see more prominent organizers in Dresden like the Elbhangfest and the BRN, using the app, but not using little to no images. The app runs on visualization! Those who do not embed any pictures miss out on reaching a wider audience because their app and therefore event will not be perceived as attractive and inviting as it would be with images. This is actually my main tip: Do it, but then do it right!
LineUpr: Thank you, Ines, for the great interview. The dies academicus is a unique day at the TU Dresden. And this is only possible because of people like you. You are doing a noble job there.
On Twitter and integrale.de, you can get more information in the dies academicus. Besides her volunteer work, Ines also works as a musician. You can find out more about her on Facebook, Instagram, and of course, on her website. For an auditory taste test, we also recommend her YouTube profile.
We would be thrilled if we could support you again next year with an app.