Reading time: 5 minutes
Another success story to add to our interviews. Today we welcome Nathalie Jene from Schleupen AG. She has been using LineUpr for some time and will give us a report on her work, a specific event and the changes she has made with our event apps.
See how your events can benefit from apps and why Nathalie says it's worth taking a look at LineUpr.


LineUpr: Hello Nathalie. Thank you for taking the time to do this interview. Please introduce yourself and the Schleupen AG. What are your goals and what role do events play in achieving them?
Nathalie: My name is Nathalie Jene, I work at Schleupen AG in Marketing for the Business Unit Governance, Risk & Compliance.
Schleupen AG was founded in 1970 as a software company and has been successfully involved in the IT industry for over 40 years. With our software solutions in the area of Governance, Risk & Compliance, we offer industry-specific, individually configurable standard solutions.
Our R2C products ensure that relevant things are noticed – and we ensure that our customers notice all the innovations and essential information about these things! Therefore, every year our customer conference takes place for our users.
In a relaxed, enjoyable working atmosphere, which inspires constructive cooperation and exchange with each other, intensive dialogues are conducted not only on the topics of risk management, ICS, data protection, and compliance but also promising networking.
LineUpr: Sounds interesting! So you are an established player on the market and have known your target group very well and for a long time. Who is the typical target audience of your events and how do you reach them?
Nathalie: The R2C Customer Conference is not a public event. It is explicitly aimed at our customers.
We advertise with printed invitations, which we send by post to our customers. We also publish information about the event on our website and on XING.
LineUpr: So you invite your customers with printed invitations. Do you also use printed products to distribute information on site? If so, which and why?
Nathalie: Yes, we have distributed factsheets about our individual products. In addition, there was a flyer for each participant to promote the app. It explained how they could use the app on site.

LineUpr: That already sounds like a significant reduction! It's great that we can help to do something good for the environment. You have now used LineUpr for the third time. How did you learn about LineUpr and what is the decisive argument for you to use an event app?
Nathalie: A colleague drew my attention to it. I looked at it and loved it immediately: easy handling and very user-friendly. The decision that we should use it directly for the current event was made quickly. Since there are always short-term programme changes, the app is a great solution. Previously, programme books were sent, which were out of date by the time of the event. The app is much more flexible here.
A colleague drew my attention to it [LineUpr] [and] I was immediately thrilled: easy to use and very user-friendly.
LineUpr: So a positive first experience with LineUpr as an event app. We're really glad! Keyword event apps: Have you used event apps from other providers in the past? If so, what are your experiences and why did you choose LineUpr for this event? If not, why not?
Nathalie: No apps have been used in the past. Why? Unfortunately, I cannot judge, because I'm new to the company.
LineUpr: Let's get to the actual event; your R2C user meeting. How did you use the app here before, during and after the event?
Nathalie: Before the event, we integrated a QR code into the invitation mailing so that customers can open the app directly. We have also linked the app on our website. Similarly, we have set up a special URL (www.schleupen-grc.de/r2c-awt), which also led directly to the app.
During the event, we used the previously mentioned materials to promote the app and pointed this out during onboarding.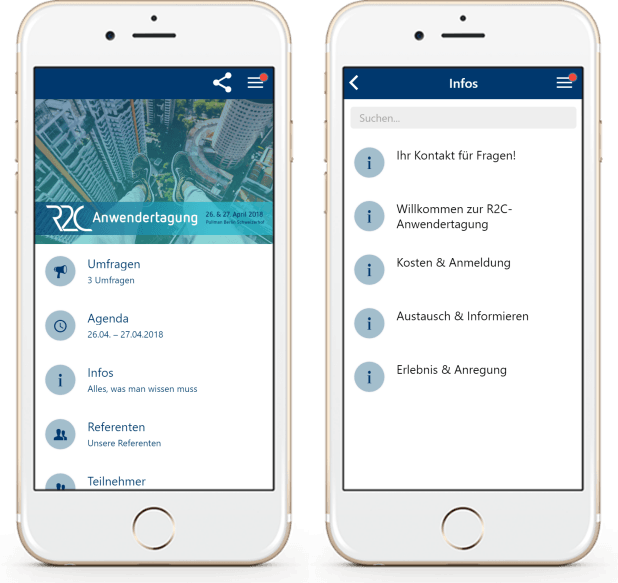 LineUpr: With this good promotion you can expect a high usage rate from your participants. How did your visitors respond to the app?
Nathalie: The participants liked the app. But we did not do a survey explicitly for the app.
Unfortunately, the polls and the reviews of the lectures were not used as much as desired. Likewise, some customers still need the agenda in advance to submit it internally for approval.
LineUpr: Survey participation will undoubtedly improve in the future. Speaking of feedback: You'll certainly use that to further improve your event. Has the R2C customer conference changed in any way since you used LineUpr?
Nathalie: Communication has become much easier, especially about short-term changes to rooms or meeting places.
LineUpr: Great! So LineUpr does precisely what it should do: streamline processes and save resources. Change of subject: This isn't the first time you're using LineUpr, and thus you are already event app experts. Which three top tips would you like to give other organizers on the use of LineUpr?
The communication has become much easier, especially about short-term changes of rooms or meeting places.
Nathalie: Generally, LineUpr is very user-friendly and did not cause us any problems. However, you should not try out all the features at once. Make sure everyone involved has enough expertise and try everything out first.
LineUpr: Nathalie, many thanks for the great interview and the time you took for it. We are always pleased when we get an insight into the work of our customers after dealing with LineUpr. We wish you and your team at Schleupen much success in all other events – and that it was not the last with LineUpr!
If you also want to get an insight into the work of Schleupen AG, just stop by the Governance, Risk & Compliance division! Go there directly with the following link: www.schleupen-grc.de
We look forward to the next events with you.