Reading time: 6 minutes

Summer Smith works in document management at Stargel Office Solution. Once a year, she becomes part of the team organizing the big Stargel Tech Event. After their event in Houston, we met for an interview.
Here she talks about her experiences with the app, what surprised her and how she will integrate the app even better into the organization of the next event.
We hope you enjoy reading this customer story.


LineUpr: Hello Summer. Thank you for taking the time to do this interview. Please introduce yourself and Stargel Office Solutions.
Summer: I have been with Stargel for 20 years. Although my primary role is a document management consultant, I am often asked to assist with our marketing materials and events. Stargel Office Solutions is a privately-owned document solutions company. We see ourselves as a trusted partner in the area of document creation, production and management. Since 1987, we have endeavored to provide our clients with industry-leading technology coupled with exceptional service and proactive solutions. Our partnerships with leading manufacturers provide the best of both worlds; a highly responsive locally-owned company for sales and service, along with the organizational and technological resources of some of the world's most respected product names.

LineUpr: You have used LineUpr for your Technology Event. Please tell us more about that event. What makes it special? Which target group did you want to address?

Summer: Annually, Stargel hosts a Technology Event held at Minute Maid Park, home of baseball's Houston Astros. Food, beverages, product demonstrations, presentations from industry experts, contests and tickets to the baseball game are all included for our 500+ participants. We continually implement new ideas to keep it exciting, fun and informative. Our Technology Event is a great way for both our current and prospective customers to learn about our latest product offerings and recommended solutions while being entertained. A review of this year's event can be found in the below link.

LineUpr: What strategies and tools do you use when addressing this target group? Do you attach particular importance to something special?

Summer: Stargel reps identify potential and current customers early; marketing begins 3 to 4 months in advance. Save the dates, invitations, event details and event reminders are sent via email and followed up with phone calls made by the account representative. Once invited, our invitees will here from at least 4 times before the event.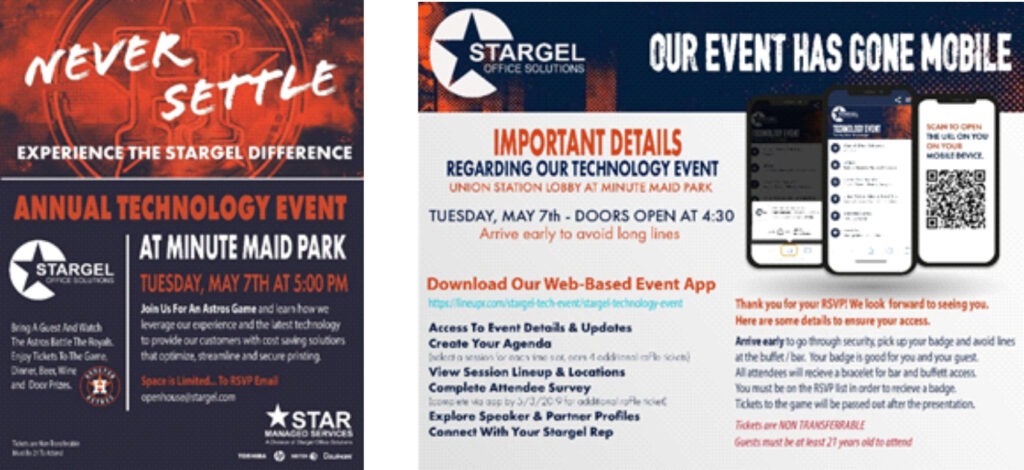 LineUpr: Have you used event apps in the past? If so, what experiences have you had with it? If you have not used an app yet, what has been against it so far?

Summer: We learned of LineUpr during an event hosted by Docuware. Before this year, Stargel has never used an event app, primarily because of cost and time associated with set up and management. Exploring other event apps was overwhelming as there are so many to choose from. Most offered more than we needed with a cost we could not justify.
It was only after we started using the app that the possibilities and benefits really became clear to us.
LineUpr: How much in advance do you publish the app? What information do you already communicate via the app before the event?

Summer: Not early enough… We did not publish the event until a week before the date. This was definitely due to our inexperience using an event app. Through our email campaign, we are limited to an event overview and pertinent details. Once we started using the app, we began to see all the possibilities and benefits. We have already started a list of features we will take advantage of next year.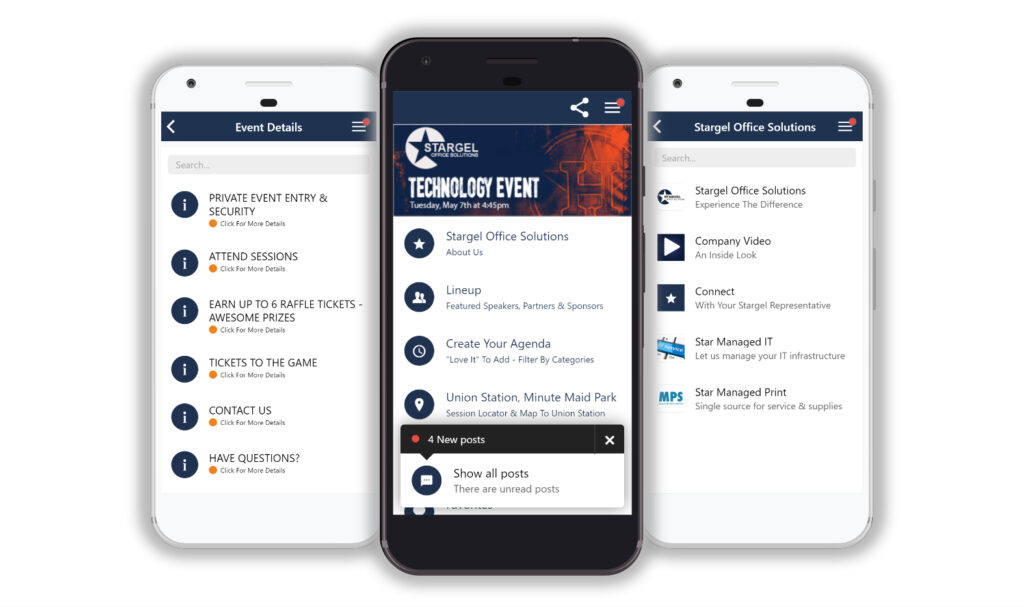 LineUpr: When and how do you inform the participants of the event about the event app?

Summer: We plan to include a link to the app on our very first communication, 3 to 4 months before the event, giving our attendees more time to connect with Stargel, our representatives, and vendors. The app included links to vendor websites as well as to the LinkedIn account for each Stargel representative. Results from google analytics indicated we had 506 unique users with 1,117 total sessions and an average of 05:17 minutes spent on the app this year. The app was only shared with participants who had already RSVP'd 1 week before the event. Next year, we anticipate to more than double these results by sharing the app in our initial Save the Date.
As a technology company, a tailor-made event app […] helps to spread our message.
LineUpr: How exactly do you use the survey function? How did you inform the participants about the usage of the app and how did you integrate the results into the event?

Summer: The survey feature was GREAT! In years past we had a printed questionnaire for each customer; it included contact information, existing fleet details and what topics they would like additional information on. We took each handwritten form, entered the results in excel and distributed it to the account representative. Having this done automatically was a HUGE time saver! We will take advantage of additional surveys next year.


LineUpr: How did your visitors react to the app?

Summer: Our guests loved the app! Customers were able to think about what sessions would most benefit them and create their agenda. The event map allowed attendees to easily find session locations. A special contest was hidden in the app to encourage guests to view all of the contents. As a technology company, having a custom event app helps separate us from the competition and solidify our message.

LineUpr: How has your event or event organization changed by using an event app?

Summer: Before the app, we did not have a platform for event participants to easily engage and connect. Now attendees have immediate access to speaker, vendor, representative and sponsor details right from their phone. The event data gained in our survey, google analytics and favorites collected within the app were extremely valuable. The information collected will help us make improvements for future events while providing insightful marketing details for targeted campaigns.
We used to have customers standing in line to pick up their badge before the event, most holding a crinkled invitation and even an email from the Stargel representative containing event details. Having the event details, driving directions and agenda all in one place is great and honestly, it is what customers have come to expect. The ability to communicate updates through the app was helpful; it is inevitable, there are always last-minute tidbits you wish to share. We were able to open the event earlier than expected, so we posted an update on the app. It was impressive to see the number of guests who read the post and arrived early; this helped to speed up our check-in process.

This year's event included breakout sessions for the first time. In the past, we had a single presentation for the entire audience. Breakout sessions allow customers to hear more about topics they are interested in; by that same token, they allow Stargel to present more than just one topic. Without the app, the breakout sessions would not have been chaotic. Our event was a success, it was well organized, had great flow and attendees enjoyed attending smaller sessions. Customers knew where to go and what to expect, allowing them to focus on the information presented.
The approach to planning the annual technology event is the same as Stargel's everyday business model; go above and beyond the customers' expectations. The LineUpr app helped us do just that. Our customers had a great time, information was well received, the feedback was positive and there are many opportunities for new business. Mission accomplished!

LineUpr: Which top three tips would you like to give to other organizers when using LineUpr?

Summer: Everything is customizable and easy to change! Don't be afraid! If you make a mistake you can easily make a correction and the app will update immediately. I made a couple of spelling errors initially and was able to correct it before anyone noticed.
Take advantage of the surveys and analytics.
Use a floorplan, this feature kept users on the app. After every session, the participants opened the app to locate the next session. The users were very impressed!

LineUpr: Thank you for the insightful interview. Here the app was used equally by the guests and the organizer. That's how it's supposed to be.

Summer: Of course, we are happy to pass on the tips to our other app users.
It will be exciting to see how you use the app next time. With the experience of this event, you will fulfill your goals.
If you would like to know more about Stargel, you are welcome to visit their homepage and stay up to date via Twitter or LinkedIn.
You can personally contact Summer via LinkedIn here.  We are already looking forward to supporting your event next year with our app.