Reading time: 6 minutes
The topic of sustainability affects us all. Even scientific events. This is one reason why the program committee of the Feminist and Rhetoric Conference decided against the pressure of printing the 80-page conference program booklet this year. Instead, the program was offered as a digital PDF. To offer the participants the maximum comfort on-site, LineUpr also provided a digital program that was always up-to-date and available everywhere. We spoke to Cynthia Martin about why she chose LineUpr as a tool and what her experience with event apps has been so far. Have fun while reading. 😊

LineUpr: Hello Cynthia. Thank you for taking the time to do this interview. Please introduce yourself and the James Madison University.
Cynthia: I am the conference program editor and an instructor in the School of Writing, Rhetoric and Technical Communication at James Madison University (JMU), located in the picturesque Shenandoah Valley of Virginia. JMU is home to 20,000 undergraduate and 2,000 graduate students studying in over 147 majors and advanced degree programs. Students enrolled in the Writing, Rhetoric and Technical Communication program study written rhetoric, technical communication and editing, web design and user experience, and scientific and medical writing and have opportunities to collaborate on interdisciplinary projects, engage in community-based learning, and complete professional internships and practicums. Two years ago, faculty member Dr. Jen Almjeld and the school won a bid to host the biannual conference of the Coalition of Feminist Scholars in the History of Rhetoric and Composition. Two months before the conference, the planning committee decided against printing the 80+ page conference program and decided to provide participants with an electronic PDF of the program. That is when I decided we needed an app. I learned about LineUpr via a Google search for free conference apps, which lead me to reviews on G2.com.
LineUpr: You used an event app from LineUpr for your conference Feminisms and Rhetorics. Please tell us more about this event.
Cynthia: The Feminisms and Rhetorics Conference is held every two years to further the mission of the coalition of Feminist Scholars in the History of Rhetoric and Composition by fostering inquiry in feminist histories, theories, and pedagogies. This year's conference was attended by 450 scholars, students, and community leaders representing 47 states and over 200 universities, making it the largest Feminisms and Rhetorics conference ever. Participants presented and shared research, participated in think tanks, and engaged in grassroots feminism by producing feminist zines, writing and editing articles for Wikipedia's Women in Red project, and completing craftivist projects.
LineUpr: If you compare a printed program with an event app, what are the advantages and disadvantages of both variants?
Cynthia: The printed version of a program offers a designed page that can capture attention and motivate/guide reading. A well-designed app can do the same. LineUpr comes close with its Plus subscription. The disadvantage of printed programs is that they are often lengthy and their one-time-use rarely justifies cost—financial or environmental. In addition, accessibility is often limited because of the fixed nature of printed materials.
Apps provide on-the-go/on-demand access to the program. LineUpr specifically enables organizers to send out push notifications, so we were able to send out reminders of events and schedule changes. Web-based apps such as LineUpr are also compatible with screen readers, and all apps are greener and environmentally friendly than printed programs, which are used for a day or two and then sent to the landfill. Feminisms and Rhetorics was an official "Greening Your Event" partner designated by the university's Institute for Stewardship of the Natural World, so LineUpr fit well with our goals to be a sustainable event and to reduce the conference's carbon footprint.
One of the key advantages of LineUpr over printed programs and much of its app-based competition is that it is web-based, which means it is compatible with screen readers and it avoids app-fatigue because participants do not have to download anything or create yet another login credential.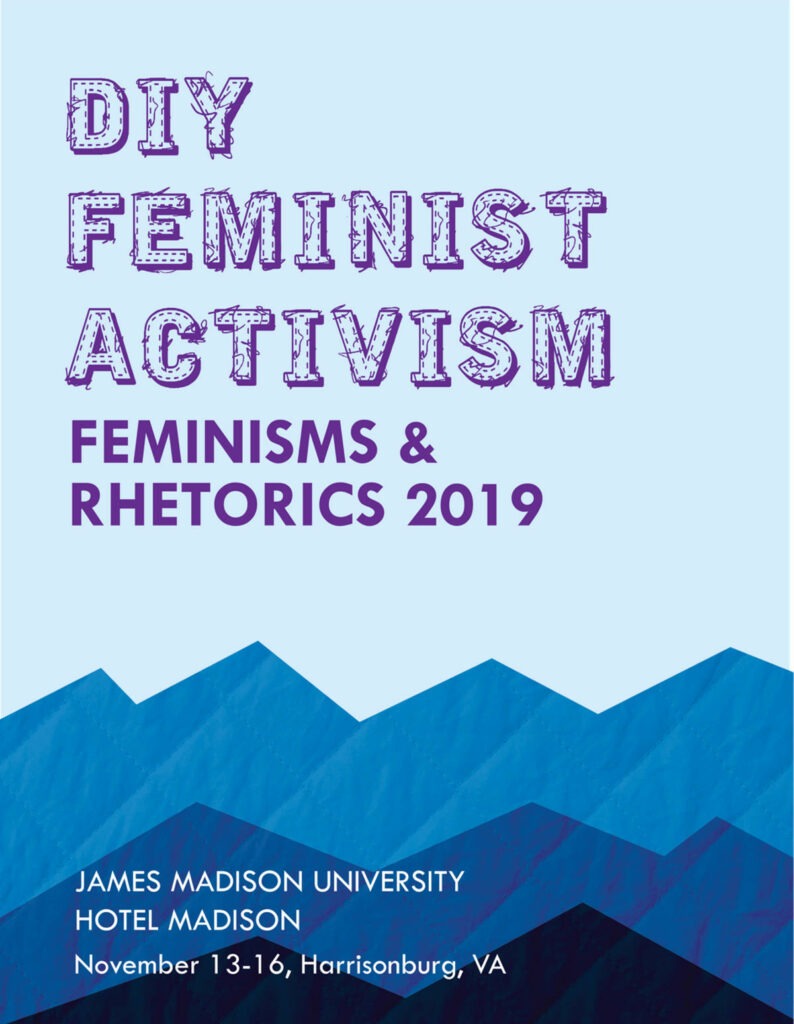 LineUpr: What were your first steps with LineUpr?
Cynthia: As I considered LineUpr as a potential candidate to serve as our conference app, I created a login and entered a few events to determine ease of use. I then showcased what I had done at a meeting to secure buy-in from the conference planning committee. We did not have a budget line for an app, but I convinced the members of both the need and the cost effectiveness of LineUpr. Once we had the schedule set, I spent about 30 hours entering data over a week. I had tested the upload of data via an Excel spreadsheet and it worked seamlessly, but we didn't have all of our conference presenters in a spreadsheet in the order required by the app. It was easier to enter the names and credentials of our 450 presenters and their presentation titles in the app directly. I then focused on building content for our sponsors, which was a great addition in the app.
5 out of 5—The creators of the app were so intuitive about user needs.
LineUpr: How strongly did you individualize the LineUpr app?
Cynthia: I individualized the color scheme to match our conference branding and uploaded a title image designed by one of our undergraduate students. I renamed a couple of menu options (Participants instead of Lineup), and I opted to have names of presenters and locations on the daily schedule.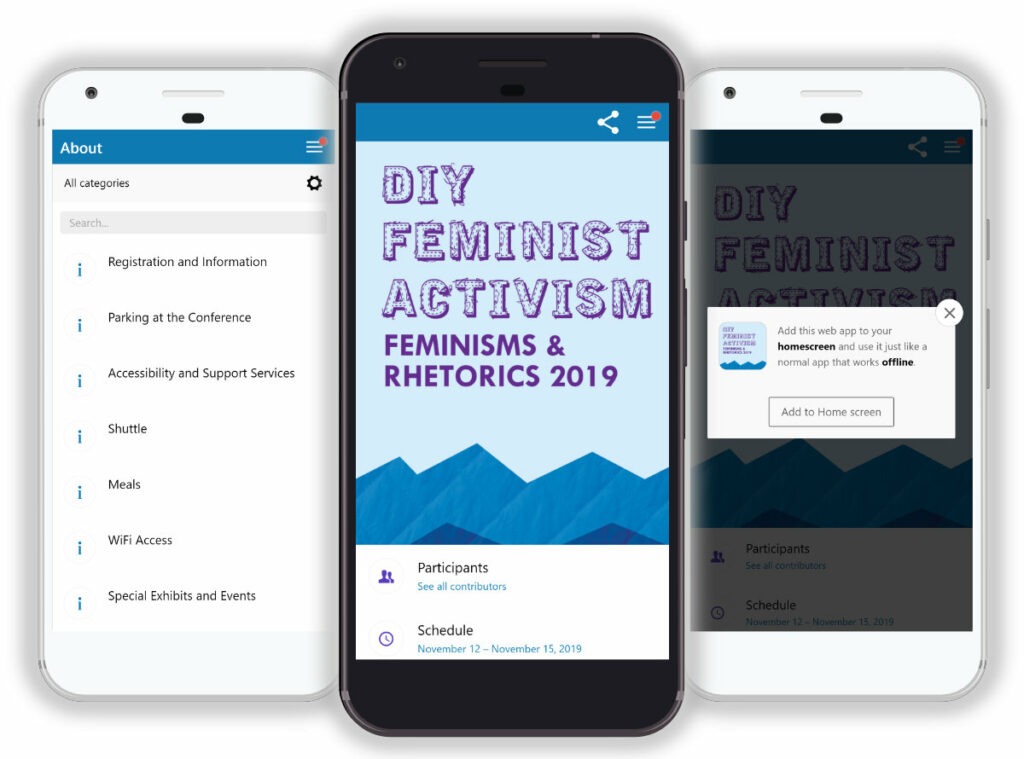 LineUpr: Did you also use the info pages?
Cynthia: Indeed, we did! The info pages on the app contained all of the content that would typically go in the front matter of the program—general services, support services, meal information, transit schedules, maps, and more.
LineUpr: How do you rate the creation of the event app with LineUpr? What did you like and what can we improve?
Honestly, we did not get a single complaint about the app. Not one.
Cynthia: 5 out of 5—The creators of the app were so intuitive about user needs. For example, our conference event locations were spread over a campus that is bisected by an interstate, so having maps and directions was crucial. I loved that all I had to do was enter the address of a location when building the app, and a Google Map of the location was generated in the app that enabled users to get directions to and from the event.
One limitation we experienced is that several sessions featured a panel with a title that consisted of several presenters with individually titled presentations. There was no way to nest these individual presentations within larger panel titles. I ended up not including panel titles in the app if individual presentations were also titled.

LineUpr: When and how did you inform your participants about the event app?
Cynthia: A week before the conference, we sent out an email to participants with a link to the app. We also added an image of the app to our conference website (where participants registered months prior, for example), and tweeted out links to the app. During the conference, we created a flyer with a QR code linked to the app webpage. We also included instructions on the flyer for users to add the app to their home screens. Because we did not have printed programs, users had little choice but to use it. That said, getting buy in from conference participants to use the app was not a problem. The app is easily accessible and simple to use. Everyone seemed pleased, even relieved, to use LineUpr.
LineUpr: How did your visitors react to the app?
Cynthia: Our conference attendees were very pleased with the app. Even one of our keynote speakers complimented me on the app's design and ease of use. (I gave all the credit to LineUpr.) Honestly, we did not get a single complaint about the app. Not one.
LineUpr: If someone is thinking about using an event app for their event, what would you advise them to do? When is an app useful and what are the disadvantages of an app?
Cynthia: Using an app for a large event or conference gives the event credibility and signals a modern sensibility. Digital natives expect an online presence. You can't host an academic conference and not use an app without seeming old school or too traditional. Apps are more green/environmentally friendly than printed programs, and thus contribute to a positive image of the event and its organizers.
LineUpr is one of the most affordable apps available. I have unfortunately attended many conferences in the last few years that used apps that were poorly designed and were not intuitive to use. And organizers spent thousands on the app.
LineUpr: Thank you for the great interview with Cynthia. We can tell that you have been very busy with this topic. Apps are an excellent tool to make events more sustainable. And you even increase productivity because participants are often better informed and therefore ask fewer questions.
By the way, here is the website of the Feminist and Rhetoric Conference. Also, the links to the Coalition of Feminist Scholars in the History of Rhetoric and Composition and James Madison University should not be missing.
We are already looking forward to your next events.