Reading time: 4 minutes
It's time again for a big player in the business. Today we have Michael Kimmig from GRENKE Digital GmbH as a guest. This is the digital arm of GRENKE AG. Once a year, GRENKE AG organizes its own conference for executives. LineUpr has already been used several times for this purpose.
In this interview, Michael tells us more about this conference, why he decided on LineUpr and what wishes he has for us for the future. Another great conversation with one of our customers. ?

LineUpr: Hello Michael. Thank you for taking the time to do this interview. Please introduce yourself and the GRENKE Digital GmbH.
Michael: GRENKE Digital GmbH is basically an internal IT service provider for the listed GRENKE AG (SDAX). GRENKE AG is a globally active financing partner for small and medium-sized companies. Founded in 1978, today we are one of the fastest-growing financial service providers in Europe and are active in 32 countries worldwide. With GRENKE, entrepreneurs finance their ideas. And this is very easy, fast and personal for us – from entrepreneur to entrepreneur. In our innovations, we focus on customer centricity and customer benefit. What sets us apart from other companies is the combination of a digital efficiency engine and personal proximity.
As Vice President at the Digital subsidiary, I am responsible for Business Development. In addition to process analysis and the professional rollout of system changes, the main focus is on the continuous further development of GRENKE's business model.
LineUpr: What roles do events play in the GRENKE Digital GmbH environment? What kind of events do you organize and what should be achieved with them?
Michael: That's where I have to speak for the GRENKE Group: Our events are diverse. There are corporate or group-internal events, also internationally occupied or also sales events of different sizes, from 10 to over 300 participants, which are visited then primarily by partners.
LineUpr: You have already used LineUpr for three different events. How did you first become aware of LineUpr and what was the decisive argument for you to use an event app?
Michael: LineUpr was first noticed in the course of the organization of the international management meeting in June 2018, because I often move in the start-up environment and I'm open to new, simple solutions. The winning argument was that we could get started right away and quickly and easily present a mobile solution. The cost comparison to a website partner who also creates an app, was simply unbeatable. At the same time, we had the program under control at all times and were able to post news and surveys during the event – the classic purpose of an event app.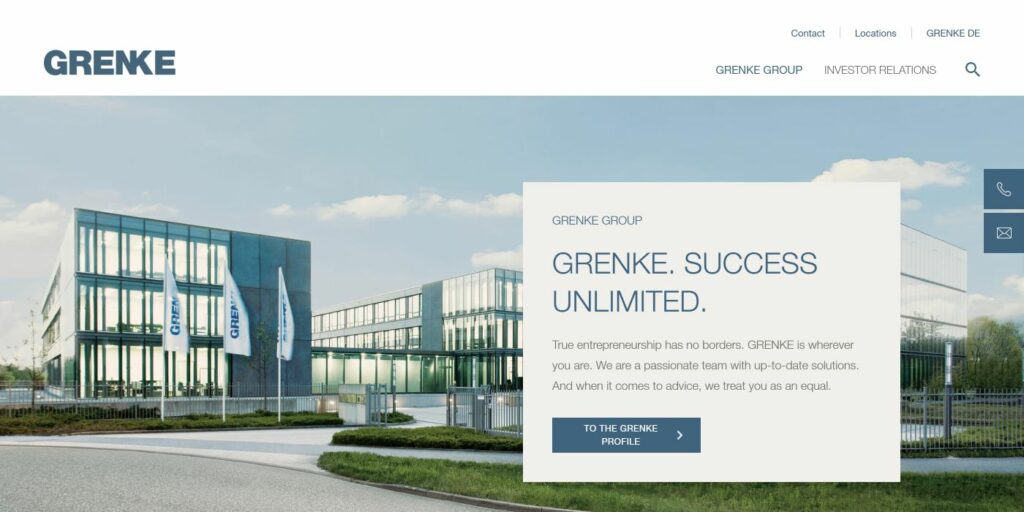 LineUpr: Have you used event apps in the past? If so, what are your experiences? If not, what has been against the use of event apps?
Michael: So far, we have not been so "app-affine", but we've always had the topic of how we communicate schedules and content for events securely to our participants at all times. Because of short-term changes that were always a complicated matter.
Our back office is still raving about the possibility of sending short hints like "Talk A begins 5 minutes later" to the participants.
LineUpr: Let's focus on the 2018 Annual Conference. How did you use the app before, during and after the event?
Michael: The Annual Conference is our international executive event with about 120-130 participants. We communicated the app about 6 weeks before the event but unpacked the content gradually. It was, of course, chic that we integrated the corporate design of our company on the spot. First and foremost, we wanted to make sure that the app was properly installed on the end devices. Locations and arrival information was the first content that we communicated. The keynote speaker, the line-up, the seminar slots and the detailed planning of the rooms were added later. We also gladly made use of the news and updates during the event. Our back office is still raving about the possibility of sending short hints such as "Talk A begins 5 minutes later" or "Shuttle bus leaves at 18:10" to the participants. Occasionally we also used the feature for surveys.
LineUpr: How did your participants react to the app?
Michael: The reaction was very positive. Especially our foreign guests felt very safe, as we also had small tips about taxi driving in Berlin or the emergency numbers in Germany. Short-term changes to the program were almost real-time, and attendee control was very good throughout the event. At each level of the event location, we also set up a touch-enabled 40″ monitor, which allowed you to interactively look up the program. That was the big hit and a real contact and information point.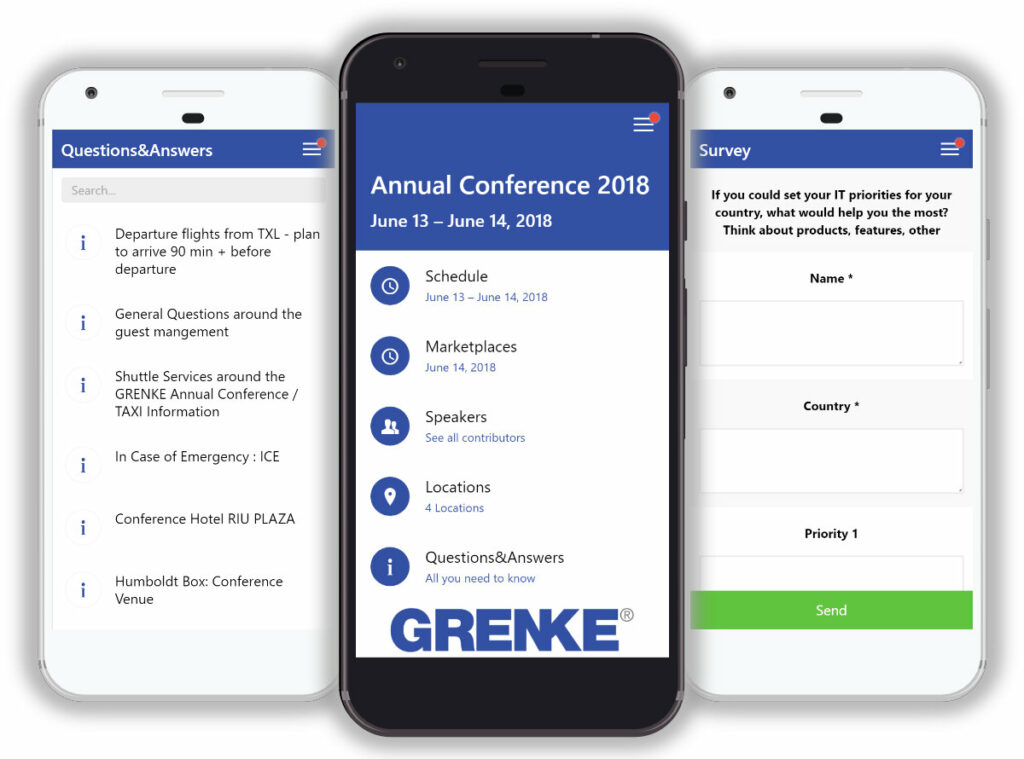 LineUpr: How have your events changed by using an event app?
Michael: Such big company events are rare but we will use the app again. In fact, after the first use of the quality expectations of our colleagues has increased significantly, because the app fits very well with us. As a result, we were all able to deal with changes very quickly, which are not uncommon in such an event.
LineUpr: We want to grow daily and offer our customers a better experience, what features do you wish for the app and why?
Michael: 1. Seminar bookings: We wanted to divide the entire event into rooms and, for example, organize the seating. That was not yet possible (ideal).
2. Import an event plan: We often work in the orga team with Excel files, which would be faster to import into the app instead of copying and pasting. It saves above all time.
3. News planner: It would be great if you could already plan the news and publish it with time. Then posts would automatically be triggered and the back-office would be relieved.
4. Stronger authorization concept, so that even third parties (for example catering) could see parts of the procedure, but not the participants.
5. Find colleagues and chat functions: better interaction between participants.
6. Your own profile (LinkedIn or Xing Import) would also be cool.
Astoundingly, you then realize how expensive, for example, an agency wants to sell such an app.
LineUpr: Wow, that's a list with concrete wishes. Point 2 with the import feature we launched at the end of 2018 and we are working very hard on points 4 to 6. ?
Which top three tips would you like to give other organizers for the use of LineUpr?
Michael: 1. Just try it and see how far you can come in an hour. Astoundingly, you then realize how expensive, for example, an agency wants to sell such an app.
2. Establish a small test community in-house (team) before the launch.
3. SIMPLY DO IT
LineUpr: Thank you, Michael, for the great interview. We were able to gain a comprehensive insight into GRENKE and your work. This is always very rewarding for us, as we always want to maintain close contact with the organizer and the use of event apps on-site. If you want to know more about GRENKE AG, have a look at their homepage.
We are already looking forward to the next events.