Reading time: 3 minutes
Today we have two experts united in one body as a guest on our blog. On the one hand, Steffi Fichte is a trained event planner but on the other hand, she is also an expert in marketing and digitalization. At Communardo, Steffi can combine both talents optimally and looks after both the events and the marketing. So you can look forward to exciting insights on digital events.
Communardo was also one of our first customers that we were able to accompany with an event app. Since 2016 you can find our apps at the #DWSC. In the interview, Steffi tells us more about how they use our app and what added value they see in it. Have fun while reading. ?


LineUpr: Hello Steffi. Thank you for taking the time to do this interview. Please introduce yourself and the Communardo Software GmbH.
Steffi: I have been working for Communardo since May 2018 and I work in marketing here. One of my main tasks is the organization of the Digital Workplace Summit by Communardo (#DWSC). As a trained event planner and media and industrial manager, I am able to combine events with marketing well at Communardo.
The Communardo Software GmbH based in Dresden is a specialist and provider of software solutions and consulting services for the digital workplace to optimize the communication and cooperation in companies.
Motto: "Successful together. Intelligent solutions for modern work. "
LineUpr: You host the Digital Workplace Summit every year. What happens at this event? Which target group do you address and what added value do you offer the participants?
Steffi: The #DWSC is the conference for digital workplace strategies, transformation, solutions, and technologies. It takes place annually, with the venue varying each year. In 2019 it will take us to Hamburg on 13.11.2019. At this event, over 30 user presentations will be presented to the guests, this means that companies talk about their experiences with the Digital Workplace. In addition to the lectures, networking is at the forefront of our event. More than 250 users and experts will come together at this conference to exchange views on the various facets of modern digital work.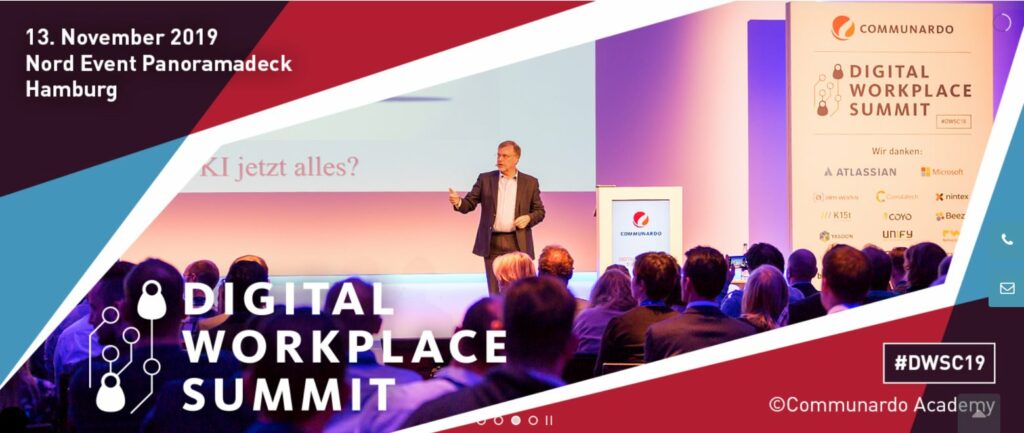 LineUpr: Which channels and strategies do you use to address your target group?
Steffi: We use a variety of social media services such as Twitter, Facebook, LinkedIn, and Xing. We also have a newsletter to share information. Of course, we also present relevant information about the #DWSC on our website. We also use Eventbrite as a ticketing tool and advertise the #DWSC using AdWords.
In addition, the app impressed us then and now by its functionality. All of the event information is clearly presented in one place and always up to date.
LineUpr: Do you also use printed products for marketing the event or for distributing information on-site?
Steffi: Yes. In advance, we use postcards which we distribute at other events and give away at appointments with customers. At the #DWSC we distribute "save-the-date" tickets for the next #DWSC and we also publish advertising material throughout Communardo. Besides, I must admit that, parallel to the app, we also have the program in printed form. Although we can already reach the majority of our guests with the app, some simply prefer the printed program, so here we use a two-pronged approach.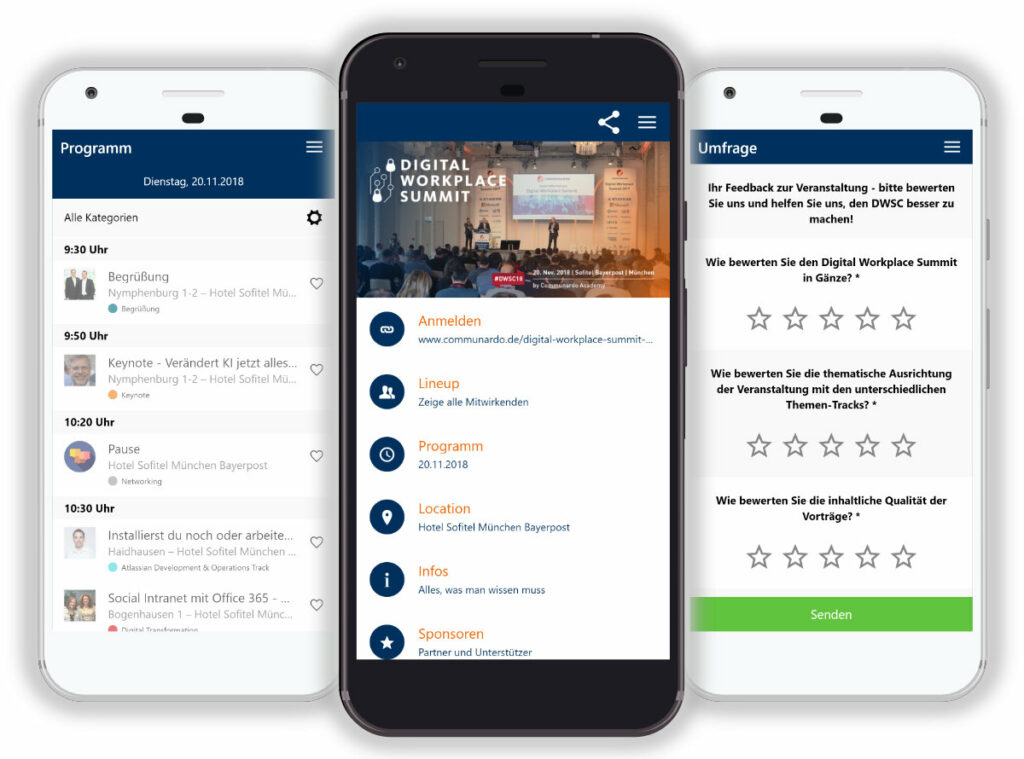 LineUpr: Let's get to the digital aspect now. Back then you were one of our first customers and even used us during the test phase for the Summit. Thanks again for your trust. What was the decisive argument for you to use an event app for your Summit?
Steffi: We are a digital company and therefore we always want to use digital channels. This also applies to our events. Also, the app impressed us then and now by its functionality. All of the event information is clearly presented in one place and always up to date. We can show our sponsors and use surveys and feedback to evaluate and improve our event afterward.
We always get some "Likes" during the lectures. This allows us to assess well in advance which topics are of particular importance to our guests.
LineUpr: How do you use the app before, during and after the Digital Workplace Summit?
Steffi: In advance, we inform all of our participants through a mail about the event app. We also advertise the app on the printed program guide and it is talked about during the opening speech and during each session. The latter is especially very helpful.
In the app, we then use the usual. We communicate our constantly updated program to the speakers, present our sponsors with profiles and also use the feedback survey.

LineUpr: How did your attendees react to the app?
Steffi: I think the feedback was quite positive. So far we have not actively asked for feedback on the app. But we always get some "Likes" during the lectures. This allows us to assess well in advance which topics are of particular importance to our guests. Unfortunately, our feedback survey is not being used as well as we would like. That's a shame, because the feedback would undoubtedly be very helpful for future events.
LineUpr: Which top three tips would you like to give other organizers for the use of LineUpr?
Steffi: Promote the app! People need to know that you are using an event app to benefit from the advantages and added value. Feedback surveys help you plan your next event – this app makes it easy for you to create such surveys. Do not create the app just before your event. The app can also be used in advance by the guests. This will give you a first impression of your visitors.
LineUpr: Thanks for the nice interview Steffi. We were able to gain great insights into your event planning. This will undoubtedly help other organizers.
Take part in the #DWSC and experience the feeling on-site. More information can be found at Communardo. Besides, of course, Communardo is also represented on the relevant social media platforms. Visit them on Facebook, Twitter, LinkedIn, and XING.
We are already looking forward to the next edition of the #DWSC.