Reading time: 5 minutes
Signatures are ubiquitous in the business world. Many business processes have to be signed before they can be valid at all. Signatures are of course essential to ensure legal certainty, but at the same time, it is all a lot of work and bureaucracy. DocuSign recognized this problem and, with eSignature, they offer a solution to sign documents digitally.
DocuSign organizes everything so that their customers and partners are always perfectly informed about the latest products and they also have regular discussions with experts, for example, at the Momentum Paris. A digital event app from LineUpr is also included. In this interview, Yasmine Jaffart tells us more about DocuSign, exactly how she uses LineUpr and how she shared the event app with the participants. Really worth reading. 😊

LineUpr: Hello Yasmine. Thank you for taking the time to do this interview. Please introduce yourself and DocuSign.
Yasmine: My name is Yasmine Jaffart, I'm working at DocuSign France since almost 2 years and I'm a Marketing executive, also in charge of our annual conference DocuSign Momentum in Paris.
DocuSign helps organizations connect and automate how they prepare, sign, act on, and manage agreements. As part of the DocuSign Agreement Cloud, DocuSign offers eSignature: the world's #1 way to sign electronically on practically any device, from almost anywhere, at any time. Today, more than 500,000 customers and hundreds of millions of users in over 180 countries use DocuSign to accelerate the process of doing business and to simplify people's lives.
LineUpr: You used LineUpr for your Momentum Paris event. Please tell us more about this event.
Yasmine: Momentum Paris is our annual conference. This year it was our biggest event ever with more than 500 attendees, 3 conferences, 15 breakouts, and 10 demo booths. We hosted it at Palais Brongniart, our old stock exchange place which stands on 3 different floors. This is the opportunity to know more about DocuSign, its roadmap, products, but also to meet their peers and our experts to ask questions, all this in one day at one place.
LineUpr: What role do events generally play for DocuSign France?
Yasmine: Events are a great way for us to connect with prospects, customers, and partners. To show all our product capabilities and to answer specific questions that people might have. It's also for us an excellent opportunity to make people connect and share successes but also difficulties.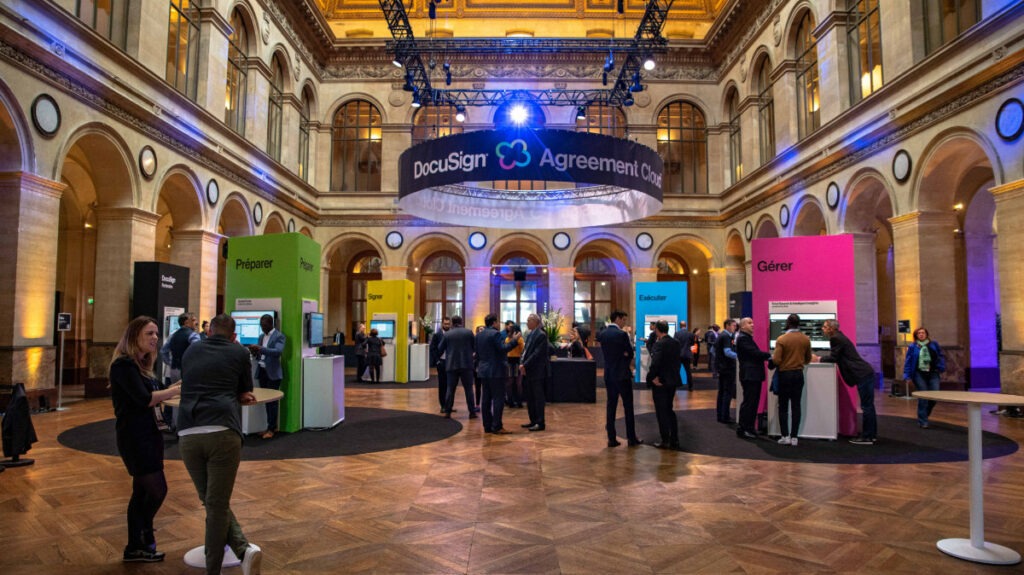 LineUpr: If you compare a printed program with an event app, what are the advantages and disadvantages of both variants?
Yasmine: First – we are ecofriendly. We try to avoid prints as much as possible. Second, you cannot put as much info on a printed program as you can have in an app. The program would be 100 pages. Last one, there is no interactivity with a piece of paper. You cannot send feedback.
Onsite, we set up signages all over the venue with the QR code of the app.
LineUpr: How strongly did you individualize the LineUpr app?
Yasmine: We individualized almost everything to make it our event app. We do not want attendees feel strange when opening it, so we really need it to be part of the event experience.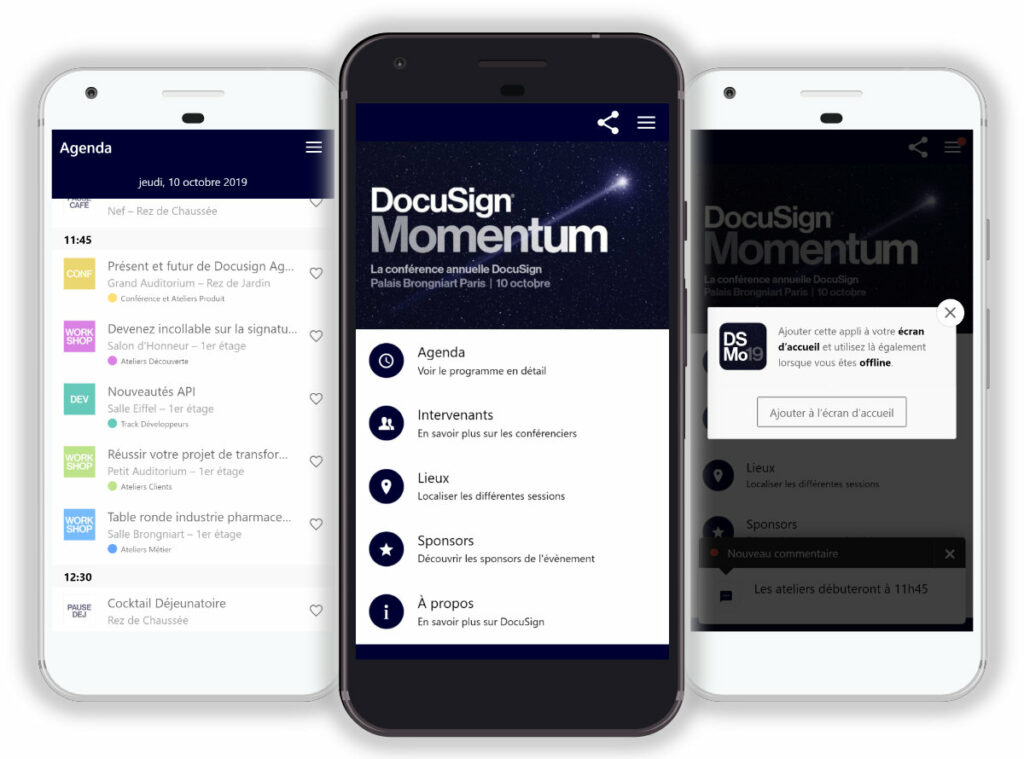 LineUpr: Did you also present your sponsors and partners with their own profiles?
Yasmine: Yes, we did present all our sponsors. It allowed us to offer them visibility but also helped people to understand who they were as they were having a booth in our expo area.
The app is an amazing way to provide attendees with a lot of information, so I would recommend an app for big events.
LineUpr: When and how did you inform your participants about the event app?
Yasmine: As written previously, Palais Brongniart is a very huge event venue. That said, it was actually a challenge to prepare our staff on what is happening when and where. Also, we started to build our LineUpr-App month before. We promoted it through our registered communication for them to understand the agenda of the event and be able to attend the most relevant session to them. This has been done in emails, showing the QR code and the URL so they could at least see what it was on their computer. It was also communicated internally to make sure all our staff was able to answer guests' questions and redirect them to the right place on the D day. Onsite, we set up signages all over the venue with the QR code of the app.

LineUpr: How did your visitors react to the app?
Yasmine: We hosted a survey after the event and both internally and externally people loved the app. It was a great way for them to get all the info they needed in one single place but also to plan their day in advance and make the most of this event.
LineUpr: If someone is thinking about using an event app for their event, what would you advise them to do? When is an app useful and what are the disadvantages of an app?
Yasmine: The app is an amazing way to provide attendees with a lot of information, so I would recommend an app for big events. But it's also a lot of work to build one which is totally on brand and aligned with the event, so I won't recommend it for a smaller format.
LineUpr: Which top three tips for using LineUpr would you like to give other organizers?
Yasmine: 1. Start early. LineUpr is very easy to use, but delivering great content and experience to your attendees is key, so do not underestimate the time to spend on such a tool.
2. Brand it. It's crucial that people feel it's your app and not just info hosted on a platform. It should be 100% part of the event experience.
3. Train your staff on the app and promote it onsite. Everyone should be an ambassador of this source of info.
LineUpr: Thank you very much, Yasmine, for the great interview. Digital thinking is obviously an integral part of your DNA. I am always impressed when I hear such great customer stories.
If you want to learn more, visit the DocuSign France. Their Linkedin and Twitter profiles are also filled with great stories.
We are already looking forward to your next events.