Reading time: 6 minutes
Today we have the honor of welcoming Sequoyha Pelletier as an interview partner on our blog. He is the head of the internal training team for the DataStax Engineering Group. DataStax's core business is cloud technology and what works well with cloud solutions? Exactly, event apps.
In an interview, Sequoyha tells us how he used the LineUpr app for their Worldwide Support Summit. With LineUpr, the feedback of the participants could be used live on-site to adjust the Summit. A great example of adapting event formats live according to the wishes of the participants. Have fun. ?


LineUpr: Hello Sequoyha. Thank you for taking the time to do this interview. Please introduce yourself and the DataStax.
Sequoyha: My name is Sequoyha Pelletier. I handle the internal training team for the DataStax Engineering group. We handle all onboarding training as well as ongoing training. Part of this charter includes organizing the annual Worldwide Support Summit for our Worldwide Support Group.
DataStax delivers the always-on, active everywhere distributed hybrid cloud database built on Apache Cassandra™. The foundation for personalized, real-time applications at scale, DataStax Enterprise makes it easy for enterprises to exploit hybrid and multi-cloud environments via a seamless data layer that eliminates the issues that typically come with deploying applications across multiple on-premises data centers and/or multiple public clouds.
Our product also gives businesses full data visibility, portability, and control, allowing them to retain strategic ownership of their most valuable asset in a hybrid/multi-cloud world. We help many of the world's leading brands across industries transform their businesses through an enterprise data layer that eliminates data silos and cloud vendor lock-in while powering modern, mission-critical applications.
LineUpr: You've used LineUpr for the Support Summit 2019. What is this for an event? Which target group did you want to address?
Sequoyha: We used LineUpr for our annual Worldwide Support Summit. This is an event where we gather our technical support team together for team building, education, and team meetings. This is the one event per year where the support engineers can gather together as one without having to work on customer issues. We hand over coverage to our development teams for the week and our team takes a collective deep breath. This year we decided to go the conference route since our team has been expanding. This allowed us to run multiple tracks for training, and also for people to choose the talks that interested them the most for personal development.
LineUpr: How did you learn about LineUpr and what was the decisive argument for you to use an event app?
Sequoyha: We needed a way to keep people up to date on the agenda that a spreadsheet just wouldn't cover. Scheduling had to be very flexible for teams and venues.  Any changes need to be available to our engineers quickly, and in an easy to consume format. A mobile app was going to be absolutely vital. I began an extensive search to find the best option for our needs. Several recommendation sites were consulted, as well as vetting internal recommendations. I looked into Open Source options, as well as a few other vendors, but ultimately landed on LineUpr.

LineUpr: Do you also use printed products to market the event or distribute information on-site? If so, which and why?
Sequoyha: We didn't use any printed material for our events, aside from the badges. All communication was handled through the LineUpr app or Slack.
The information that we received from the surveys helped us with scheduling repeat sessions on the last day of our event.
LineUpr: Back to LineUpr. How long before the event do you start creating the event app? How much time do you invest in the app?
Sequoyha: We started beta testing the app approximately 90 days before the event. After about a week, we determined that LineUpr was definitely the best option for our needs. We transitioned to an actual build phase about 60 days from the event. The build wasn't complete until the event was finished.
This was by design. We added speakers and topics up until about a week before the event, and we shuffled talks around to different times and locations based on feedback that we were getting from the teams prior to the event. We also left a time slot open on the last day to allow repeats of popular talks that people did not get a chance to see. Those slots were filled based on surveys that we sent out with the app at the end of each day.
So, we spent 61 days working on that app. But if you want to break that down into hours, it was probably between 40-60 hours total.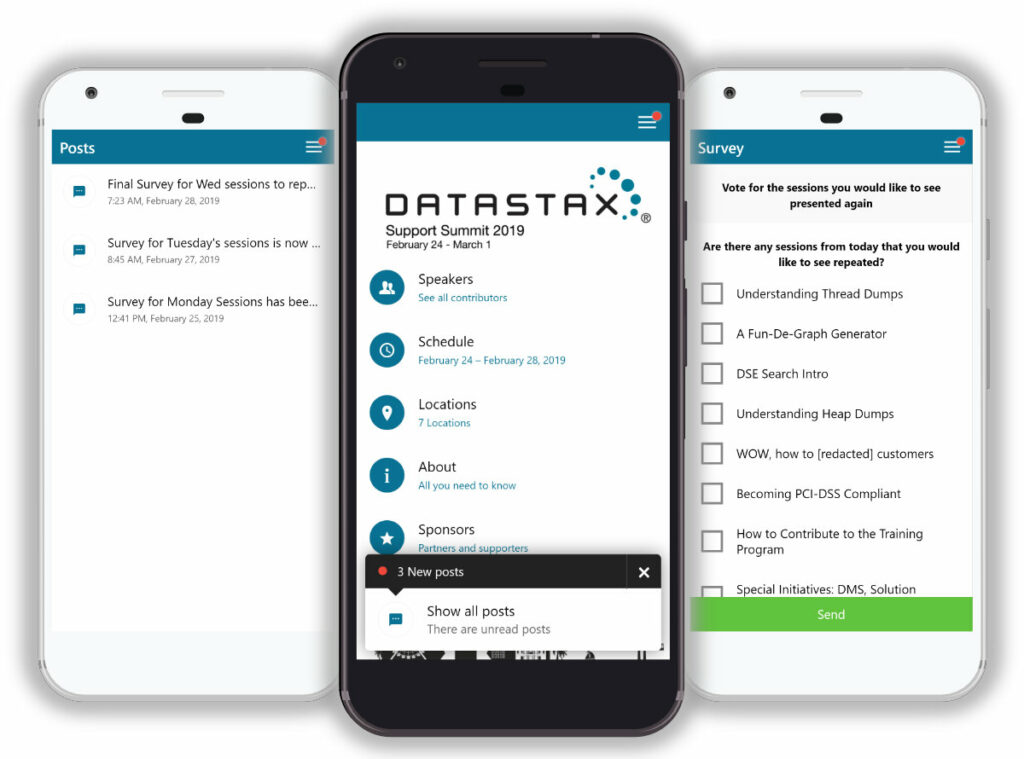 LineUpr: When and how do you inform the participants of the event about the event app?
Sequoyha:We have regular bi-weekly meetings where we discuss topics related to the team and company. An announcement was made during these meetings with an email announcement that followed.
Every comment that we had on the app was wonderful! Our engineers were impressed with how professional it looked and how well it functioned.
LineUpr: Do you also use the survey features in the app? If so, for what kind of questions and how was the response?
Sequoyha: Yes, we did use the survey feature. At the end of each day, we sent out a survey to determine which of the sessions from that day were the most popular. We waited until the evenings to allow the different engineers to talk with each other and stir up interests further. The information that we received from the surveys helped us with scheduling repeat sessions on the last day of our event.

LineUpr: How did your visitors react to the app?
Sequoyha: Every comment that we had on the app was wonderful! Our engineers were impressed with how professional it looked and how well it functioned. Honestly, the app was probably one of the most popular things during our conference!
LineUpr: Which top three tips would you like to give to other organizers when using LineUpr?
Sequoyha: 1. You can save time if you gather all of your pictures and upload at once. That wasn't always an option for us. Our speaker list and schedule were in flux quite a bit. We ended up uploading head shots one at a time quite a bit. But when we had a group of speakers to add, the bulk upload saves a considerable amount of time that you can use in other areas.
2. Add a floorplan to the app, it makes a big difference.
3. Use it! Our broader engineering team used a different app for their summit. It was free, and you could see a clear difference! Our app had clear pagination and separation of schedule, speakers, locations, etc. Theirs, well…did I mention it was free? You really can't find a better option per capita than LineUpr! I'll be using it again next year. That's a guarantee.
LineUpr: Thank you for the great interview Sequoyha. We were able to gain a deep insight into your event and the planning. The idea to use the survey for the event planning is terrific and a great example of using the feedback of the participants immediately and positively for the event.
More information about DataStax can be found here on their website or on Twitter. If you want to get in touch, feel free to contact him here on LinkedIn.
We are already looking forward to next year.