Reading time: 5 minutes
An event only for directors and CEOs, where participants can discuss relevant issues and find solutions together on equal footing. The idea was shared by the CEO Collaborative Forum and three times a year they host a two-day meeting.
Fiona Bordet is the Event & Marketing Communication Manager at CEO-CF and has used LineUpr twice before. In the interview, she tells us more about CEO-CF, which added value an event app brings and why they continue to rely on a printed meeting booklet on site. Have fun while reading. ?


LineUpr: Hello Fiona. Thank you for taking the time to do this interview. Please introduce yourself and CEO Collaborative Forum.
Fiona: Hello Eric, with pleasure. For almost 3 years now, I'm the Events & Marketing-Communication Manager at CEO Collaborative Forum.
CEO-CF (CEO Collaborative Forum) is Europe's premier intelligence community providing the opportunity to open-minded business leaders to work collaboratively with peers to solve complex and challenging business issues they are facing in a highly confidential environment.
CEOs all face similar challenges on their path to international growth. In our unique membership community, CEOs open the door to each other's experience. They unlock powerful insights by giving honest feedback on real issues and they inspire each other to think differently.
It provides the opportunity to step away from your current environment to gain exposure to diverse perspectives and to develop long-lasting professional as well as personal relationships.
LineUpr: You've used LineUpr for your Spring and Fall Meeting. Tell us more to these events?
Fiona: 3 times a year, during Spring-Summer & Fall, CEO-CF convenes to different European capitals for two days of collaboration, content and executive networking. This event brings together top executives from around Europe and the United States to experience peer-to-peer collaboration through the power of collective intelligence network.
As you have mentioned above, we used LineUpr for our past two events:  in Rome for the Fall Meeting of 2018 and in Amsterdam this march.
We are also planning to use it again in a couple of months for our Summer Meeting in Riga, Latvia.
LineUpr: Why did you decide to use LineUpr for these events? What was the decisive argument for you to use an event app?
Fiona: In Events, one of the trickiest part of the job is doing and handling the Agenda.
In previous events, due to changes, the printed agenda was never the right one at the end. So we start thinking of a tool that could help us managing all those changes and could give our participants the best and useful information in real time.
We observed that the best way of communicating with our audience was via their phones, so we start thinking about doing an app.
After some research on the web, we decided to go with LineUpr because we were impressed on how it was exactly what we were looking for: user-friendly, an easy back-office and an ability to personalize entirely the app to make it our own. We started by the free version of the app and quickly upgraded it to the premium version.

LineUpr: Do you also use printed products to distribute information on-site? If so, which and why?
Fiona: The only printed document that we still use is our Meeting Booklet.
It's still an important tool for us and for our participants as they use it as a "personal journal" during the entire meeting. They can find the list of participants, a reminder of the different parts of the event. But they can also write down all their comments and thoughts.
We don't use electronic devices during the group sessions. This is one of our ground rules during our events.
The only printed document that we still use is our Meeting Booklet.
LineUpr: Have you used event apps in the past? If so, what experiences have you had with it? If you have not used an app yet, what has been against it so far?
Fiona: No – LineUpr is the first event app that we have used! I don't think we were totally against event apps before, we just didn't see that it could be an asset for our Meeting participants, that it could be more than just a recreative tool. And we were wrong! 90% of our members think it is one of the best event app they have ever used.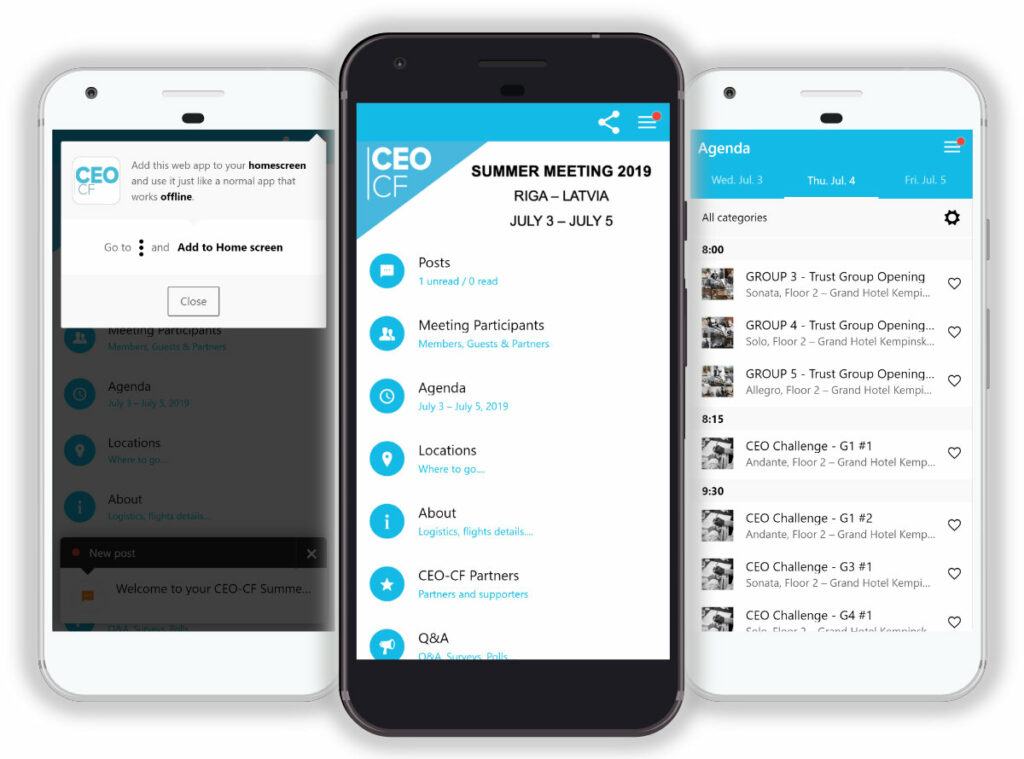 LineUpr: Let's get back to LineUpr. When and how do you inform the participants of the event about the event app?
Fiona: We try to set-up the app as soon as we have the main information about the event: the location and the first draft of the agenda.
We inform the participants about the event app during conference calls we have with them typically 90 days before the event. We use the link and the QR code. It allows them to discover the app before the event, with the schedule and a view of who will be there.
They are of course reminded of the app in the Meeting opening and we have dedicated a page in the Meeting Booklet where they have a reminder of how to pin the app to the home screen.
It gives them the opportunity to contact each other directly from the app without sending us any mails or requests.
LineUpr: You used the menu item Meeting Participants. How did you connect your attendees and how did you use the event app to boost the networking?
Fiona: In this menu item we use all the written data used in the booklet. We use this section of the app to boost their networking. Or course we link their LinkedIn account, their mail, and phone. It gives them the opportunity to contact each other directly from the app without sending us any mails or requests.
And to know that the data is stocked under the strict regulation of the GDPR is a proof of quality for our participants that are all under strict rules of confidentiality.

LineUpr: How did your visitors react to the app?
Fiona: Out meetings participants were really happy about the app, we got a real positive feedback. It was really a useful tool for them and even more for us! They appreciated that the agenda was updated in real time. That by tagging them, they could see which sessions they had to attend.
LineUpr: Which top three tips would you like to give to other organizers when using LineUpr?
Fiona: I will say that it is important to set-up the app in advance. It takes time to add all the information so if your everyday planning is full, anticipate!
Use also all the tools available on the app to make the communication with your participants the most efficient one, like the Post section.
And don't be afraid to personalize it to the fullest by creating your header, adding your branding colors… Your participants will know that you took time to create a tool only for us!
LineUpr: Thank you, Fiona, for the great interview. Your CEO Collaborative Forum sounds like an awesome event concept. If you also want to participate in these forums take a look at the website. You can also find exciting stories about the CEO-CF at Twitter and LinkedIn.
We are already looking forward to your next events and how to support them with LineUpr.