Reading time: 6 minutes
Event apps and destination marketing are a perfect match. For this reason, we welcome today Jörg Märzdorf from the Dresden Marketing Board to the LineUpr blog. He is fortunate to be able to showcase the virtues of his hometown to both national and international guests every day.
Since 2015, they have been using event apps from LineUpr for these events. In this interview, he tells us more about his daily work, why and for which events they use LineUpr and which advantages and workloads could be generated with it.
If you're part of a destination marketing company, we also have an unbeatable deal for you. Since we know that public budgets are always very tight, we currently offer every city marketing a full one-year sponsorship, allowing as many apps as you want for free. Just write a short email to eric@lineupr.com with the subject "Destination Marketing" and we can discuss all further procedures.
Jörg will now tell you which added values you can expect from an event app. As always, we hope you enjoy reading. ?


LineUpr: Hello Jörg. Thank you for taking the time to do this interview. Please introduce yourself and the Dresden Marketing Board.
Jörg: We are proud to be employees of the Dresden Marketing Board, in short DMG. Our client: the state capital Dresden. Our Mission: To bring as many people as possible to this beautiful, radiant city and the region of Dresden Elbland – nationwide and internationally.
I have been with the Congress and Location Marketing Team of the DMG for almost 3 years now. I'm a born Dresdner and – hand on my heart – there is nothing better than to advertise worldwide for one's beautiful hometown: the Elbe embedded in so much greenery, the castles and palaces, the vineyards and the Elbe Sandstone Mountains.
LineUpr: That's right. The Dresden region is captivating with its extraordinary treasures.
One of your tasks at the Dresden Marketing is the marketing and presentation of Dresden as a congress and conference location. How exactly do you do that?
Jörg: We advise congress and event planners. If you want to be successful, you need good advice. We develop ideas, offer our customers insider tips and connect them with service providers from the city. For communication before a congress, we gladly supply photos, texts, videos, data, and facts.
We acquire congresses and events and, together with our clients, we produce "Dresden Bidding Presentations", with which, for example, decision-makers in associations from the city of Dresden should be persuaded.
If you want to be successful, you need good advice.
We take part in international fairs, organize site inspection tours and also organize workshops and events. Our most important event is the Dresden Congress Award. This "Congress Oscar" is presented personally by Mayor Dirk Hilbert to deserving congress organizers.
With our advanced education brand Fit4Congress we convey the "know-how" to congress planners. We are proud of the enthusiasm that we were able to arouse for this event. The increasing number of participants also shows this. Our next Fit4Congress event on November 15, 2018 will take place as a pre-conference for this year's Dresden Congress Award. We are glad that LineUpr will also be there. We are currently in the intensive planning phase for both events.
LineUpr: That sounds like a lot of work and joy. As we are already at the concrete tasks – you also regularly welcome groups of potential event organizers and event service providers in Dresden and show them convention venues, special places and impressive sights. How does this work and what do you want to achieve with it?
Jörg: Our site inspections and sightseeing tours give congress and event planners an insight into current developments and new discoveries and also help to make interesting contacts within the branch. Congress and event planners from agencies, associations, and companies are invited. The English term for such events is "Fam trip". The term is derived from the verb "to familiarise" and means "to become a family" with the city. In my opinion, this is pretty good for the character of the event.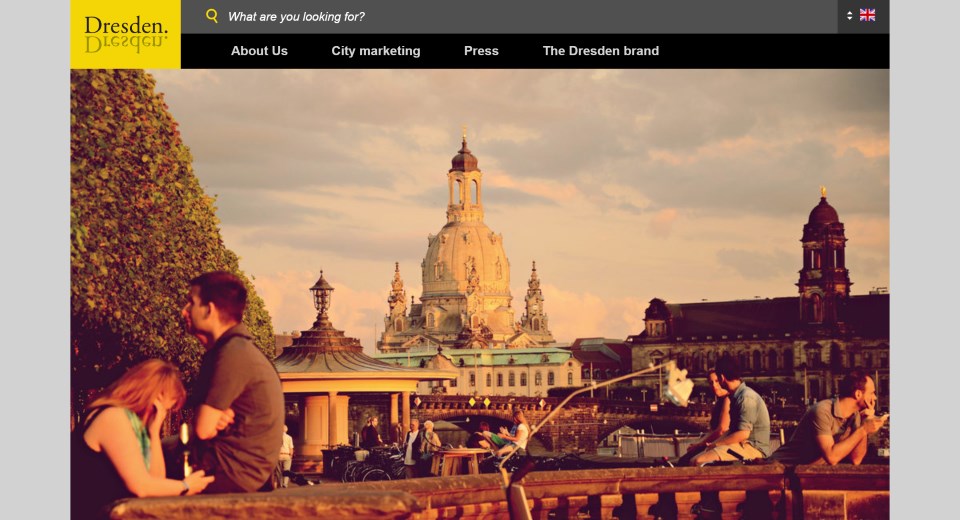 LineUpr: As you said earlier, you also organize the Dresden Congress Days. Can you tell us a bit more about this event?
Jörg: Tradition and innovation, as well as art and culture, meet in Dresden. The customers get an impression of the variety of cultural offers on site and we show a wide variety of event locations and illustrate the very special Dresden flair. Besides, we also present the scientific and business possibilities in the city. We want to persuade the decision-makers to see Dresden as a congress and scientific location. Our motto is "Convention meets Culture"!
It's not an app that subscribers need to download extra, but a URL that's quick and easy to access.
LineUpr: For both types of events, you use event apps from LineUpr at Dresden Marketing. Why? What added value do you see in event apps for your events?
Jörg: In our opinion, there are quite a few reasons for this. The following advantages speak, in my opinion, for themselves:
The programme is digital, saving natural resources.
The programme also offers help with short-term changes – it can be adapted and updated at any time during the event.
Special information that you should not miss can be sent to all participants as posts.
A better and very clear presentation of the sponsors/members of the Dresden Convention Bureau (DCB) is guaranteed.
It's not an app that subscribers need to download extra, but a URL that's quick and easy to access.
LineUpr is a Dresden-based company and is also considered a positive example of the IT scene Dresden.
… that we want to save paper for the sake of the environment.
LineUpr: How do you use the app before, during and after these events?
Jörg: We send the link, the URL, before the event to the participants and partners of the DCB with the request to add it to their smartphones' home screens. First and foremost, we emphasize sustainability and note that we want to save paper for the sake of the environment.
During the welcome event, the app is once again referred to. The time schedule with the locations and all places that play a role during the event is very important to us. Of course, the advantage for the participant is the linked Google Maps which makes finding the venues easier.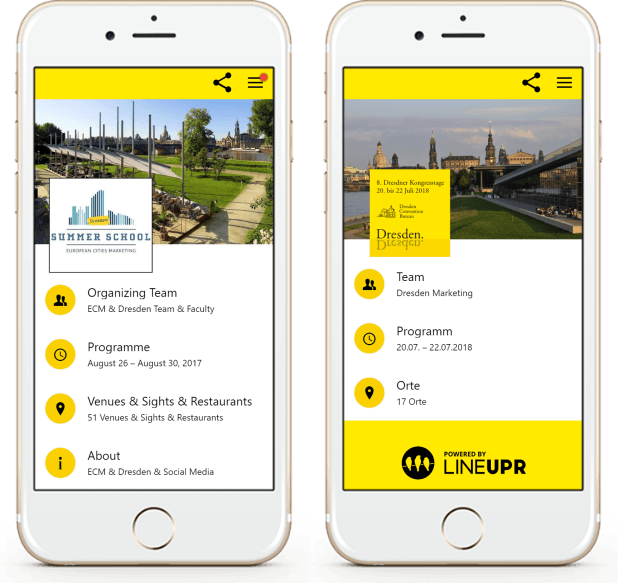 LineUpr: How do your visitors react to the app?
Jörg: After the event, we ask the participants about the app and whether they want to use it for their events. There is generally positive feedback from the users. Above all, the practical and straightforward handling and the uncomplicated backend/CMS could inspire the customers to use LineUpr. For example, we know that one of the participants of the 2017 Dresden Congress Days wants to use the app for his conference.
Above all, the practical and straightforward handling and the uncomplicated backend/CMS could inspire the customers to use LineUpr.
LineUpr: How has using an event app changed your events?
Jörg: The app is part of our digitalization strategy in the company and, in our opinion, is an ideal example to present the IT scene in Dresden with its innovations.
LineUpr: Why should people responsible for city marketing from other cities also use event apps? In your opinion, how can they generally benefit from event apps at their events?
Jörg: The advantages mentioned above speak clearly for the use of the app. Destination marketing organizations should generally focus on digitalization and the associated synergy and network effects which make digital programmes indispensable.
LineUpr: Thank you Jörg, for the great interview and the insights into your daily work. We can see how much you love your job. More information about the Convention Marketing of the DMG can be found on the homepage. Maybe you want to let Jörg show you the city. And of course, the DMG profiles on Twitter, Facebook, Instagram, and Youtube. Take a look.
To conclude the interview we would like to remind you that if you yourself work in city marketing, then try out an event app for your public events. As Jörg said, the participants are generally enthusiastic about the digital programme. So if you want to give it a try then write a short mail with the subject "City Marketing" to eric@lineupr.com and we can discuss the next steps.
We look forward to your new events and to the next Famtrips and the Fit4Congress of the Dresden Marketing, which are already in the planning.