Reading time: 3 minutes
With Michael Hopf, we once again host an organizer from the big BarCamp scene. He is the co-organizer of the agiLE BarCamp in Leipzig. And that's exactly where he first used an event app from LineUpr in 2018.
He explains what information he used the app for and how BarCamps, in general, can benefit from event apps. Have fun while reading. ?

LineUpr: Hello Michael. Thank you for taking the time to do this interview. Please introduce yourself and the agiLE BarCamp.
Michael: Gladly. I am part of the organizing crew of the agiLE BarCamp. For three years now, we have been working to bring people together so they can talk about agile issues. A BarCamp is a wonderfully suitable form, as it is here that the people themselves determine the content and design.
LineUpr: How much time and work do you spend on the planning of the event on average?
Michael: I would say that we start with the first plans about half a year before the event. Then it slowly goes into a mode where we speak weekly. The 4-8 weeks before the BarCamp are the most intense. The organizing team itself consists of 5 people and is expanded to about 10 helpers during the BarCamp.

LineUpr: Who is the typical target audience of your event and how do you reach them? What channels and tools do you use for marketing and presentation?
Michael: Typically, the participants come from the practice, i. e. from companies where "agile" is or will be an issue. We are lucky that we have built up a fairly large community in Leipzig – the BarCamps are regularly booked out weeks in advance.
LineUpr: Do you also use printed products to market the BarCamp or to distribute information on site? If so, which and why?
Michael: We use many notices (e. g. WC / Catering / Wi-Fi), but we also have a session board, where everyone can see which session is in which room and where it takes place. This information was previously only available, but now with the event app, it's digital.
In fact, we wanted to use an event app last year – but we did not know about LineUpr as yet.
LineUpr: If you have not used an event app as yet, why not?
Michael: In fact, we wanted to use an event app last year – but we did not know about LineUpr as yet and so decided against it for lack of an alternative.
LineUpr: How did you use the app before, during and after the agiLE BarCamp?
Michael: We used the app to:
Display FAQs
To inform about the experts
Digitally display the session board (what, when, where)
Send messages to participants (e. g. the café is back)
Information about the location/room plans
Survey function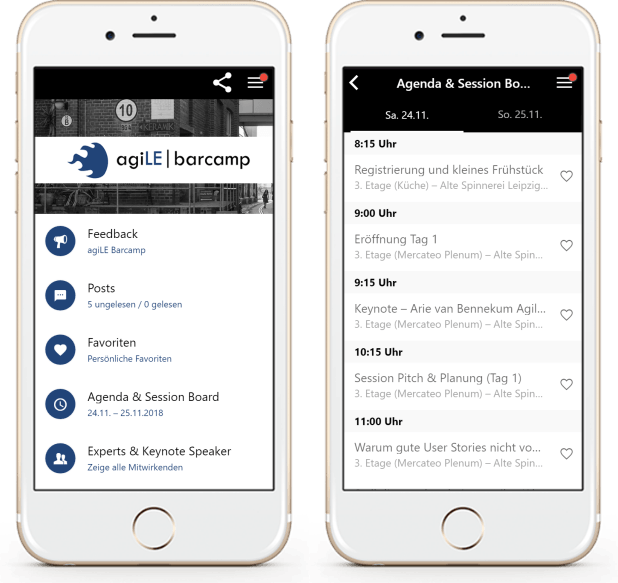 LineUpr: How did your visitors react to the app?
Michael: Our guests wanted something like this – especially since we were spread over two floors. Here a simple hand on a smartphone was much more useful than looking at the analog session table. The event app was received very positively.
very few of our visitors stood in front of the analog session wall.
LineUpr: What is the added value of an event app for you? How can BarCamps in general benefit from using an event app?
Michael: The biggest bonus is the fact that everything necessary is found in one place (the app). The app can be adjusted by us (ORGA) "on-the-fly". This is important because a lot of things change during the BarCamp and you can react immediately without having to print any papers. In our opinion, such an app is definitely recommended for other BarCamps.
LineUpr: Is there a crazy story from the last BarCamp that you would like to share with us?
Michael: Whatever happens at the Barcamp, stays at the Barcamp =)
LineUpr: Which top three tips would you like to give other organizers for the use of LineUpr?
Michael: 1. Communicate in advance that the app exists. Then the visitors can familiarize themselves with it. 2. Enter the sessions preferably as pairs … this is the fastest way and the visitors already have the correct procedure in their hands after the session planning. 3. Do not be afraid that the app will not be used … it will be … very few of our visitors stood in front of the analog session wall.
LineUpr: Thank you for the great interview, Michael. BarCamps are indeed a very special event format. Your theme of agility fits perfectly as BarCamps are inherently agile. More information about the agiLE BarCamp is, of course, available on their homepage. However, there is also a separate Meetup group, which you can join at any time.
We are looking forward to your next BarCamp this year. ?