Reading time: 5 minutes
Sustainability continues to play an increasingly important role for many companies and events. Anke Posthumus knows that too. She is a portal and event manager at the Borderstep Institute for Innovation and Sustainability. Once a year, the Borderstep Institute awards the StartGreen Award. This honors sustainably thinking and working start-up companies.
Since 2017, the Borderstep Institute has largely gotten rid of paper at its events and instead uses an event app from LineUpr. In the interview, Anke Posthumus tells us more about the StartGreen Award and the institute. Of course, it is also about the use of the event app and how events could change in the future through digitalization.


LineUpr: Hello Anke. Thank you for taking the time to do this interview. Please introduce yourself and the Borderstep Institute.
Anke: Borderstep explores the future and explores what's coming (innovation) and what's left (sustainability). With our scientific work, we analyze problem solutions for a sustainable economy and develop sustainable strategies for companies, founders, associations, and politics.
As an independent and non-profit research institution, Borderstep works in the field of application-oriented innovation and entrepreneurship research and is committed to the concept of sustainable development.
I am responsible for web and portal management at Borderstep and I also organize the events of the institute. This can be, for example, larger or smaller conferences, workshops or the StartGreen Award, for which we used the event app from LineUpr for the first time. Meanwhile, we have used the app to make all of our events paperless.
LineUpr: Who is the typical target audience of your events and how do you reach them? Do you use special processes or which channels and tools do you use for marketing and presentation?
Anke: Our target group for the StartGreen Award is the green start-up scene. In addition to the start-ups, this includes investors and funding institutions. The community is very heterogeneous, which is why we rely on our numerous partners who can then optimally provide their own target group with information. LinkedIn, Meetup, Twitter, Portals are especially handy, we use Facebook less. StartGreen also has its own newsletter, which provides the community monthly with new posts on the StartGreen portal www.start-green.net. With other events, we explicitly address science. This group prefers their information in a classic way: by e-mail, on websites and in the event calendars of scientific institutions or by newsletter. As we usually hold events with several partners, we support each other in public relations. Of course, the Borderstep Institute also has a newsletter with which we can keep our readers informed at regular intervals.
LineUpr: What do you think is the strongest or most efficient channel?
Anke: It always depends on which target group we want to address. Information from the start-up area is particularly well received on Twitter or MeetUp. Founders like to inform themselves at short notice and decide spontaneously, which event suits their current question and which event has the best networking potential. The scientific community loves information via e-mail and newsletters. They sign up and put the event right on their calendars, even if it's only in a few weeks. And then they come too.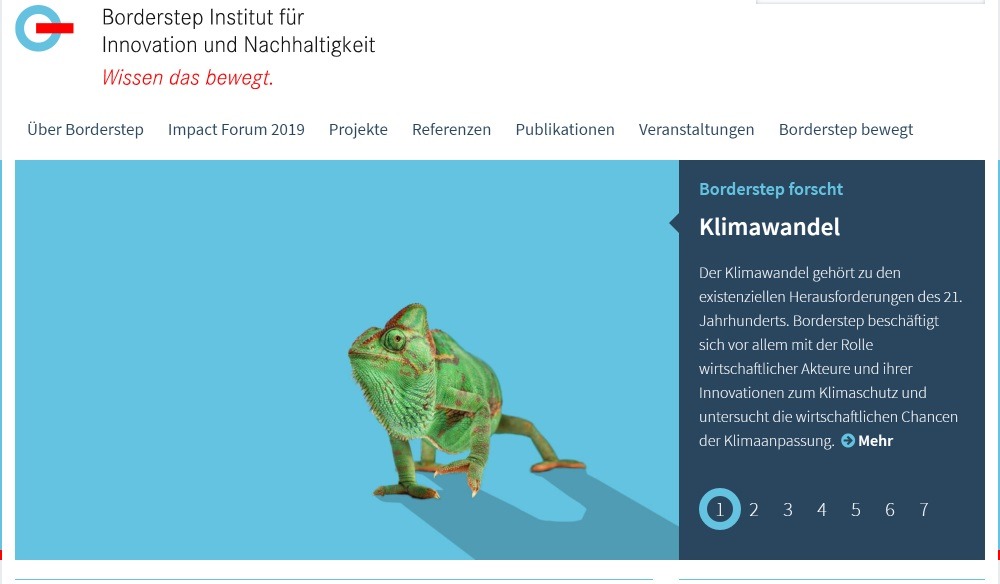 LineUpr: Do you also use printed products to market the event or to distribute information on-site? If so, which and why?
Anke: We present selected research results in a booklet form to the public. These include, for example, special studies such as our Green Start-up Monitor, with which we measured the start-up scene together with the Start-up Association. But it can also be project results of multi-year research projects. We use these booklets at events to present our research portfolio at a glance. We also send out selected printed products to decision-makers from the areas of politics and business to draw their attention to a specific problem. In general, however, we primarily publish our publications digitally via our website.
The decisive factor for using LineUpr was you answering our questions quickly and competently.
LineUpr: You have already used LineUpr several times for the StartGreen Award. Please tell us a little bit more about this event.
Anke: The StartGreen Award strengthens founders of the green economy in Germany. The award aims to make innovative concepts and start-ups in the area of climate protection and sustainability visible and to connect them with donors and sponsors. Anyone who is worthy of an award is determined by the green founder community through public voting.
Networking is the focus of our event. After all, that is the most important goal of the competition. A network forum in which finalists, investors, founder funding organizations and the partners of the StartGreen Awards can present themselves is therefore firmly embedded into the day of the award ceremony. Every year, we organize pitches and a panel on topics such as financing in the green economy. The StartGreen Award is part of the annual start-up week.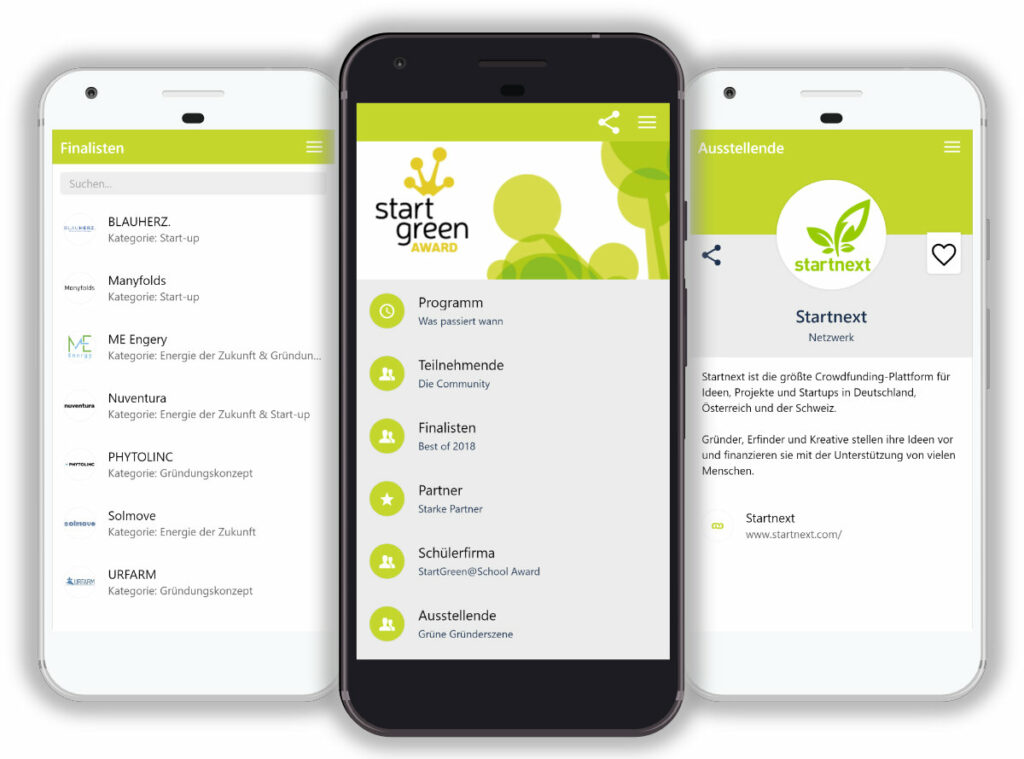 LineUpr: While we're at it, how did you first learn about LineUpr and what was the main reason for using an event app?
Anke: Of course, when we are planning an event, we always take into account the sustainability aspects, e. g. at the catering or the venue. It is not just about organic food and green electricity, but about the overall concept. An event app offers the possibility to carry out an event largely paperless. That was the main reason for us to use an event app for the first time at the StartGreen Award 2017.
We compared different event app providers. The decisive factor for using LineUpr was you answering our questions quickly and competently. Beyond that, you are a start-up yourself and you are simply an excellent match for the StartGreen Award.
LineUpr: How did you use the app before, during and after the StartGreen Award?
Anke: We mainly used the app to provide all the information which was otherwise available to participants as conference documents in a folder. This was information about the partners, participants, jury, finalists, program, and venue.

LineUpr: Do you use other digital solutions for your events? For example live streaming, survey systems or automatic login processes?
Anke: We've tried live streaming, but have since strayed from it because it does not suit our target audience. The research industry, like the world of start-ups, relies on networking. People come to an event to meet. We have had very good experiences with automatic registration. And we are now successfully using survey systems as well.
And we are now successfully using survey systems as well.
LineUpr: The subject of digitalization also plays a critical role for event organizers. How will this development change your events in the future?
Anke: With the use of the event app, we have definitely set a trend ourselves in our peer group. There are still many organizers in the scientific sector who are reluctant to get rid of paper. Since our science team is traveling a lot to other conferences and workshops, we are always happy to be inspired. So we came up with the idea to also use survey systems for our events.
LineUpr: What's the final tip for newcomers to the event industry?
Anke: A well-written timetable is crucial. You should always plan enough buffer room so that something can go wrong without causing delays. Each task should be recorded in it, even seemingly minor details are important. For example, who enters the stage from which side. When everyone knows what they have to do and when to do it, then, in the end, the gears will turn without a problem.
LineUpr: Thank you, Anke, for the detailed interview. The StartGreen Award is a great event. Unfortunately, sustainable thinking/acting is still a subordinate motive for many event planners.
Of course, you can find more information about the Borderstep Institute on their homepage. More information about sustainability is also available on the StartGreen portal. If you think your company is ready for a sustainability award, then apply directly to the StartGreen Award.
We are already looking forward to the next entertaining events with you.