Reading time: 3 minutes
The German's favorite child is his car. This is more than just a saying in Germany. That is why we are all cautious with these machines. Unfortunately, cars are not indestructible. And so paint scratches and other damages are typical. But don't worry; thanks to our interview partner today, cars can quickly look like new again. With its brands, the André Koch AG is the leading supplier of automotive refinish coatings in Switzerland and makes cars shine again.
But all of this is only possible with a vast partner network. Regular personal contact plays a crucial role here. That is why once a year, they invite to a large conference to give both a retrospective and an outlook. Patrizia Santarsiero is responsible for this event. In this interview, she tells us more about the André Koch AG, how she advertised LineUpr to the participants, and how she thinks an app compares to a printed program. Have fun while reading. 😊

LineUpr: Hello, Patrizia. Thank you for taking the time to do this interview. Please introduce yourself and the André Koch AG.
Patrizia: Hello everyone. At the André Koch AG, I am responsible for the Service Center of the Repanet Suisse and, as event manager, for all events.
With the brands Standox, Lesonal, and DeBeer, the André Koch AG is a leading supplier of automotive refinish coatings in Switzerland. The company, based in Urdorf, has been offering high-quality paint products and a wide range of accessories since 1948. With a close network of specialist consultants and application engineers, the company stands for excellent customer and delivery service. Also, we support our customers with a practical training and further education programme and a comprehensive range of advice. In 2014, we started the Repanet Suisse, the Swiss network for superior body and vehicle painting companies. The program aims to improve the capacity utilization and profitability of the participating companies and to make their performance known to fleet managers, leasing companies, and insurance companies.
LineUpr: You used LineUpr for your annual conference. Please tell us more about this event.
Patrizia: Repanet Suisse is, as described above, a network of partners from all over Switzerland. Once a year, we organize the annual conference where the partners meet. It is about looking back and looking ahead and giving presentations on current topics for and from the industry.
LineUpr: Do you also use printed products for marketing the event or for distributing information on-site? If so, which and why?
Patrizia: In advance, we sent a printed invitation with a registration form.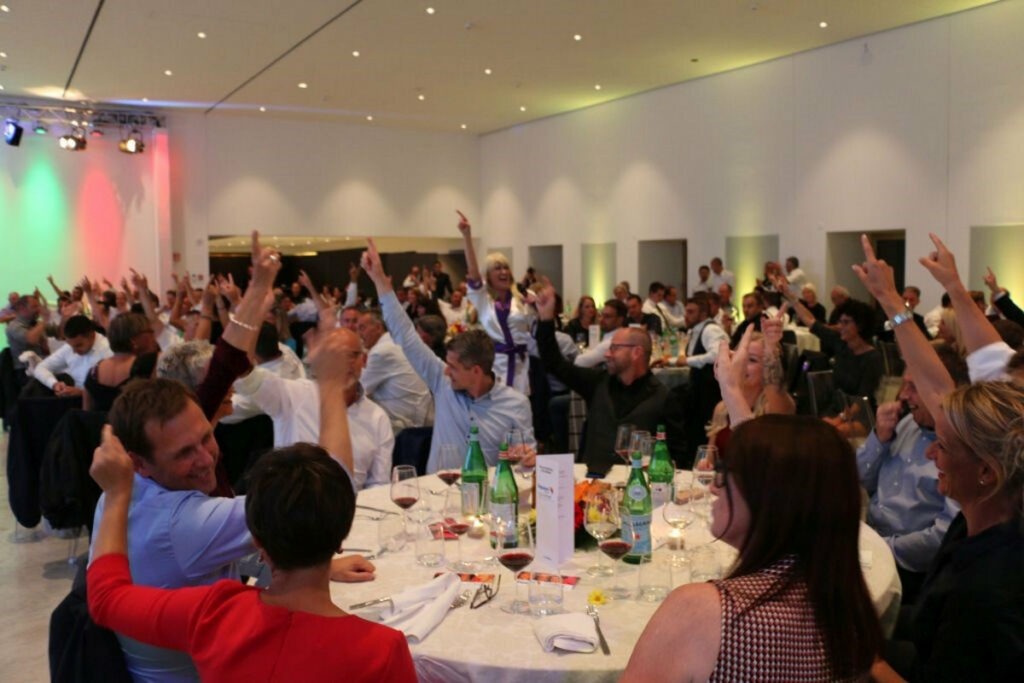 LineUpr: If you compare a printed program with an event app, what are the advantages and disadvantages of both variants?
Patrizia: The advantage of an event app compared to a printed copy are, on the one hand, the professionalism that is broadcast with it. In addition, each participant always has the latest information clearly presented. Of course, an app should also be easy for the visitor to use. LineUpr is also very easy to use as an organizer. Overall, we were able to improve participant communication and accessibility for visitors significantly.
But of course, an event app also has a few disadvantages. On the one hand, you first have to search for and open the app. Then the LineUpr app does not currently offer a multilingual function. So you need an app for every language. Of course, an app also costs a little more than printed products.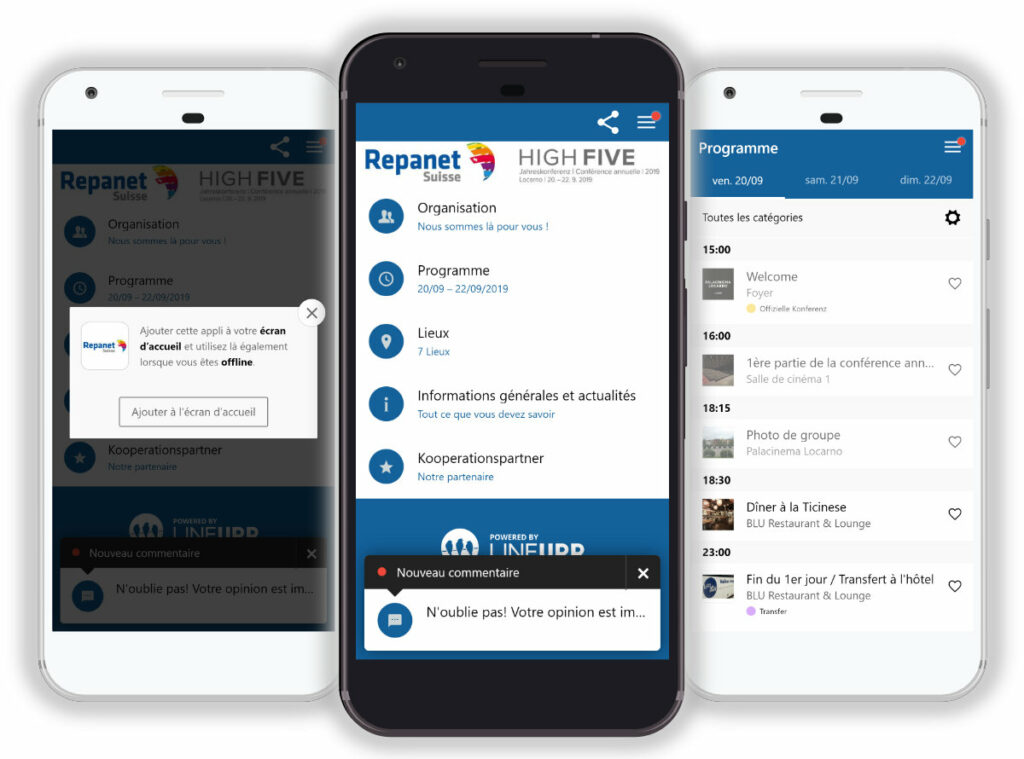 LineUpr: Have you used event apps in the past?
Patrizia: No, we have never dealt with them.
We had positive feedback right across the board.
LineUpr: Did you present your speakers with individual profiles in the event app?
Patrizia: Yes, including external links and contact details

LineUpr: When and how did you inform your participants about the event app?
Patrizia: Here is an extract from our information letter which was sent by post before the event:
For the first time, we have created an event app for you. We, therefore, offer you the opportunity to have an overview of the entire event at any time in a simple and easy-to-understand way. To do this, download the Repanet Suisse app to your mobile device using the following link or QR code. Then save it on your phone screen.
App link
Every update from our side will be immediately visible in the app. So you are always up to date, can find your way around Locarno, and can contact the event manager directly by phone.
We wanted to make everything as simple and understandable as possible.
LineUpr: How did your visitors react to the app?
Patrizia: We have also added the link from survio.com under General Information. The participants were able to submit their ratings directly (free version).
We had positive feedback right across the board.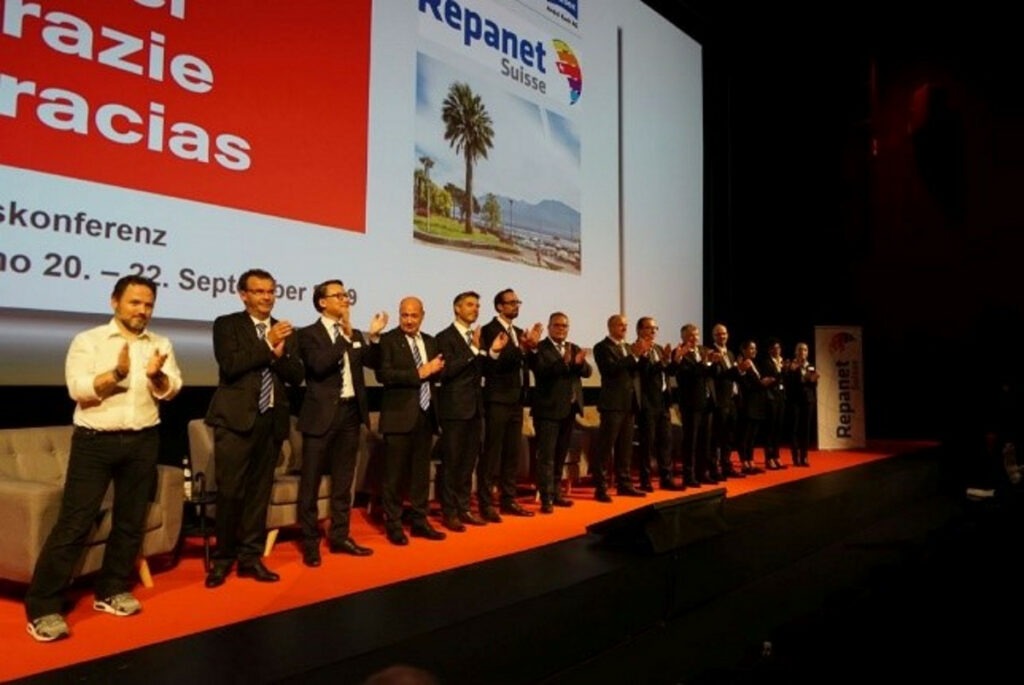 LineUpr: What hurdles and difficulties did you experience when introducing an event app to your event?
Patrizia: We wanted to make everything as simple and understandable as possible. The target group was not the social media/app professionals and that had to be taken into account. At the beginning this stopped some people from opening the app. Our sales representatives were introduced to the app in advance so that they could offer support and advertise the app verbally in the companies.
LineUpr: Thank you for the great interview, Patrizia. I was able to gain a good insight into your event and the structures. The introduction of a new tool is always associated with a few difficulties. If implemented well, the participants catch up very quickly. At least that's our experience.
You can find a lot more information about the André Koch AG online. And there is also a separate website for the Repanet Suisse. And as with every company, you can also find the André Koch AG on Facebook.
We are already looking forward to the next event with you.