Reading time: 5 minutes
Today we talk to Anton Caceres, an organizer of several German PyCons. The PyConWeb is the leading web-specific PyCon event in Germany for all people who are interested in Web Development and Python. Anton tells us more about how he used LineUpr and how it feels to organize such an awesome event.
You will find further exciting success stories of our customers here.
LineUpr: Hello, Anton. Please introduce yourself and the PyCon in your own words.
Anton: Hey there! I'm an IT guy, running an agency (TECH 5) and doing various community events in Munich.
When I moved here in 2015 I noticed a strange thing – despite a strong Python community, the main German Python conference, PyCon.de, was missing for several years. The Community was there, speakers were there, but the organizer spot was vacant, so I just took it. Crazy ideas always find support, so in 5 months with a cool and friendly team, the conference was booming.
Now the PyCon.de is back to life, and this year takes place in Karlsruhe. Meanwhile, our Munich team is working on a new PyCon idea, focusing on Web Development and targeting internationally.
LineUpr provides us an elegant solution to deliver content directly to our attendees in a convenient way.
LineUpr: That sounds great. You have used LineUpr the second time for the PyCon. Tell us more about this event.
Anton: PyConWeb is an annual community event, aiming to unite developers of different backgrounds around topics of Web Development and Python. There are already excellent conferences like DjangoCon or Plone Conf, built around a particular framework. We extend this idea by facilitating exchange between multiple frameworks of the same area and supporting smaller projects that don't have a community yet.
Since the beginning, we saw our conference modern and fully digital. An event that is discussing cutting-edge tech stack should be using it as well. LineUpr provides us an elegant solution to deliver content directly to our attendees in a convenient way, while letting us publish changes easily and fast, without waste of time and paper.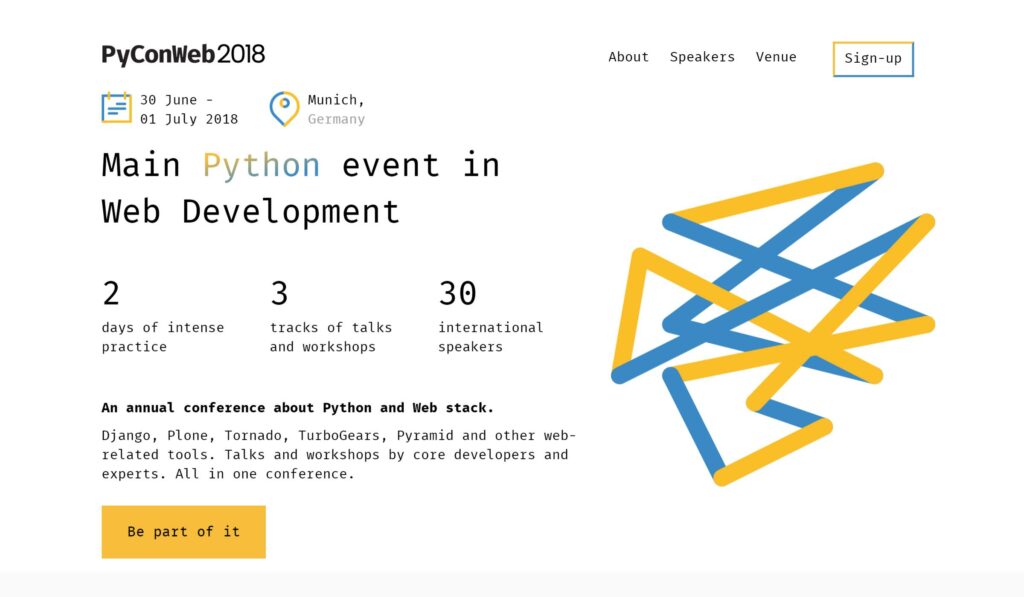 LineUpr: What is the main target group of the PyCon and how do you reach them? Do you use particular processes or what channels and tools do you use for the marketing and presentation of these events?
Anton: We make our events for people who are curious about technology. Running a few parallel tracks lets us present content for everyone, would it be first-year students or Python Core Developers. In combination with flexible pricing policy and grant system, it makes our audience quite diverse.
To grow big, we obviously need to learn a lot of professional marketing tricks, but our good connections and reputation in the community are already enough to make a conference of this scale. Our primary channels are mailing lists, user groups, and social media.
LineUpr: Do you also use print products? If so, which ones and why?
Anton: Yes. Some people prefer easier access to the schedule; some run out of smartphone battery. To address their needs, we print A4 sheets with a conference program. Apart from that: badges, lanyards, navigation signs and roll-ups. And, of course, stickers. What a miserable IT conference would it be without stickers!
LineUpr: You are right. Everything is better with stickers. Now lets come to the app. How did you use the app before, during and after the event?
Anton: First, we publish it on the mobile version of the conference website. A few days before the event it is included in an attendee mailing. Then, during the conference opening, we say a few words again, explaining the advantages of having an up-to-date schedule in your pocket. At the end, we send out a survey.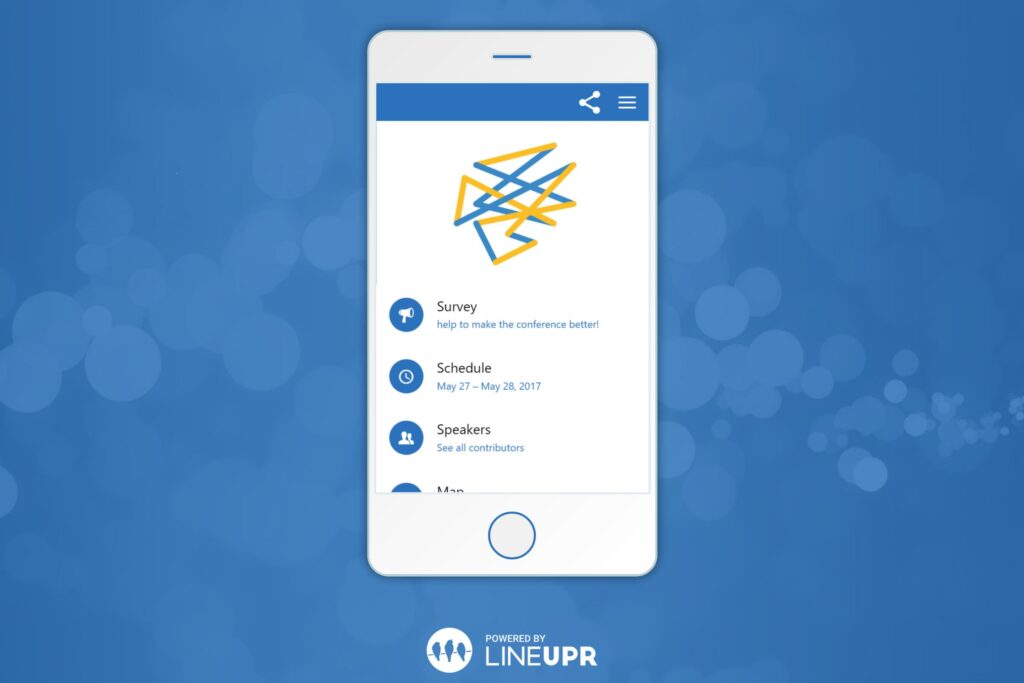 LineUpr: How did your visitor's response to the app? For you it was undoubtedly the first time you used an app for this event, wasn't it?
Anton: People like it and support the idea of moving away from paper. The app has a clear structure and navigation; the interface is simple and inviting. But it's really hard to convince everyone that it's not a usual native app that needs installation from the store, weird permissions and so on. We sometimes get a negative feedback from people who did not even try it, like why the hell you make me install some third-party app on my private phone just to see the schedule.
The app has a clear structure and navigation; the interface is simple and inviting.
LineUpr: Crazy, but you are not the only event organizer facing this kind of problems. It's hard to communicate the difference between a native and a web app. When you use the term app, everyone instantly thinks of the app stores.
Now, of course, there is always room to improve. What features of the app are you missing and why?
Anton: Not sure it's even allowed, but we also used LineUpr programmatically. The information has to be synchronized across multiple platforms, and no way we'd type it all manually. So with some hacks and scripts, we got what we wanted, but having a straighter way for import/export would be excellent.
Apart from that, a schedule version that could be embedded to a website would simplify conference preparations a lot.
Then, an option for own answers in surveys (questions like "which country are you from?"). Push notifications would also be cool, which we know hits the platform limits.
LineUpr: Funny, because right now we are working on our import/export feature. Maybe we can learn from your hacks.
What other difficulties do you face in planning, marketing, and running events?
Anton: There is a general problem on the internet about service integration. One tool for planning, one for analytics, one for newsletters and one for social media, then one for customer support, one for team chat, and a whole bunch of financial tools. They are all digital and web-based, but integrating them is not easy. It results in a lot of duplicated actions and information or investing time into integration scripts. We prefer the second option, but it's still not easy.
Organizing a conference for me is like preparing a party, just a bit weird one 🙂
LineUpr: You are right. We also work simultaneously with so many different tools. Integration between various services will be a big thing in the future.
Closing question. What inspires you in your daily work?
Anton: Work is work; I run a software business which means talking mostly to computers. In contrast, organizing a conference for me is like preparing a party, just a complicated and a bit weird one 🙂
Two years ago, when we planned our first PyCon, the question "what for?" was something nobody of organizers could answer. The answer came in a few months with a conference itself, when we saw all that people in person. There were faces from Germany, Italy, France, Ukraine, and Egypt. Then I remember one guy from the Maldives, and one from El Salvador. You see, knowing that even one guy came all the way from El Salvador just to attend your conference, is a great feeling. That inspires a lot.
LineUpr: Inspiring closing remark. Thank you, Anton, for this great interview. We are already looking forward to supporting your next PyCon with LineUpr. If you want to know more about the PyCon or want to buy tickets, you will get more information at the website. Or take a look at Anton's website or Twitter profile.