Reading time: 6 minutes
Digital First! That's one of our corporate mottos. Fittingly, today we have Christian Simon from the Media Lab Bavaria as a guest on our blog. He was one of the organizers of digitalmediacamp this year. It is one of the leading BarCamps on digitalization in Germany. Christian tells us a bit more about the content of the BarCamp, why and how they used the event app, and what organizers should be aware of when dealing with an event app. Have fun while reading.
LineUpr: Hello Christian. Thank you for taking the time to do this interview. Please introduce yourself and the digitalmediacamp.
Christian: I'm Christian, I work at the Media Lab Bayern as an innovation editor with content, research, and social media. The #dmcmuc is our BarCamp, which we organized this year for the third time. Since the first camp in 2016, the DMC has grown steadily, and this year we were able to welcome nearly 300 visitors in the foyer of the Süddeutsche Zeitung. An enormous organizational effort with session plans, catering and a bouncy castle. But what can I can say, it was worth it!
LineUpr: That sounds exciting. Who is the typical target audience of this BarCamp and how do you reach them?
Christian: We are the Media Lab Bayern, so we are also trying to target a group that is not entirely uninterested in digital media issues. Within this, the DMC BarCamp is typically very open – from podcasts to blockchain to picture rights, we represented many topics. Accordingly, we had many journalists as guests, but also coders, marketers, and media lawyers. But as I said, a reference to media and digitalization can probably be found by almost every guest.
Since we have a media-affiliated target group, we reach our people well on the traditional social networks, especially on Facebook. We have had good experiences with direct posts on Facebook Events. Twitter also plays a big role, especially with the journalists. Otherwise, we have our general newsletter and also send event-specific e-mails. However, the extensive network of friends and supporters that the Media Lab has and those we can reach directly are also important.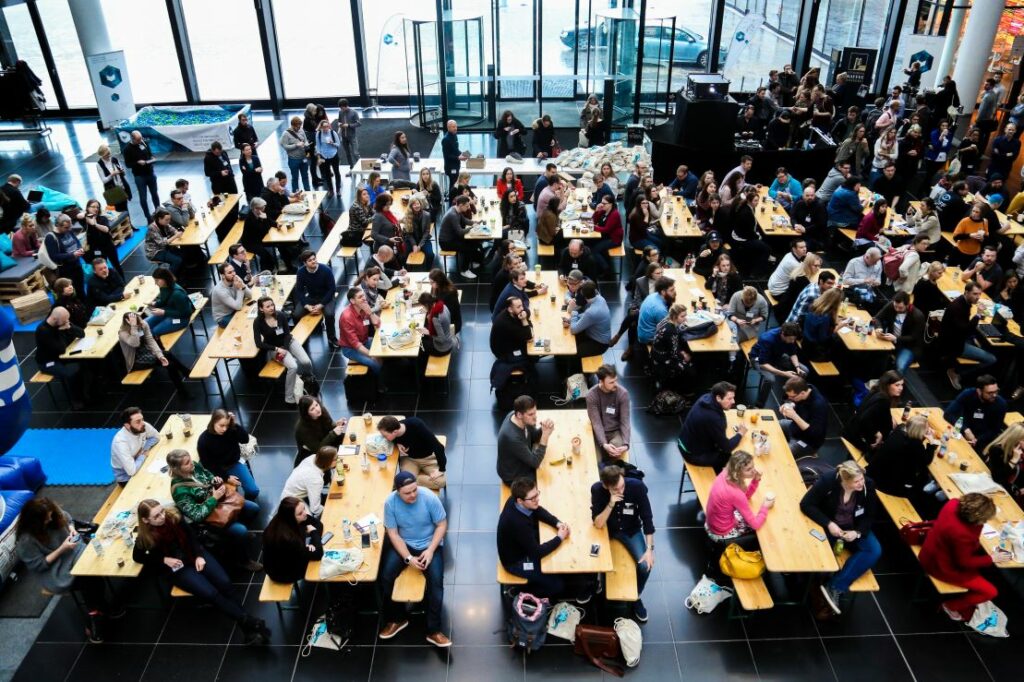 LineUpr: Which of these channels, in your opinion, is the strongest or the most efficient?
Christian: The most efficient way to reach our target group is by directly tapping into our network and spreading our content from there. Media Lab's boss Lina is exceptionally well connected in the digital media scene, and via her Facebook profile or her Twitter account, we quickly reach important and relevant multipliers. In general, the direct communication with the target group, as it is possible through social media, works best for the marketing and presentation of our events. If I had to choose a "most important" channel, I would say Facebook because of the broader reach. Twitter also works pretty well in our niche, but it restricts the target group a bit more.
The most efficient way to reach our target group is by directly tapping into our network.
LineUpr: Direct personal contact is unbeatable. We hear that very often from other organizers.
You have now used LineUpr for the event for the first time. What are, for you, the decisive advantages of using an event app?
Christian: The easy availability, the "Plug & Play" model and the fact that at least 99% of our participants already have a smartphone with them and use it regularly. We want our participants to feel well informed throughout the event and to have access to all relevant information – app alternatives, such as a website which is wholly dedicated to the event or a slack channel, would either be too time-consuming for our small team or too confusing during the event itself. An app, especially one that we did not have to programme ourselves, was the ideal solution.
Reasons for an event app: easy availability, the "plug and play" model and the fact that 99% of our participants already have a smartphone with them.
LineUpr: You explained our advantages perfectly ?.
Have you already used event apps before and if so, what are your experiences with it?
Christian: We already had an app last year, but with a completely different focus. At that time it was not so much about event information as it was about matching – this was about bringing together participants with the same interests. This sometimes led to amusing situations, but as I said, it was a very different goal that we pursued there.
LineUpr: That's right, matching apps are just as popular, but let's get back to LineUpr. How did you use the app before, during and after the BarCamp?
Christian: We wanted to rethink "BarCamp" a bit this year and so we created the session plan for the first day in advance of the event. Participants were able to submit topics and vote on all other participants – so we were able to set up a session plan democratically in advance and save time on the first day. On the second day, the sessions were then awarded in the very typical BarCamp spot. We were mainly concerned with keeping the session plan up to date in one central location so that the participants do not lose track of the parallel sessions in the seven different rooms, LineUpr was ideal for that.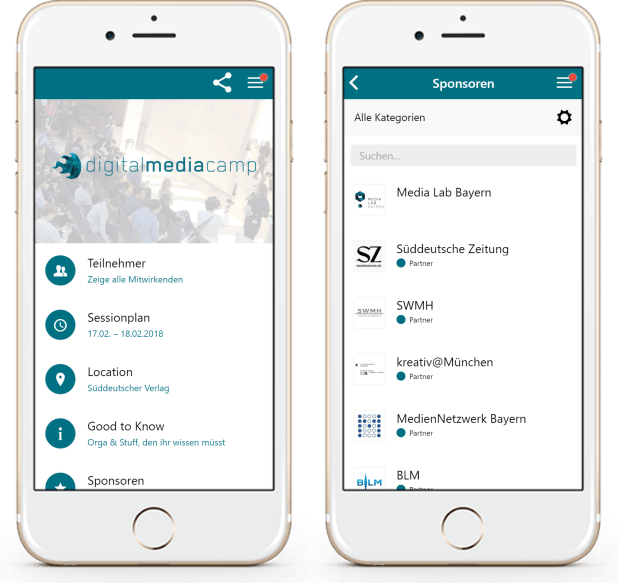 LineUpr: How did your visitors react to the app?
Christian: We are here in Bavaria, so it also goes for our guests: "No complains is a compliment." But seriously: Our information policy was praised again and again, without explicity mentioning LineUpr – we were also personally there as an on-site contact person, and notices and room plans were also there. But of course, the app was an important part of it. What I noticed, however: If the info in the app was incorrect, or I did not follow up with the entry of new sessions, we were immediately addressed. So I assume that LineUpr was, of course, used by our participants.
LineUpr: Since one of our founders is from Swabia, we know a variation of the saying only too well ?
Of course, now everything is never perfect, what features do you still want for the app and why?
Christian: In the front end it would be nice to have more filters and display options both for the programme and for the participants. To be able to quickly and easily say "Show me all the sessions in this room", "Show me all sessions at 15:00" or "Show me the sessions in a timetable.
In the backend, everything is clear and self-explanatory. One possibility that I did not find was the ability to create templates for events where, for example, space and various labels are already given and you just have to change the title. Since we still had a manageable amount of rooms and labels, I got along well with the "Duplicate" function – but I could imagine that the more labels and categories you want to insert, the more complicated it gets.
So if you choose LineUpr, you should use it seriously.
LineUpr: Thanks for your feedback. We will take these suggestions to our product meetings. Do you have three tips for other organizers for using LineUpr?
Christian: Firstly, take some time to look at everything and familiarise yourself with the backend. Since we had our session plan before the event and we registered there, it came naturally to us. It saved us a lot of fuss during the event itself.
Secondly, commitment. If you offer an app to your participants, there is a chance that they will use it. Wrong or incomplete information will be noticed immediately. So if you choose LineUpr, you should use it seriously.
Thirdly, errors and misunderstandings occur when several employees are fussing around the app at the same time. Specify one employee who will be the sole administrator during the event.
LineUpr: Thank you very much for the great and detailed interview, Christian. One can see that you are fully immersed in the subject of digitalization and have already built up some expertise on the organization of BarCamps. If you want to know more about Christian, have a look at Twitter or write an e-mail to christian@media-lab.de. Further information about the Media Lab is also available on Twitter, Facebook or on the homepage.
We look forward to supporting you again next year at your BarCamp.