Reading time: 3 minutes
Previously laughed at, yoga is now one of today's mainstream activities. Formerly something for women, today many men swear by the almost serpentine movements. And research has proven that yoga is excellent training for your back. It also helps you to keep the balance in your life.
As more and more people practice yoga, there are also more and more yoga studios. You can almost think of it as a movement. For even more people to experience the wonderful effects, yoga coaches invest a lot of effort in interesting beginner events. One of them is the LONGNIGHTOFYOOOGA. Yoga für alle e.V. brings together several yoga studios from different cities and offers many different classes for one night. In 2019, there were a total of 115 locations in 5 cities.
So that the participants do not lose the overview here, an event app from LineUpr was used again this year. Cornelia Brammen from the association Yoga Für Alle was responsible for this. In this interview, she will tell you how she integrated the different yoga styles into the app and how the app was received. Have fun while reading. 😊


LineUpr: Hello Conny. Thank you for taking the time to do this interview. Please introduce yourself and the association Yoga für Alle.
Conny: I am Conny Brammen, Kundalini yoga teacher Level I and II, journalist, and founder and director of the non-profit organization Yoga Für Alle, which organizes the LONGNIGHTOFYOOOGA as a fundraising event every year on the closest Saturday to the summer solstice. So again on June 20, 2020.
LineUpr: Once a year, you organize the LONGNIGHTOFYOOOGA. Please tell us more about this.
Conny: As a non-profit organization, we depend on donations to achieve what we started out to do: to facilitate social yoga. So yoga for people in the care of social and government institutions. The LONGNIGHTOFYOOOGA is our fundraising event. And in the best sense of the word it is yoga for everyone – because for only 20 Euros, visitors can experience the diversity of yoga in many places in their city. In 2019, there were 116 Yoga locations in Hamburg, Munich, Cologne, Bochum, and Sylt. Hopefully, Frankfurt, and possibly Düsseldorf, will join in 2020.
LineUpr: What strategies and tools do you use to address this target group? Do you attach particular importance to something special?
Conny: We use the LineUpr web app in every city to guide visitors perfectly through the LONGNIGHTOFYOOOGA. We also do marketing on Facebook and Instagram, and we have a nice, very individually designed newsletter. Hamburg Marketing supports us with A1 posters in the metropolitan region and the Sports Bureau also assists us with patronage from the State Sports Council.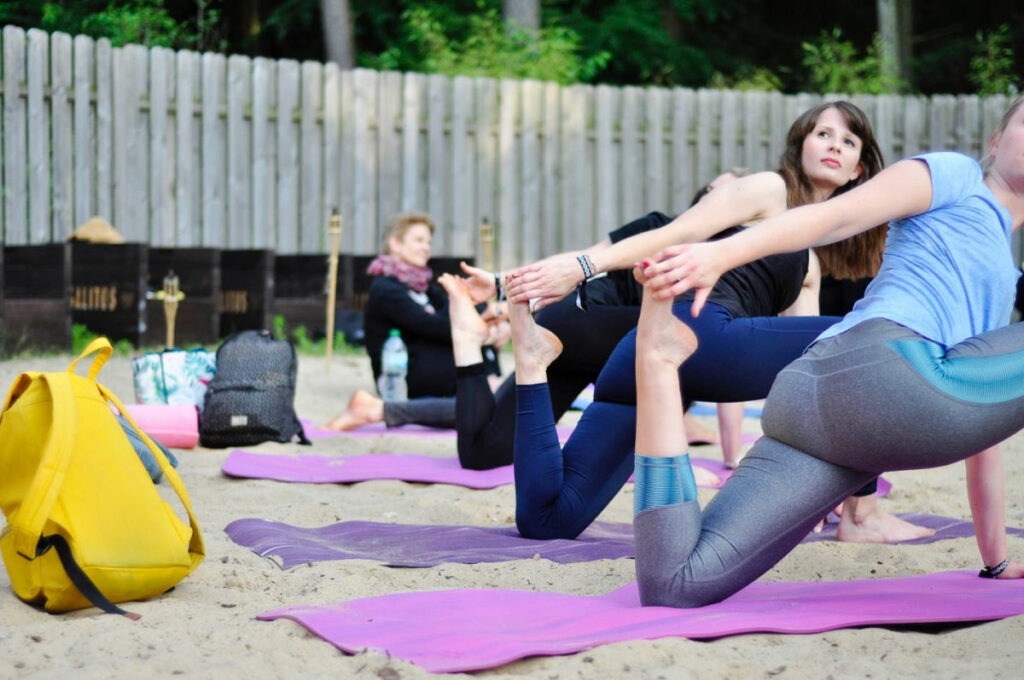 LineUpr: You have used LineUpr now for the second time. How did you learn about LineUpr and what added value does an event app offer you?
Conny: Our graphic designer looked on the internet for a beautiful app and found you. And as I already said: LineUpr allows visitors to surf securely through the LONGNIGHTOFYOOGA.
As I said, the app was an essential part of our marketing strategy and was therefore integrated from the beginning.
LineUpr: How did you describe the different yoga styles in the app?
Conny: There are many different types of yoga styles. We wanted our attendees to be able to search directly for these styles. So we created a separate line-up profile for each yoga style. We then linked this profile directly to the program points where this style was offered. In the program point, of course, the corresponding studio was linked. This allowed each participant to select his style directly and then have all the program points and studios displayed.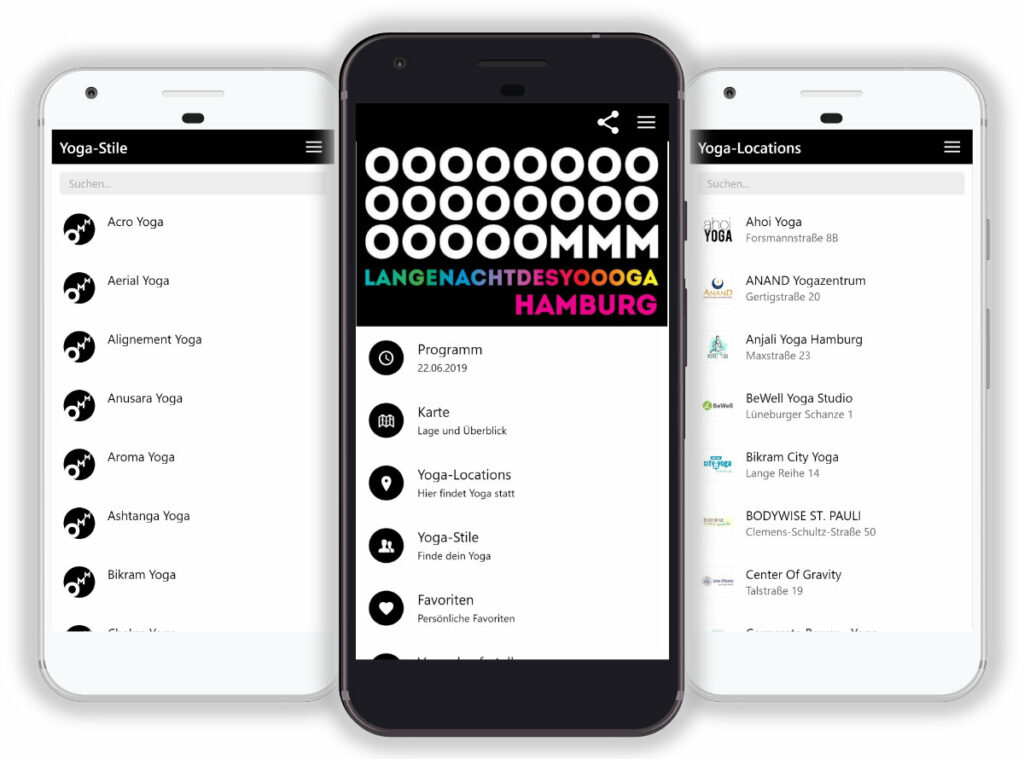 LineUpr: You had already published the app before the event and so you were able to also advertise, for example, the ticket offices. How and why did you do that?
Conny: We just love the stationary trade. Therefore, the ticket offices are very important to us. Since the app was one of our marketing channels, this, of course, could not be missed.
The usage figures look very positive. So I would say that the app was well-received.
LineUpr: When and how did you inform your participants about the event app?
Connie: As I said, the app was an important part of our marketing strategy and was therefore integrated from the beginning. So we mentioned the event app, for example, in our newsletter, and on Facebook.
Parallel to the app, we also had a program booklet. Going completely digital is not yet possible and a printed program booklet also has a different feel. But also in this program booklet, we pointed out the event app on the last page.

LineUpr: How did your visitors react to the app?
Conny: We did not actively ask for feedback. But since no one has said anything negative about the app, there was apparently nothing to complain about. Also, the usage figures look very positive. So I would say the app was well-received.
LineUpr: Thank you for the great interview, Conny. That was a very interesting conversation with you. If time permits, we also try to do yoga in the office from time to time. But I admit, unfortunately only very rarely.
More information about the association Yoga für Alle is available on this page. Here you can also get glimpses of the LONGNIGHTOFYOOOGA from the previous years. On this page, you can also find out about the next edition in 2020. We are already looking forward to it. 😊