Reading time: 6 minutes
Today we welcome Karoline Bischof, an expert on employer attractiveness, to our blog. As the responsible event manager at Great Place to Work®, she ensures every year that the festive setting for the award of the 100 winners in the employer competition "Germany's Best Employers" is overwhelming. She will tell us how LineUpr helped her to accomplish that.


LineUpr: Hello Karoline. Thank you for taking the time to do this interview. Please introduce yourself and Great Place to Work®. What are your goals and what role do events play?
Karoline: Great Place to Work® is an international research and consulting institute that helps companies around the world to develop an attractive workplace, trust, and corporate culture, with operations in 57 countries around the world. The German Great Place to Work® Institute was founded in 2002 and currently employs around 90 people at the Cologne location.
The Great Place to Work® event team consists of 4 people. We do about 50 events a year. The most important event is the annual "Germany Best Employer" award in Berlin. Here, the 100 best employers in Germany are awarded during an evening gala.
LineUpr: You used LineUpr for your Gala. What kind of event is this and which target group are you addressing with this event?
Karoline: «Deutschlands Beste Arbeitgeber» is the annual "Best German Employer" award in Berlin. Here, the 100 best employers in Germany are awarded at an evening gala. In addition to the actual winning companies, the target group includes all companies that are interested in having us evaluate the quality of their workplace culture.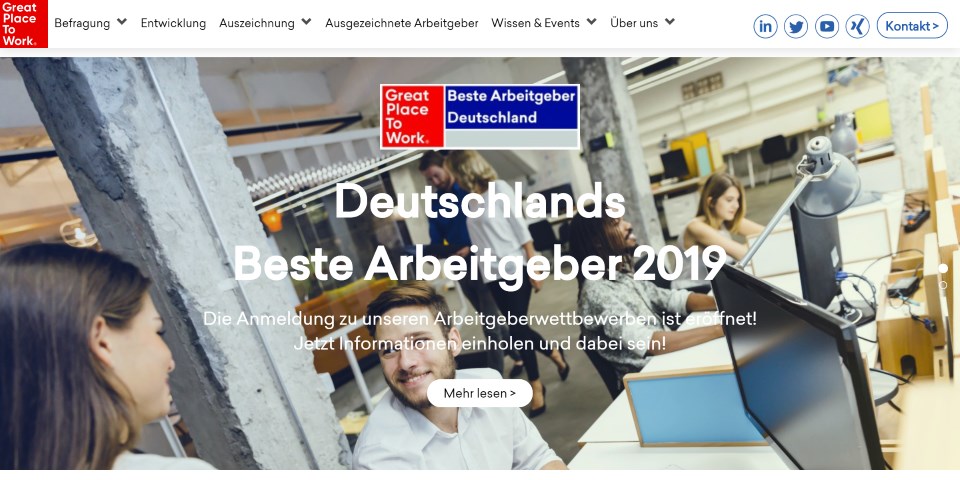 LineUpr: Do you have print products for the marketing of the events or for the distribution of information on-site? If so, which products and why?
Karoline: No the marketing of the event is purely digital.
LineUpr: We think that's great. How did you learn about LineUpr and what was the decisive argument for you to use an event app?
Karoline: We learned about LineUpr at the mbt Meetingplace 2017 in Frankfurt and wanted to give it a try. We would like to try to distribute as much event information as possible to the attendees via the app.
No, the marketing of the event is purely digital.
LineUpr: Have you used event apps in the past?
Karoline: No, we have not used any app in the past, but as part of increasing digitalization, we were certainly on the verge of using an app and therefore were very open to your offer.
LineUpr: That's what you call good timing. ? How did you use the app before, during and after the Gala?
Karoline: The reference to the app was placed on our homepage and in the event invitation. Shortly before the event, a mass mail was sent to all previously registered participants. During the event, the link was displayed on screens.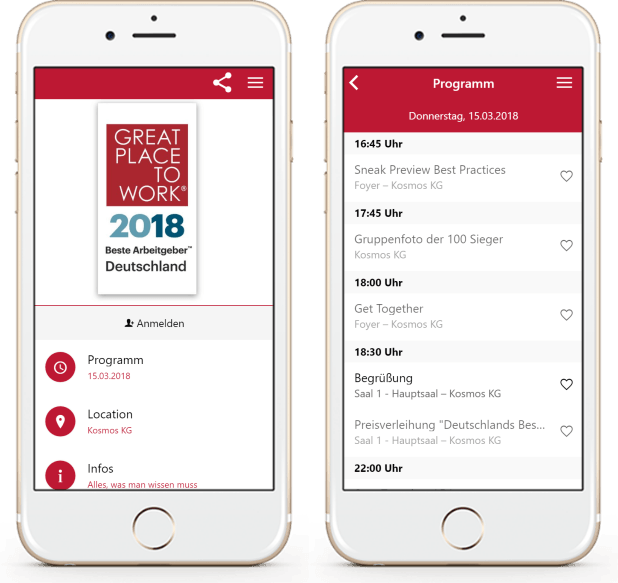 LineUpr: How did your visitors react to the app?
Karoline: We did not receive any feedback from the guests, and unfortunately we did not actively ask for it. We want to change that next year.
LineUpr: We can advise you to do this. It is very easy to gain feedback via the app. We noticed that you also used the info page in great detail and created a total of 11 subpages. Why did you choose to reproduce your information?
Karoline: This area was very important to us because we wanted to significantly relieve the event support hotline.
… we [wanted] significantly relieve the event support hotline
LineUpr: Why do you think an event app is a good addition to a gala or an award ceremony, which usually focuses more on people and less on content?
Karoline: As a good host it is important for us to inform the guests in as much detail as possible about all matters (for example dress code, food, arrival …). And as a modern company, it goes without saying that it is a good thing to offer such a convenient solution for conveying information.
LineUpr: Thank you, Kirsten, for the great interview. One can really feel your motivation and positive mood. You can find more information about Great Place to Work® on their homepage, on Twitter or Youtube.
We are already looking forward to the next events and to how we can continue to support you.