Reading time: 7 minutes
Today we welcome Sabrina Fragoulis from Gödde GmbH on our blog to talk to us about the subject of event management. Even the company vision – "anything but average" – makes it clear that Gödde GmbH wants to stand out from the crowd. Sabrina tells us more about external sales conferences and why they use their event app.
More exciting success stories from our customers can be found here.
LineUpr: Hello Sabrina. Thank you for taking the time to do this interview. Please introduce yourself and the Gödde GmbH.
Sabrina: Gödde GmbH – anything but average. B2B trading company. System supplier. Hoffmann Group Partner. Gödde is much, but certainly not average. That's why we not only stand for reliable products, on-time delivery, and comprehensive advice, but also for above-average customer satisfaction.
Our customers are convinced by our tools, products and consulting services in the areas of machining, occupational safety, measuring technology, operating equipment, eBusiness as well as grinding and separation technology.
I work as an assistant to the Head of Sales in Germany. My tasks are very diverse and varied. In addition to personal assistance, there are many organizational tasks for our sales staff and our customers, such as the organizational planning and implementation of our external sale conferences.
LineUpr: Who is the usual target audience of your events and how do you reach them? Do you use special processes or channels and tools for marketing and presentation?
Sabrina: The largest target group is our customers –  small, medium-sized companies, but also large corporations.
However, 90 percent of customers are specifically addressed via our sales staff. The sales staffs have built up very close and trusting relationships over the years with customers who regularly buy from us.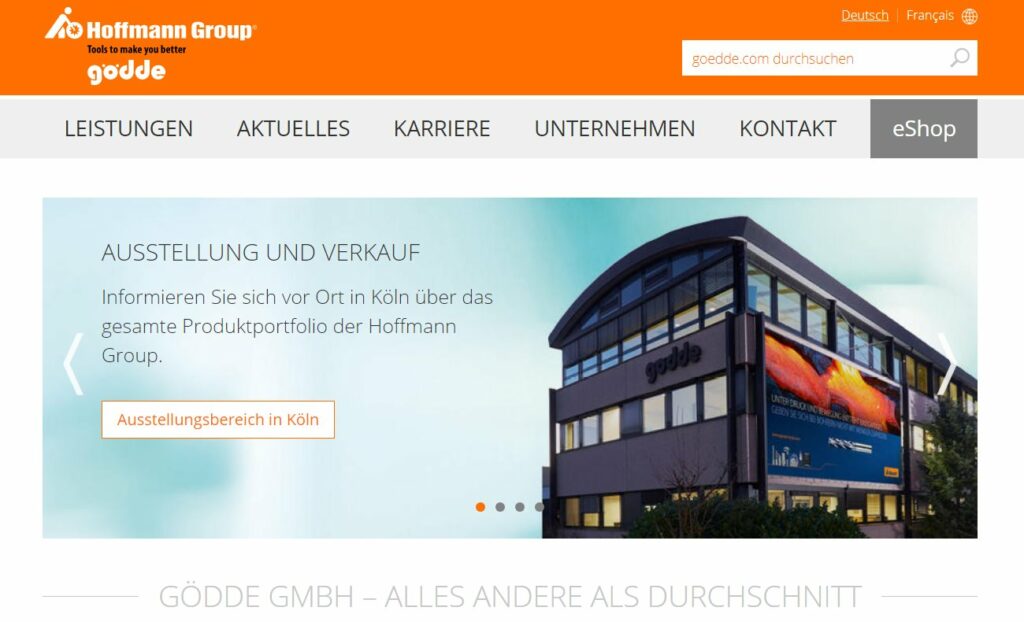 LineUpr: Do you use printed products? If so, which and why?
Sabrina: Yes. We use, for example, brochures and product catalogs as there are still many customers who expect printed documents from us.
LineUpr: Okay. Let us return to the digital world. You have already used LineUpr twice for your external sales conferences. What is this event about?
Our external sales manager was introduced to the app while attending an event and recommended it for our conferences.
Sabrina: We have an external sales conference lasting two days twice a year. On the first day, our partner company, Hoffmann GmbH Qualitätswerkzeuge, presents all the latest news, progress, new products, strategies, etc. in the context of lectures and workshops.
On the second day, suppliers present new products in detail, which are listed in our catalogs. This is done in the form of lectures or workshops (in groups).
We are continually looking for ways to simplify the organization of events and to benefit from new tools created by digitalization.
LineUpr: While we're at it, how did you first become aware of LineUpr and what was the main reason for using an event app for you?
Sabrina: Our external sales manager in Belgium was introduced to the app while attending an event and then recommended it for our conferences.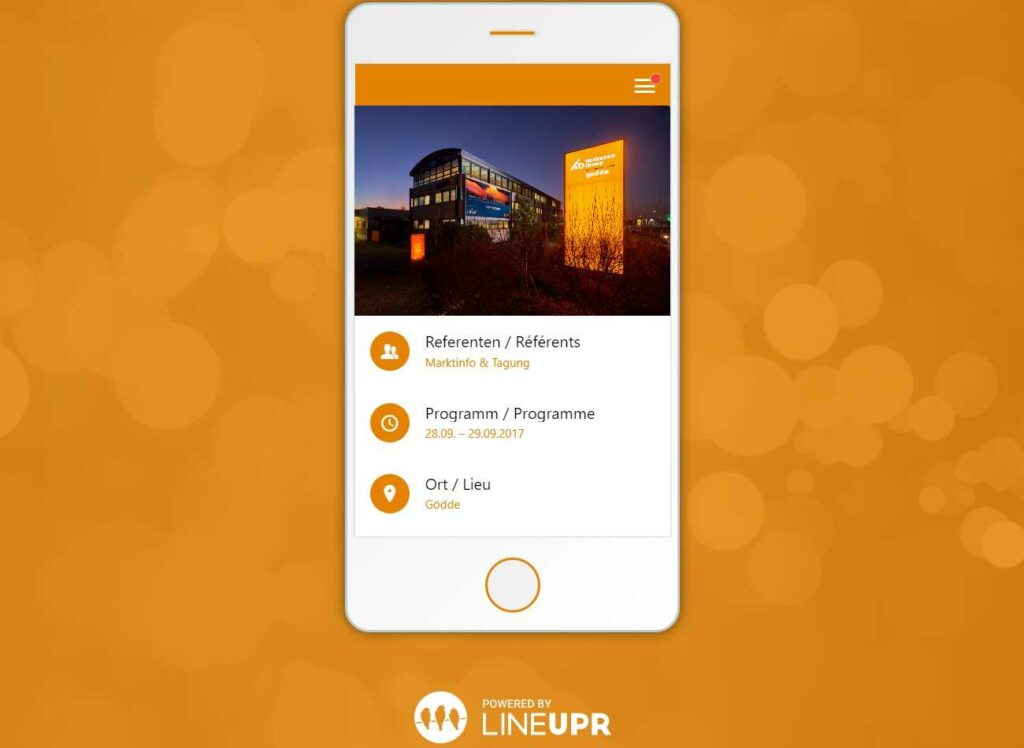 LineUpr: How do you currently use the app before, during and after the events?
Sabrina: The attendee gets the link for the app a few days before the event so that he can, depending on the group, view his individual program and save it, for example, by creating favorites.
During the event, the app guides the attendee through the conference program: When and where are the lectures and workshops, when and where do the breaks take place? Each participant has the opportunity to evaluate the individual lectures during the event. If there is a change or I want to remind the attendees about something, I'll send a post to everyone quickly and easily. So everyone is directly informed.
After the event, each participant should complete the feedback form, which can be individually created and designed.
Each participant has the opportunity to evaluate the individual lectures during the event.
LineUpr: You also used the survey function of the app for your event and received quite a lot of detailed answers. How did you communicate this survey and inspired your attendees to participate?
Sabrina: In the invitation mail to the external sales department, with which the link for the app is also communicated, I point out that the feedback form must be completed after the event. The sales staff give detailed answers on their own because they know that we can only make improvements or changes to the conferences from their feedback.
LineUpr: Do you use other digital providers for your events? For example, live-streaming or automatic login processes.
Sabrina: At internal events. this is not an issue. At exhibitions, we have successfully set up automated registration processes.
LineUpr: Is there anything that bothers you right now or in general in the preparation and execution of events? Is there a digital solution or an efficient process which you feel is lacking?
Sabrina: I would like to have simpler handling on group divisions and workshops that run parallel.
LineUpr: That's right, we should think about that.
When it comes to tools, I always immediately think of German small and medium-sized enterprises and, as you know, things are not so good when it comes to digitalization. However, your internet presence and use of digital solutions suggest the exact opposite. Do you see Gödde GmbH as better equipped here? If so, why do you think you are ahead of your industry?
Sabrina: Yes, definitely! Digitalisation is a critical topic for both the Hoffmann Group and Gödde. Our owner, Mr. Gödde, is very much aware that we need to take advantage of our opportunities in this area right now, and many changes are necessary for the company and each employee.
As part of a customer survey, we have determined the needs of our customers in this area. At the same time, many internal processes were put to the test. The results of both operations have flowed into very concrete projects, which are now being successfully implemented. Examples include improvements to the CRM-System, investments in IT infrastructure and expanding our online presence.
I think it's very good that my work is so varied, every day is different and usually not as planned.
LineUpr: In closing, a personal question. What inspires you to do your work and what would you happily give up?
Sabrina: I think it's very good that my work is so varied, every day is different and usually not as planned. I also enjoy having a lot of contact with other people, such as colleagues in the field and in-house, customers and suppliers, but also agencies, etc.
Of course, there is always something you could do without but there is probably no job where you do not have tasks that you don't enjoy doing.
LineUpr: Thank you, Sabrina, for the great interview. It was interesting to learn about which steps you have already taken regarding digitalization. More information about Gödde GmbH can be found on the homepage. We look forward to your next events and how we can support them with LineUpr.