Reading time: 3 minutes
As soon as you are registered with LineUpr, you get an account. In its settings you can, among others, set the language for your Event CMS, adjust the URL for your public profile, or choose to continue receiving notifications from us. Exactly how this works is shown in this article.
Your Account Settings
To edit your account settings you first have to log in. You will then find a "head" symbol in the upper right corner. If you click on it, a pop-up menu opens with "Account Settings", "Public Profile" and "Logout". In the next section we clarify what is meant by "Public Profile", but now it's all about the account settings.
Account Name
As you probably already suspect, you can change the name of your account in this field. This title will be, among others, displayed on your public profile, but more on that later. You can define this name for the first time when registering on LineUpr. You can also change it later at any time.
Account URL
Maybe you already know that every URL of the LineUpr app has the same structure: http://lineupr.com/Organizername/Eventname. The middle part is what is meant by the account URL, therefore in the example here it's "organizername". When you register on LineUpr, this URL module is generated automatically from the account name you entered. So if you enter Tom Meier as your name, then it automatically creates the link http://lineupr.com/tom-meier.
This URL leads firstly to your public profile and, secondly, to all of your app's other URLs because the name of the app, along with a forward slash, is attached to this URL. So, if you adjust this URL, you should be aware that it will also change all of your app's other URLs at the same time. How to customize the app's URL building block is explained in this tutorial.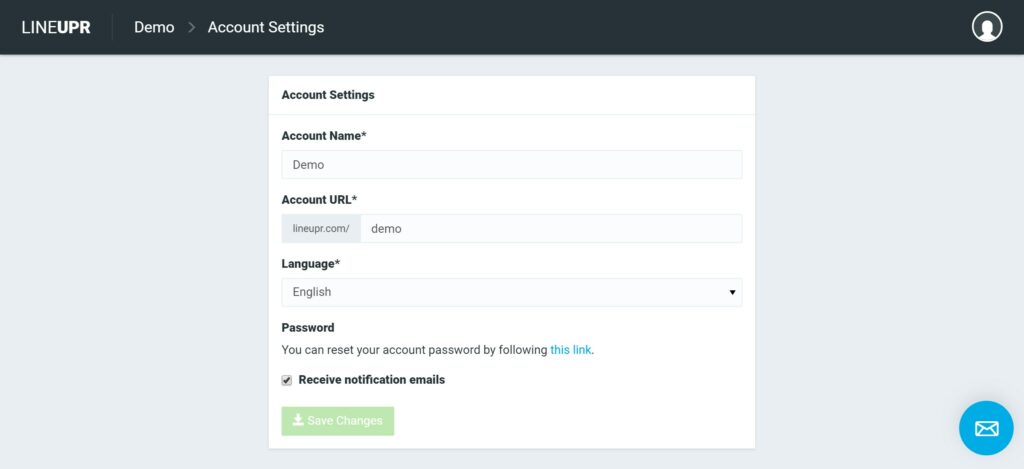 Language
Here you define which language is used for your account. We currently offer German and English. However, this setting does not work for your apps but only for the Event CMS in which you create the apps.
How to change the language of your event app is explained here.
Password
Did you forget your password or would you like to change it? Then you just have to click on this link. After that, all you have to do is enter your email address and you will receive a link to reset your password directly in your mailbox.
Notifications
If you have been registered with us for some time, then you have already received one or two emails from us. For example, shortly before an event, we send a few tips on how to use the app. We are very economical with these notifications. However, should you still be annoyed by them, then you can remove your tick here at any time and you won't receive messages from us anymore.
Your Public Profile
We have already mentioned the public profile several times in this article, but what does that mean?
Your public profile is a summary page that shows all of your published event apps. You can access this page by either clicking on the head symbol in the top right corner and then on "public profile" (you must be logged in) or by directly entering your account URL.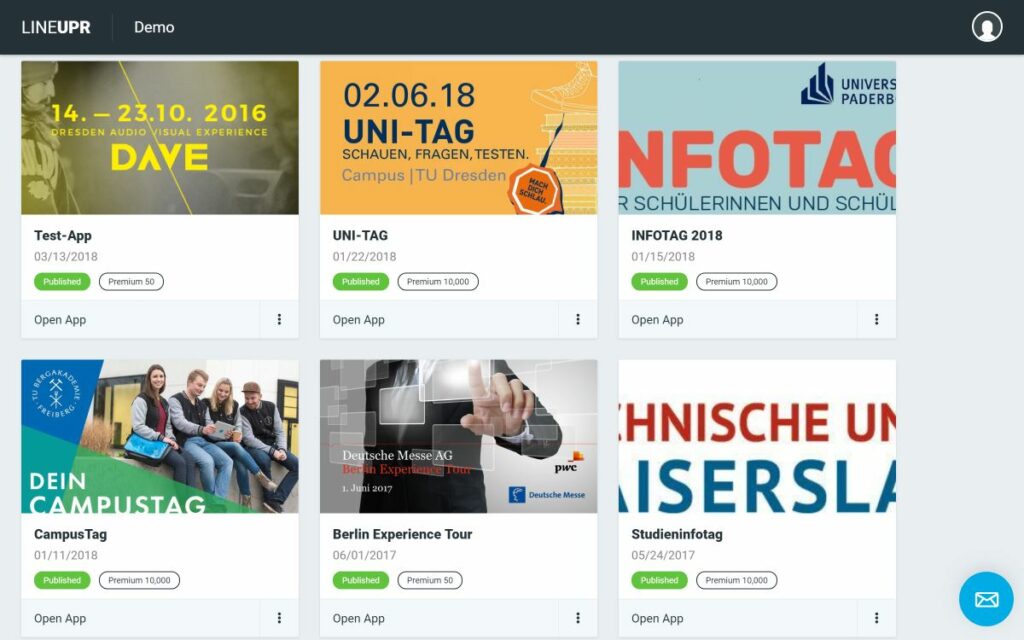 On the top left, you will find your account name again. Below all your are apps shown.
Many organizers share the URL of their public profile instead of the app to their users. This is particularly interesting for organizers who have many events, as the potential visitors will see here both the examples of older events and also future events. Also, the same URL can be shared in different places and you do not always have to check as to whether or not the correct app has been linked.
What Should You Have Learned
In this tutorial, we introduced you to the settings options for your LineUpr account. Here you can, among others, customize the URL for your public profile, select the language for your LineUpr CMS, and reset your password. We also showed you what the public profile is and where you can find it.

"Account" Icon created by Round Pixel from "the Noun Project".