Reading time: 3 minutes
Finance and employee management- topics that are highly relevant to any business but unfortunately sometimes associated with negative emotions. However, thanks to our guest today, a lot has been done here. Sage offers innovative solutions that help companies streamline their processes in these areas and provide employees with joy at work.
Digitalization and the implementation of the latest technologies play a crucial role for Sage. For this reason, in 2017 and 2018 the Sage Summit Tour is held, during which more than a thousand decision-makers are informed about the most important developments. Co-organizer of the Summit is Patricia Russ. She will tell us more about Sage and the tour. Besides, she will also share her experiences with the use of an event app and tell you what you should consider. Have fun while reading. ?


LineUpr: Hello Patricia. Thank you for taking the time to do this interview. Please introduce yourself and Sage.
Patricia: My name is Patricia Russ and I've been working for Sage as Channel Marketing Manager for over 10 years. My team was responsible for organizing the Sage Summit Tour this year, among other things.
Like all successful companies we support today, Sage started as a start-up. Originally our founder David Goldman wanted to automate the accounting processes in his own company. Working with a team of Newcastle University students, he developed software that made that possible – and quickly realized that other companies could benefit as well. Then he founded Sage in 1981. Today, Sage employs 13,000 people and supports millions of customers from 23 countries in Europe, Africa, Australia, Asia, and Latin America.
Sage provides solutions to all requirements in finance or human resources management and equips companies with everything they need to be successful: options, support, experience, and innovation.
LineUpr: You used LineUpr for the Sage Summit Tour. What is this event?
Patricia: Get Digital. Grow Faster. This year's dynamic motto stood for our Sage Summit Tour, which stopped on the 17 and 18 April 2018 in Hamburg.
We welcomed over 1,400 decision-makers from many medium-sized companies into the Port of Hamburg in the glorious sunshine weather. Our main topics were, above all, innovative technologies and the trends of the next years. Everything was focused on the digital future. We documented the highlights in our after movie.
LineUpr: How do you reach this target group? Which channels and tools do you use for marketing and presentation?
Patricia: We invited the participants mainly with our newsletters and mailings.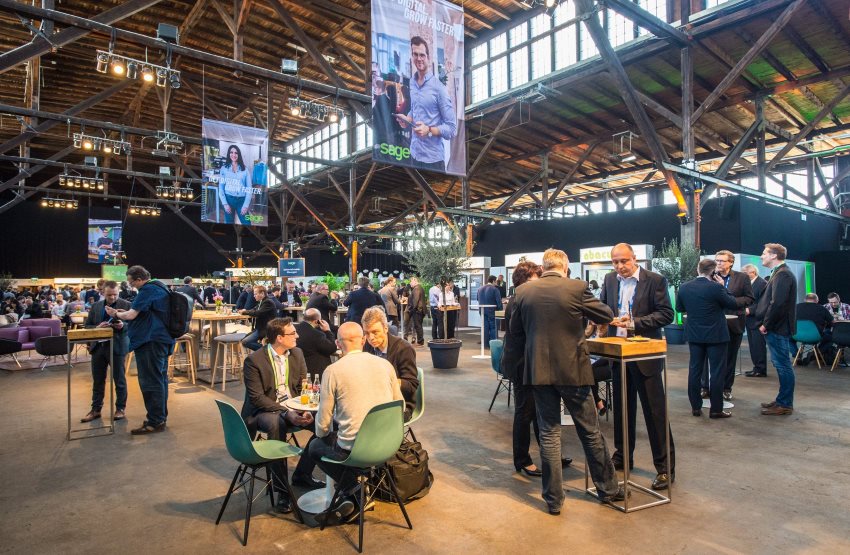 LineUpr: Back to the topic Event Apps. How did you become aware of LineUpr and what is the decisive argument for you to use an event app?
Patricia: We found LineUpr via internet research and were immediately impressed because it was exactly what we were looking for and how we imagined an event app.
LineUpr: Have you used event apps in the past? If so, what are your experiences and why did you choose LineUpr for this event?
Patricia: We used an event app for the first time last year. However, this was not user-friendly and for this reason, we have been looking for a new solution for this year.
We found LineUpr via internet research and were immediately impressed
LineUpr: How did you use the app before, during and after the summit this year?
Patricia: Before the Sage Summit Tour, we used the App to communicate the agenda, so that each participant could put together their own personalized agenda, as well as organizational information such as sponsors, directions, parking and hotel recommendations.
During the event, we used the agenda in particular with the information about the rooms and speakers as well as the feedback function.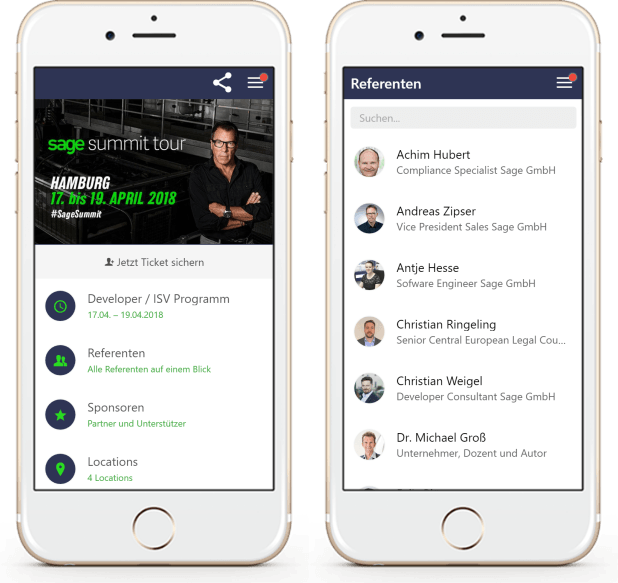 LineUpr: How did your visitors react to the app?
Patricia: Our visitors loved the app and we got a lot of positive feedback.
LineUpr: We want to grow daily and offer our customers a better experience, what features do you wish for the app and why?
Patricia: Hiding the agenda of the day before: As our schedule was quite complex and involved several parallel workshops, such a function would be important to us.
Posts with direct links to surveys: Feedback is very important to us and we hope to reach more participants during the event with such a possibility.
Presentation of the survey results as PDF version: The display of the survey results in the app is excellent and a possibility to download them for a presentation and for subsequent evaluations would be beneficial.
Mention the app during the event again and again …
LineUpr: Is there a unique story from the last Summit, which you would like to share with us?
Patricia: During the event planning, we had a 14-year-old intern on our team and she supported us in particular with the app. She started to fill the app with content without any instructions and immediately got on with all functions.
LineUpr: Which three top tips for the use of LineUpr would you like to give other organizers on the way?
Patricia: Use the app before the event with all the essential information. Mention the app during the event again and again and tell the participants about the download link multiple times. And take advantage of all the features, especially the feedback options, and inform the participants about it.
LineUpr: Thank you, Patricia, for the pleasant interview. For us, it is always a great enrichment to directly experience how our customers use the LineUpr app and how we can further improve our functionality. Of course, there is more information about Sage on their homepage. We can also recommend their social media profiles on Youtube, Facebook, Twitter and Instagram. There you can find more exciting content.
We look forward to your future events and to how we can enrich them with our apps.