Reading time: 5 minutes
The focus of this interview is the HR Innovation Day. This interactive event is organized and presented every year by Prof. M. Peter Wald of the HTWK Leipzig.
Peter shares his concept of success with us, why this event is so well received and how he used an event app for the first time for organizing and communicating on site. Have fun while reading. ?


LineUpr: Hello Peter. Thank you for taking the time to do this interview. Please introduce yourself and the HR Innovation Day.
Peter: My name is Peter M. Wald. I am a professor of Human Resources Management at the Faculty of Economics and Industrial Engineering of HTWK Leipzig. At the age of 58, I do not necessarily count myself among the HR youngsters – but I am convinced of the need for innovation and new ways of working in human resources management. This is also the reason why I launched the HR Innovation Day in 2012. Initially, it was intended as an extended course for students with a focus on staff – but also for the representatives of the HR community. In this context, "leadership and collaboration with digital media" is a significant topic for me, which is why I am also active as a blogger and Twitterati myself. This allows me to live up to my chosen role as a "Connected Professor".
LineUpr: How much time and work do you spend on average in planning the HR Innovation Day?
Peter: The preparation has no definite beginning but a fixed end. Since almost all contact with the speakers, workshop providers and also the participants (apart from my students and alumni) have been created via social media, the (most constant) contact is also done through these media. The hot preparation phase starts about three months before the event, in addition to the organizational questions, I want to introduce all contributors to the event through detailed interviews in my blog. Otherwise, both the staff of my university and the respective current students with the focus on "Personnel" help me.
LineUpr: How did you come up with this idea and what motivates you to organize this event in your free time?
Peter: The original idea was to give my students a broad overview of the latest news in the HR scene on a Saturday as part of a somewhat "relaxed" course. New approaches and technologies in HR and leadership should be presented and discussed as controversially as possible. All this in a more familiar atmosphere with extensive networking opportunities. Logically, I also invite my HR alumni to enable HR students and HR experts to exchange ideas. That's how I get to know what's new with them and in the business.

LineUpr: Clever. You can network old and new students with each other. Who is the typical target audience of your event and how do you reach them? What channels and tools do you use for marketing and presentation?
Peter: On one hand, it's about the mix between students and alumni and on the other, HR professionals and executives. In recent years, it has also been possible to increase the proportion of "non-university" participants to almost two-thirds. In the meantime, the participants come from all over Germany, from all areas of personnel management but also consultants and executives take part.
It may seem surprising but in the meantime, we don't even need to advertise anymore. For capacity reasons, we even had to cancel more than 30 people this year. The information about the event runs on the Leipzig HRM blog, on Twitter, and XING. We use XING events for the invitation management. I got to know many of the speakers through social media and won them for the event. The first "real" meeting usually takes place on the eve of the HR Innovation Day.
I was quite happy to find an easy-to-use mobile solution for communicating content and organizational details.
LineUpr: In comparison to many other organizers you have a luxurious problem. ?
Do you also use printed products to market the event or to distribute information locally? If so, which and why?
Peter: On site, there is only one printed programme and the obligatory feedback sheets.
LineUpr: You've used LineUpr now for the first time. How did you learn about LineUpr and what was the decisive argument for you to use an event app?
Peter: I came across your app through internet research. I was quite happy to find an easy-to-use mobile solution for communicating content and organizational details. I was particularly pleased that you are from Saxony. Then I contacted you by phone and it went very quickly.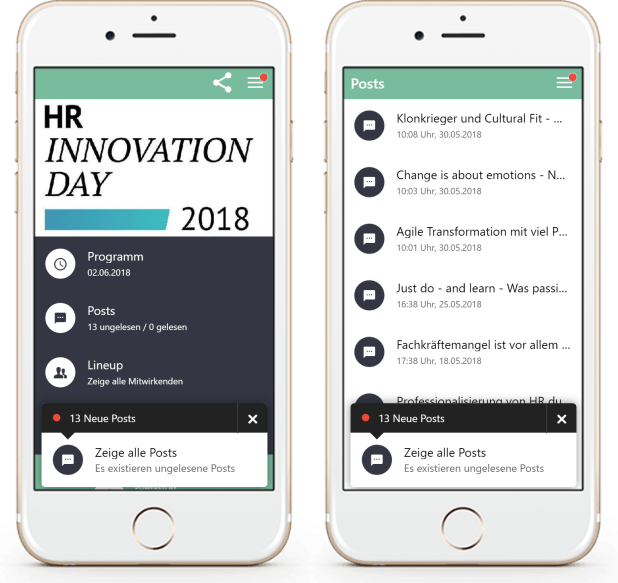 LineUpr: How did you use the app before, during and after the HR Innovation Day?
Peter: We mainly used the app for communication shortly before and during the event. For reasons of resources, the documents are distributed at the HR Innovation Day only after the event. First of all, we wanted to gain experience with a mobile solution to use it selectively in the coming years.
LineUpr: Then we can probably look forward to even more use from you next year. How did the visitors react to the app?
Peter: The visitors reacted very positively to the app. Since we have many mobile-oriented participants, who are also very active on Twitter, the acceptance of a mobile solution is quite high.
First of all, we wanted to gain experience with a mobile solution to use it selectively in the coming years.
LineUpr: Such conditions speed up the launch of an app, of course. Is there an interesting/crazy story about the HR Innovation Day that you would like to share with us?
Peter: For me, the history of the HR Innovation Day is exciting. I didn't think that a regional and partly international event with over 160 participants would develop from an extended teaching course. This year we even had two international keynote speakers (Tom Haak from the Netherlands and Rebecca Lundin from a Swedish start-up) and an international workshop (Andras Viczek from Hungary) on the programme. With the topics Corporate Learning and Artificial Intelligence (Kai Liebert / Siemens) as well as People Analytics and Employee Experience (Daniel Mühlbauer / functionHR) we were able to set current and far-reaching accents. And then there is the circle of long-time supporters from the national HR scene. The German "Sourcing Queen" Barbara Braehmer and Christoph Athanas (metaHR) are especially to be mentioned. In recent years, our event has also been supported by recruiting philosopher Henrik Zaborowski and by Jo Diercks (Cyquest GmbH). And not to forget Martin Gaedt, who spoke in 2014 shortly about the "myth of the shortage of skilled workers" and has this year inspired the audience with his keynote about "Innovations in recruiting".
LineUpr: Thank you for the great interview, Peter. This allowed us all to gain a deeper insight into your special event. If you want to know more about the HR Innovation Day, then Peter has prepared the perfect review for you. Always up-to-date information is also available on Twitter.
We look forward to supporting you again next year with an event app.