Reading time: 5 minutes
Artificial intelligence, algorithms, podcasts and fake news are keywords that can be heard from everywhere. What do these mean for our everyday digital life? The Zündfunk Network Congress from the Bayerischer Rundfunk (Bavarian Broadcasting) dealt with this question. According to the motto "Free. Networking. For Everyone. ", the speakers advocate transparency, justice, and freedom on the web.

Nina-Lucia Boss helped to shape the congress as part of her dual studies at the Bayerischer Rundfunk and helps us to get a look behind the scenes.

Another great customer story. 😊

LineUpr: Hello Nina-Lucia. Thank you for taking the time to do this interview. Please introduce yourself and the Bayerischer Rundfunk.

Nina-Lucia: Hello Anastasiia. Thank you for your interest! I am a dual student and part of the team at the Bayerischer Rundfunk that is in charge of the Zündfunk Network Congress. As a public service broadcaster, we are not only on the radio, television and online, but we also organize special events that meet our legal mandate, including the Zündfunk Network Congress.

LineUpr: What role do events play for you?

Nina-Lucia: Events offer us an opportunity to have direct contact with our audience, to exchange ideas and to take suggestions. We also use the opportunity to produce content for our television and radio programs as well as for our digital platforms.
… the [app] creation didn't take up too much time.
LineUpr: You used an event app from LineUpr for the Zündfunk Network Congress. Please tell us more about this event.

Nina-Lucia: The Zündfunk Network Congress takes place annually and offers lectures and workshops on digital and social issues, digital engagement, and diversity. Everyone interested gets an opportunity to reflect on different aspects of digital life and get information and ideas for their everyday life.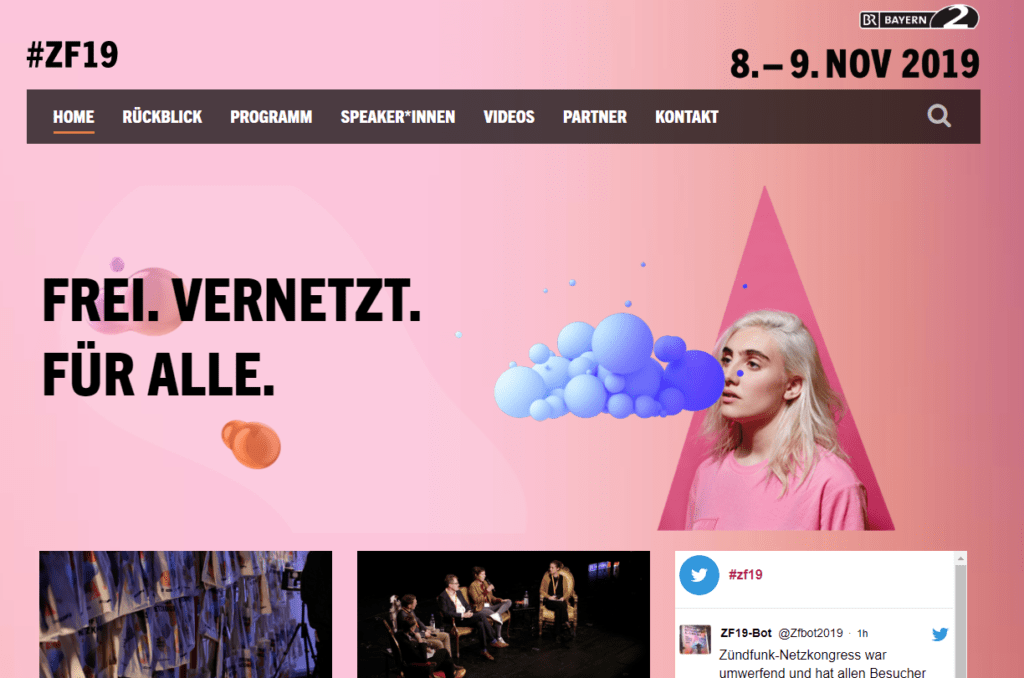 LineUpr: How long before the event did you start creating the event app? What do you think, how much time does it take to create the app?

Nina-Lucia: We started about 5 weeks before the event, the creation itself didn't take much time. Since we constantly added the latest information about speakers and sessions, it is hard to estimate the precise time we spent on it.

LineUpr: Did you create the event app alone or in a team?

Nina-Lucia: We have created the event app as a team, the coordination between the team members took place in person, via e-mail or phone.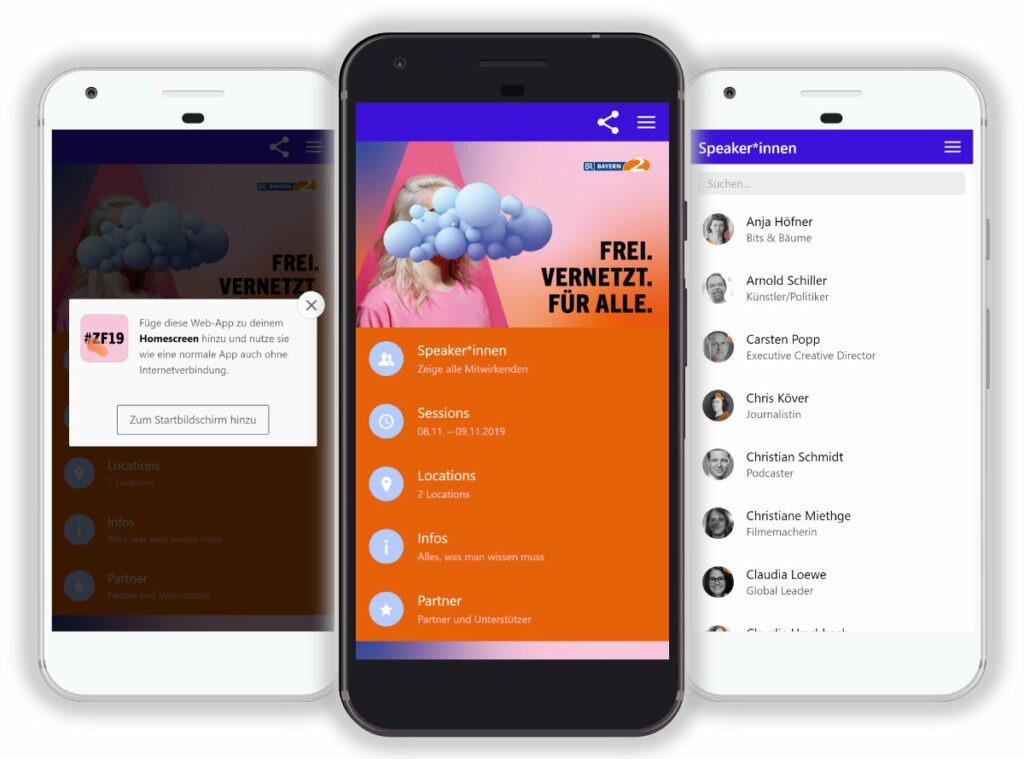 LineUpr: When and how did you inform your participants about the event app?

Nina-Lucia: We informed the participants via a Facebook post (approx. 2 weeks beforehand) and QR code, and URL on the posters and flyers. Our moderators also mentioned it during the event. As a special added value, we highlighted the possibility to create an individual schedule and get up-to-date information about any changes.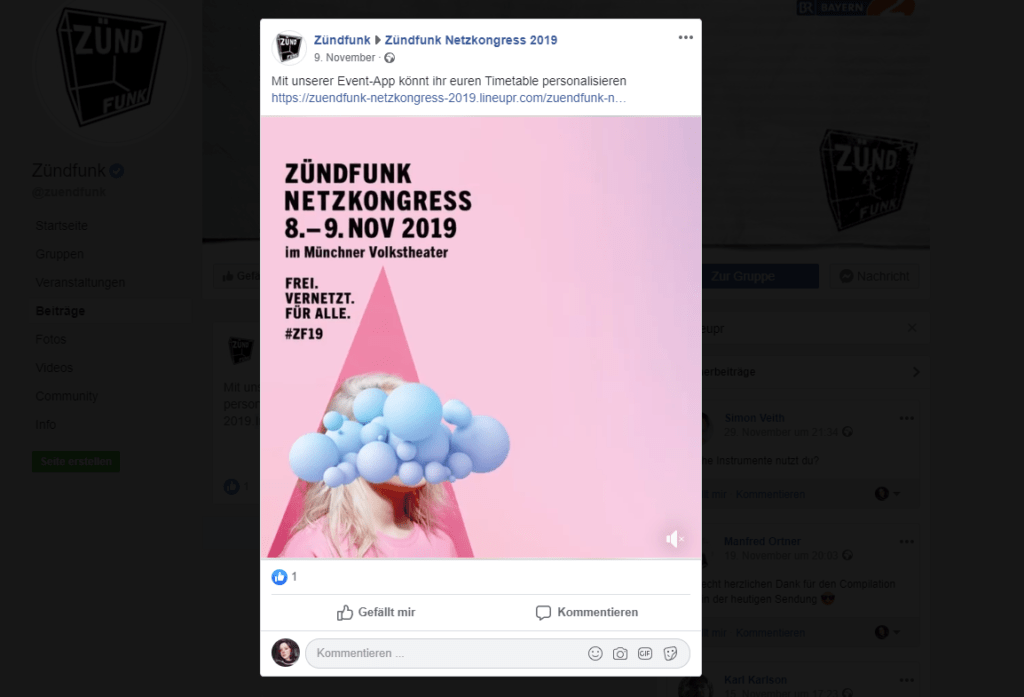 LineUpr: Did you use the survey features?

Nina-Lucia: We used surveys to coordinate discussions. They were primarily used to offer the audience additional options for interaction.

LineUpr: How did your visitors react to the app?

Nina-Lucia: We didn't explicitly ask for feedback. Approximately half of the visitors used the app.
An event app can be updated live, enables the integration of links and it is possible to get feedback directly via the app.
LineUpr: Now that the event is over, would you use the app the same way at the next event to communicate with your participants or is there something that you would change?

Nina-Lucia: Yes, there is. We would post more up-to-date information (changes to the schedule etc.) and would make surveys even more differentiated.

LineUpr: If someone is thinking about using an event app for their event, what would you advise them to do? When does an app make sense and what disadvantages are there when using an app?

Nina-Lucia: An event app can be updated live (compared to the printed flyer), enables the integration of links and it is possible to get feedback directly via the app. Disadvantages: if we talk about native event-apps, visitors have already a lot of apps on their smartphones. In this case, a web-based app could be a great advantage, since it doesn't have to be downloaded or installed; another issue is that Wi-Fi is not always available for updates.

LineUpr: Thank you for the great interview. Your topics are so exciting and important. I think such issues as justice and freedom on the web, as well as advantages and disadvantages of new trends, should get even more attention.
If you want to know more about the topics and watch the lectures, feel free to visit the website of the Zündfunk Network Congresses. https://zuendfunk-netzkongress.de/. They do not only discuss the ethical questions of the AI but also e.g. how much work is often put in a podcast-creation process. For more information follow Bayerischer Rundfunk on Twitter, Facebook and Instagram