We've been working on an upgrade for a while and we're proud to unveil LineUpr 2.0! Long-time LineUpr users will immediately feel at home. We've learned from your valuable feedback and past years' experience to optimize our app and add functions that make it better and more responsive to your changing events' needs and formats. What are these new features all about?
Optimized display for all devices: In addition to smartphones, our event app can now be used smoothly on tablets and desktop computers. We have greatly optimized usability with our desktop view, especially for hybrid events.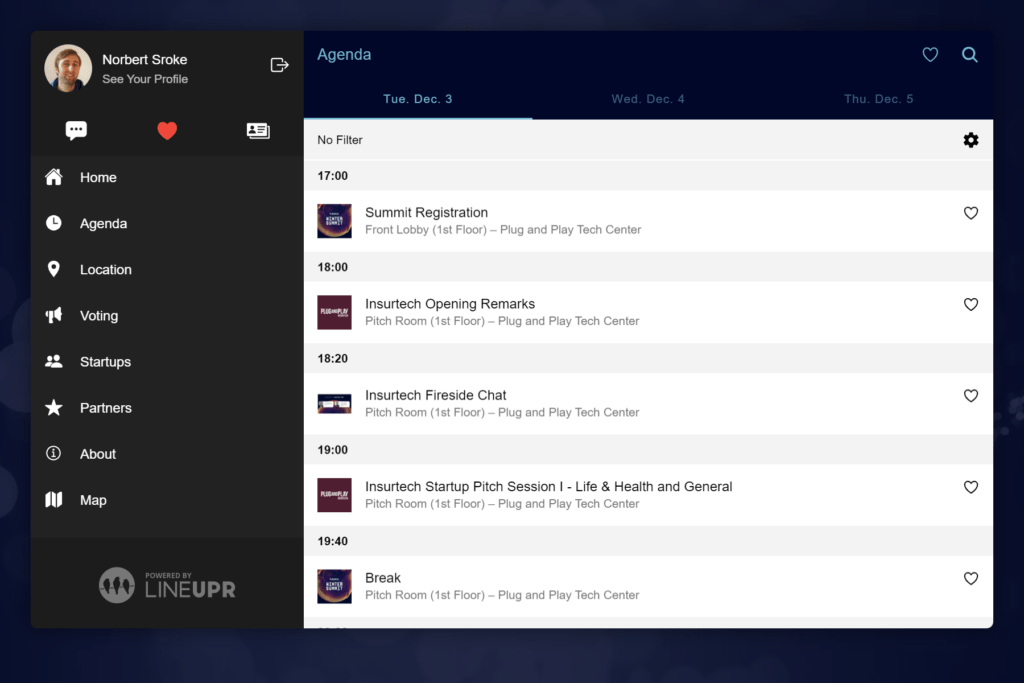 Individual login and participant profiles: The new event app allows participants to log in (optional), so they can create a profile and edit it by themselves. All profiles are visible via a handy participants' list.
Networking between participants: Participants can chat with each other and exchange their contact details privately. This ensures that your event has a lasting effect, and establishes a network and follow-up from the word go.
Guest list restriction: With the new login function, you can create guest lists for an event, and only allow these specific contacts to access it. This gives you more control than the previous "global password" option.
Q+A with upvoting: Our "Questions and Answers" survey is ideal when you are conducting a Q+A session with your audience. With our new upvoting feature, participants can now have an active and instant say on the contributions they find most interesting.
Integration of video streams and websites via iframe: Our new app allows you to integrate external webpages. This feature allows you to add interactive content, such as embedding video streams, without your guests having to leave the LineUpr app.
Optimized list filter: Our new filter helps your attendees to search lists even more smoothly. For example, one can set multiple categories and locations to filter the agenda.
Favorites for all areas: Users can now set favorites in all areas (lineup, locations, schedule, about, and sponsors) with the heart symbol and add them to their own list. Also, favorites can now be filtered directly via the list view.
Pictures for "About" pages: You can now assign a picture or symbol for each entry under "About" (as in the other areas).
Zoom for pictures: Title pictures can now be enlarged to a full screen view just by tapping.
Matomo statistics: You want to collect usage statistics of your app? We've pushed the boundaries of Google Analytics, to enable you to integrate with Matomo too (formerly Piwik).
Further Innovations in Planning
These exciting new functions only give you a sneak peek of what we plan to do with LineUpr in the near future! Our top priority is to make your event even more individual and personal for every single user, and we're aiming high.
Feedback Welcome!
This new version includes many changes that we've had on our to-do list, and wanted to implement for a long time. This includes countless "invisible" changes behind the scenes as well. If something doesn't work as it should, or if you see potential for further improvement, or if you have ideas and wishes for new features: Let us know!