Reading time: 1 minute
You all love the survey function of LineUpr. We see it every day. Virtually every premium app uses at least one survey type to get in touch with participants. Gathering feedback and information is just the tip of the iceberg. What's even better is that you can publish the results live, visible to all participants. This always causes a murmur in the audience and often also a small wow-effect.
Because you are so excited about our live presentation view, we receive daily requests on where and how to export or download these graphics. Of course, you can export the data directly as an Excel or a CSV file, but there is a much smarter way.
Thanks to LiveSlides, you can integrate the website directly into your PowerPoint or Keynote presentations with just a few clicks. In this article, we show you how to do it.

How to Use LiveSlides for LineUpr Presentations
First, you need the LiveSlides add-in. This is available for Windows and for MAC users and is free for you. All you have to do is enter your email address, then the download can start. Then just install LiveSlides and start it together with PowerPoint or Keynote.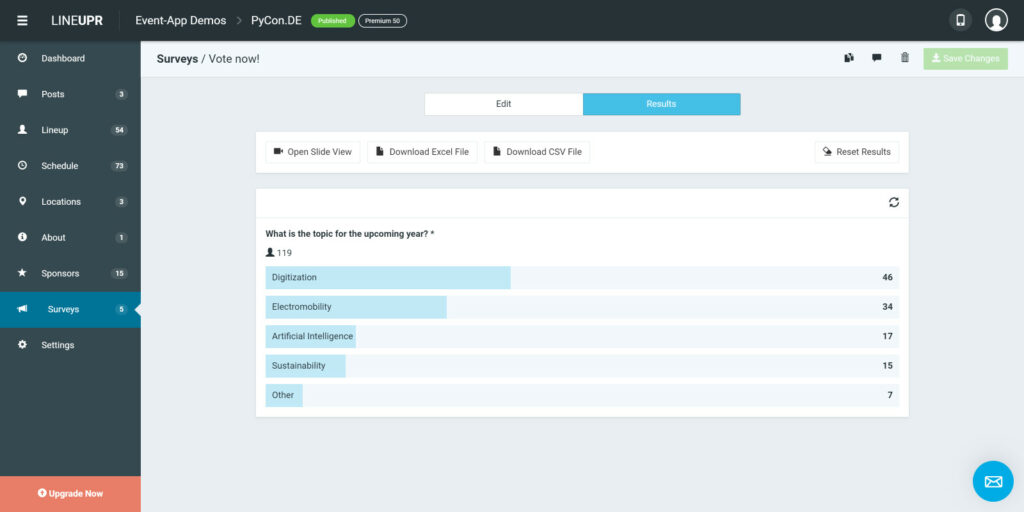 Now open the presentation view in the LineUpr Event CMS and copy the URL into the LiveSlides app and integrate it into the presentation. Viola, it's done. 😊
What You Should Have Learned
We've shown you how to use LiveSlides to integrate your survey results directly into your PowerPoint or Keynote presentations. If you can do without the interactivity and the moving bars, then maybe a screenshot is enough.